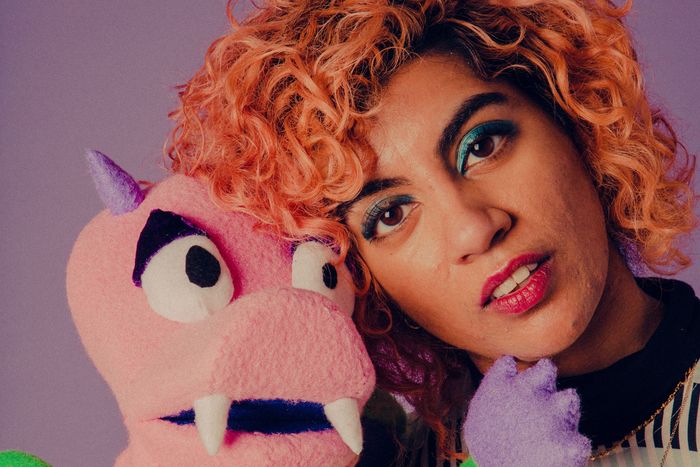 Arti Gollapudi.
Photo: Bridget Badore
Arti Gollapudi (@artiparty) is a Brooklyn-based comedian who hosts the shows Yourself, Your Body at Union Hall and Boogie on the Brink at the Slipper Room. She has been featured in HuffPost, Brown Girl magazine, Forbes, and Brooklyn Vegan, and is set to release a book of poetry and narratives, called Boys I've Kissed & Hated, in September.
This week, Arti and I chatted about hot babysitters, making your therapist laugh, and forgetting that straight male comedians exist.
I wrote this when I was babysitting a kid in Cobble Hill who strongly disliked me. I went to pick her up at school one afternoon and realized so many kids at the school had HOT babysitters who looked like millennial creatives (the gig economy!). The dating an "abusive rotten potato" is just an assumption, but one that is made from personal experience or anecdotes from friends.
What got you into doing comedy?
Embarrassingly enough, I signed up for an improv class at a time when I was really unhappy with things in my life (my relationship, my job, my haircut). I thought signing up for a class would just distract me for a few hours each week, but I ended up meeting my best friend who encouraged me to ditch improv and perform more stand-up or solo bits and write.
Do you think Twitter has been a good platform for your brand of humor?
I think Twitter is a great way for me to test out if my writing makes sense. I have been writing short comedic narratives and funny poems that I self-print into little booklets (such as my upcoming one), but it's hard for me to grasp if people will even like my style of writing. Twitter is a great way for me to microdose people with blips of my writing.
This past June was my first Pride where I was participating and getting booked on queer comedy shows. I was having moments where I forgot straight male comedians existed, until one day I opened my email and a dude I haven't seen in probably YEARS sent me his personal newsletter, which I found infuriating … regardless of what celebratory month it is, don't sign people up for your weekly newsletter!
Your stand-up touches on a lot of heavy topics. How do you find the funny in your personal struggles? Do you think dealing with them through humor is cathartic for you in any way?
Oh, dealing with my personal struggles with humor is definitely cathartic. I once had a therapist who told me to stop joking around during our sessions 'cause it is unprofessional of her to be laughing when she should be taking me talking about getting assaulted seriously. It's just how I've always naturally dealt with things: being the first to laugh about it before everyone else can. Laughter breaks the tension. I'll talk about how I was raped in my last relationship so going to the gynecologist makes me nervous for some reason, but to break the tension I'll let them know that, lucky for me, my gynecologist is my cousin's best friend!
Tell us about the motivation behind starting your shows, Boogie on the Brink and Yourself, Your Body.
Both shows were born out of moments of feeling alone and grappling with anxiety and depression. Yourself, Your Body aims to use comedy as a tool to discuss and dismantle stereotypes about bodies, sexuality, and mental health, while Boogie on the Brink invites the audience to take a glimpse at what it is like to deal with trauma and grief while living alone. My motivation through these shows and through my comedy in general is to attempt to let me, the performers, and the audience feel that they aren't alone. That was really corny — pretend I didn't say that and just write, "Arti's motivation is to get rich quick."
Some guy on Tinder found my Instagram, which is relatively creepy to me, seeing that my profile didn't say I was comedian and also I was swiping in a different state than where I reside. Anyways, I just so happened to have had a UTI at the time and made a joke about it to my several thousand closest friends on Instagram. I only watched ten minutes of the first episode of You, but I still believe this could be season two's premise.
Has Netflix brought you in to discuss compensation for your contributions to the story arc on You season two?
Truly disappointing to say, as someone who has a Netflix account and has met Penn Badgley IRL, they have NOT even contacted me. I swear to goddesses, if the main character is a girl who even LOOKS like she has had a UTI, I am suing!