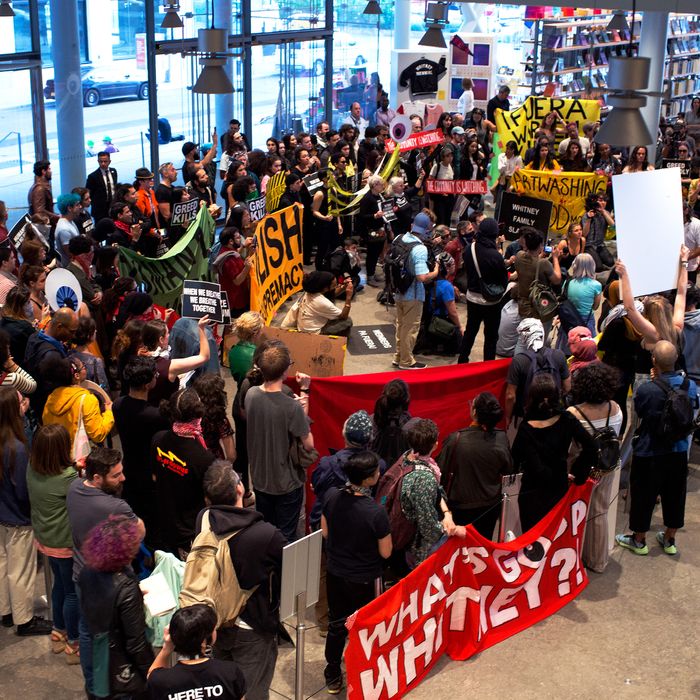 Photo: Andrew Lichtenstein/Corbis via Getty Images
On Friday morning, midway through the run of the current Whitney Biennial, and in protest over the continued presence of controversial vice-chairman Warren Kanders on the museum's board, four artists withdrew from the exhibition. Among them was the most recognized person in the show, MacArthur winner Nicole Eisenman, whose outdoor sculpture has received more praise than any other work in the biennial. Within 24 hours, an additional four artists withdrew. It may be that by the time you read this, the Whitney Biennial could be a third empty. Walkouts and withdrawals have happened before, but a deserted show is beyond precedent. We're through the looking glass. History is being made. Something that has been a long time coming has finally come.
Since before the show's May opening, a constant drumbeat has sounded for the artists to refuse to participate owing to the relationship of Kanders to the museum and its exhibition. Why? In a certain way, he is a representative figure of the culture of toxic philanthropy, in which plutocrats who've made money in unseemly ways cleanse their reputations through donations to reputable institutions — think of the opiate-peddling Sackler family's support of the Met or David Koch's donations to what seems like half of high-culture New York. As for Kanders: Among the other disaster-capitalism concerns, his company Safariland manufactured some of the tear-gas canisters used by the Trump administration against immigrants crossing into America. (This news was published early on by the art blog Hyperallergic, which has continued reporting on this and has been breaking stories ever since.) Safariland's ordinance was also used in Turkey, where over 130,000 tear-gas canisters were fired into crowds, and in Gaza, where 154 Palestinian protesters have been killed, including 34 children. Kanders and his product were toxic long before there was any outrage at the museum.
Being naïve to the ways of industrialist tycoons, I had hoped that rather than forcing the Whitney higher-ups to legislate this explosive issue — knowing such a situation opens a Pandora's box around all cultural funding — Kanders would have resigned before the biennial opening, recognizing that his presence was harming the museum, the art, the Whitney name, and the artists. Instead, sounding as if he saw the world as his own petting zoo, Kanders opined, "While my company and the museum have distinct missions, both are important contributors to our society," adding that "the politicization of every aspect of public life including commercial organizations and cultural institutions is not productive or healthy."
By the end of May, things were coming to a boil. Over 100 of the museum's staff, including Rujeko Hockley, one of the biennial's two curators, signed a letter voicing dismay at Kanders's continuing presence. Nothing. Soon, people from all over the art world were writing letters and signing petitions. Still nothing. Before long, weekly protests began in front of and even inside the Whitney, including the burning of sage to purify, exorcise, curse, or heal the museum. Tensions soared. Then, last week, Artforum published a cogent online manifesto titled "The Tear Gas Biennial." It was signed by artist Hanna Black (instrumental in the fight over Dana Schutz's painting in the last biennial), and brilliant writers Ciaran Finlayson and Tobi Haslett (who authored the text for the U.S. Pavilion of the current Venice Biennale).
The first paragraph of the statement says that the biennial "has thrust Kanders and Safariland into the public eye" and that "some of the artists involved [in the biennial] surely feel concerned that their work is being instrumentalized to cleanse Kanders's reputation." Then comes a call to action: "The power of protest comes from our capacity to gather and act together … it remains possible that [the biennial] artists could act according to their conscience … it would be a shame if this opportunity were to be entirely missed. A boycott would boost the force of every one of these statements. Artists can and do bite the hand that feeds."
That's when those four artists bit. In a letter addressed to "Dear Ru and Jane," the curators of the biennial (one of them the first black biennial curator since 1993), the artists wrote, "We respectfully ask you to withdraw our work from the Whitney Biennial for the remainder of the show. This request is intended as condemnation of Warren Kanders' continued presence as Vice Chair of the Board." The letter goes on: "We were angry when we learned of Kanders' role as CEO of Safariland … At the time, we had already accepted your invitation to participate in the Whitney Biennial and some of us were well into fabrication of major pieces for this show. We found ourselves in a difficult position: withdraw in protest or stay and abide a conflicted conscience. We decided to participate." What strange times we live in: Artists participate in a biennial and also collect the cachet of pulling out. Indeed, almost immediately after the artists published their letter to the curators, social media lit up with comments about them having their cake and eating it, too; of waiting until after the reviews, press, publicity, parties, and sales to drop out. L.A. Times critic Carolina Miranda tweeted, "If you're gonna withdraw from a museum exhibition I always advise doing it after the reviews are out and your gallerist has had a chance to monetize the show."
This saga is much bigger than Kanders or the Whitney. All museums are 100 percent awash in toxic philanthropy — that is the nature of the plutocracy in which we live. Kanders is no isolated case; dirty money is in the woodwork of every American museum. In fact, because it's been so in the spotlight since its successful downtown move in 2015, is so open to change and also poorer than similar institutions, the Whitney is much more structurally fragile than other large museums. In fact, ironically, the Whitney's board is far less compromised than most big art institutions. The boards of MoMA and the Met, for example, are much more honeycombed with disturbing trustees, donors, and board members.
I did not always feel this way — in fact, I did not feel exactly this way until quite recently. But this saga has been eye-opening. I love art, artists, museums, and being in the art world. Compromises notwithstanding, I know that all museum boards, employees, and audiences don't have the same politics. Nor should they. No one group gets to dictate or determine guidelines and policies for everyone. But a big part of me knows that the kind of superrich-based art world is now widely fueled by floods of toxic money, though in April I was against just calling for the scalp of one board member. Instead, I fancied the Kanders revelation would bring about a long-overdue complex public conversation about the kinds of toxic philanthropy that permeate the whole cultural field. It was time to have an open, honest discussion about ethics, guidelines, and the whole system — all of which needs rethinking and restructuring. Indeed, that is exactly what the Whitney kept calling for. But the die had been cast. Local museums met with one another to begin to address the crisis. It was said that these meetings would continue. But the Whitney was nevertheless left to carry out this public conversation on its own in real time. Which was an impossible task.
The next stage in my Kanders thoughts came in the biennial. I was horrified by the 11-minute video about Kanders by Forensic Architecture that was included in the show. (This collective has since asked that its work be removed, citing that it has found what it calls "more evidence" of Kanders's activities and toxicity.*) The effect of that video, directed by Laura Potris and narrated by David Byrne, jarred me so much that on the spot I shifted. I left the room thinking, This guy has to fucking resign. Now! In my review, I wrote that we can think of Kanders as a Harvey Weinstein of bad philanthropy. Getting rid of him would at least stop this from being just about him. We could then begin the public conversation and begin to draw up institutional philanthropic regulations. I thought this even knowing that it would result in the loss of millions of dollars in donations to museums and would curtail all museum programs, staffing, exhibitions, and upkeep. Yet better suffer this than paying the ongoing moral cost of giving this toxicity a free pass or pretending we're not complicit in it.
I failed to see that it was already too late for conversations about structural adjustments, guidelines, revisions, and repairs. This is not about evolution. It is about revolution. This is big. Note that the Artforum text and artists' withdrawals appeared only days after Trump's white-nationalist chants of "Send her back." It is the historical symbolic power of this biennial at this brave institution at this time, in the wake of 2016, #MeToo, and Oscars So Black — and as curated by two women and being more than half women and artists of color — that makes this exhibition a lightning rod.
Now this biennial is changing the world again. A Rubicon has been crossed. After the chant, I knew that the long American night of racism, hate, misogyny, xenophobia, white nationalism, homophobia, and hate was truly nigh again. A sinister, violent, brutal, lurid, criminal, vengeful, anti-life, self-murdering night has spread over the West. The old white skin of imperialism, fear, resentment, prejudice, and genocide is not being sloughed off willingly. 2020 is going to be harder and worse than 2019. In the country, the climate, everywhere, including the art world.
This is a biennial — good or bad — that people have fought for, for decades. Finally, the show is majority women and artists of color. Yet again, however, and as always, significant social change has been placed on the bodies of women and people of color. I spent the last few months thinking, "No! How can everyone demand that now that women and artists of color are finally in the museum that they should now renounce it and step away! For millennia, women and people of color have been told what to do. We can't do this now. Here, in the art world, no less. Let the artists be in one show for once; stop dictating what their ethics and actions and art should be. Get out of their business." That's when the paradox hit me: It is precisely about the heroism of the Whitney to organize this biennial and the activisms of the show itself — that the protests and the disassembling of the show by protest are the absolute result and extension of the biennial's triumphant politics. Across the board, now, artists have taken the first steps. More artists are likely to withdraw. Even as we must never again tell women and people of color what to do, we also know it has come time to bite the hand that feeds. Else it will smite us.
*This article has been updated to reflect that Forensic Architecture has not asked for anything to replace its work in the biennial.