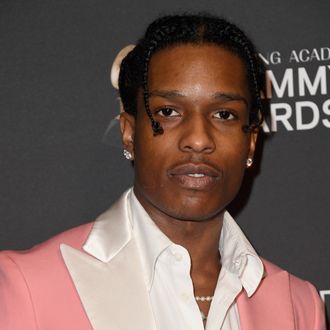 Photo: Frazer Harrison/Getty Images for NARAS
A$AP Rocky's arrest in Sweden certainly hasn't been resolved ASAP, but he's getting closer to a conclusion now that he's been formally charged with assault causing actual bodily harm. He faces up to two years in jail or a fine based on his daily earnings. BBC News reports that Rocky and the two friends who were arrested with him will face trial soon. According to the Swedish Prosecution Authority, they expect it to be Tuesday and to take about three days. Until then, Rocky remains locked up. The rapper has been in Swedish custody with no official conviction since July 3, causing everyone from Justin Bieber to Donald Trump to question how long Sweden will take to process him. It's been so long we resorted to an ASAP joke. Last Friday, a judge allowed the prosecutors more time to study the case and make a decision. Back in the states, Kim Kardashian West and her husband, Kanye, reached out to Donald Trump, Jared Kushner, and Secretary of State Mike Pompeo, asking them to aid in Rocky's release. Trump tweeted about speaking with the Swedish prime minister and released a video statement. "I personally don't know A$AP Rocky, but I can tell you he has tremendous support from the African-American community in this country," Trump said from the Oval Office on Friday. "When I say African-American, I think I can really say from everybody in this country because we're all one." Sure, okay.
Update 5:00 p.m.: Trump has weighed in on A$AP's charges. He's not pleased, surprisingly enough. "Give A$AP Rocky his FREEDOM. We do so much for Sweden but it doesn't seem to work the other way around. Sweden should focus on its real crime problem! #FreeRocky," the president tweeted. This isn't the first time Trump has fabricated a "crime problem" in Sweden. Trump came for Sweden's criminals in 2017, which prompted Swedish tabloid Aftonbladet to point out that the U.S.'s murder rate outpaces Sweden 5:1.