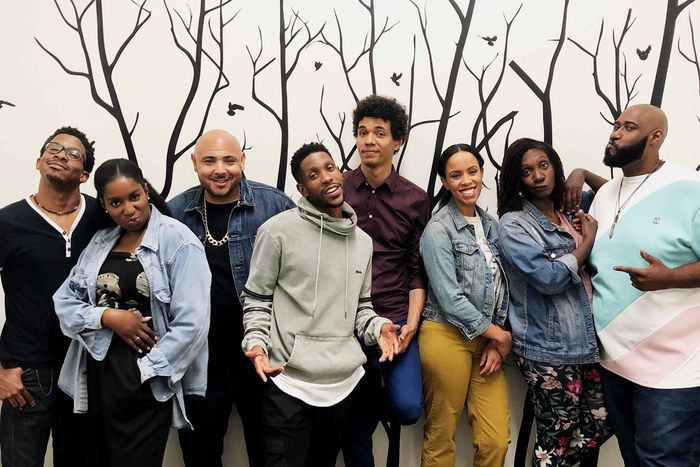 Astronomy Club.
Photo: Anni Weisband
Sketch-comedy group and UCB alums Astronomy Club, who we included in our 2018 Comedians You Should Know, is getting the Netflix bump with some help from Black-ish creator Kenya Barris. According to Variety, Netflix has ordered six episodes of a half-hour sketch series from the group, which includes Keisha Zollar, James III, Monique Moses, Jerah Milligan, Caroline Martin, Ray Cordova, Jon Braylock, and Shawtane Bowen. The series will "use comedy to discuss real-world topics," with sketches covering "an array of topics ranging from pop culture and social issues to the black experience." Barris will serve as an executive producer alongside Daniel Powell, who worked as an EP on Inside Amy Schumer and more recently Netflix's The Break With Michelle Wolf and I Think You Should Leave With Tim Robinson.
Speaking with Splitsider back in 2017, Braylock, Milligan, and James — who co-host the podcast Black Men Can't Jump in Hollywood — explained why they were ready to bring their work to television. "I feel like now we've done the digital thing. We've done Comedy Central. We've done Seriously. We've been on stage at UCB. I feel like these dues have now been paid. We've proven ourselves. Let's get a show so we can put our friends on it," Milligan said. "All I'm saying is, we're at the next step. So hopefully we have some cool stuff that does help the cause. We want to make sure we put a positive thing out there for people and especially people of color."
Prior to the Netflix show, Astronomy Club starred in their own digital series for Comedy Central last year, and the group told Variety that the Netflix show will be similar. "Instead of doing the normal sketch show, we kind of have a show within a show," Braylock explained. "So our inter-specials will be kind of a heightened fake reality show with all of us living in one house together because Netflix doesn't have money to give us a bigger house. So we kind of have all these wonderful characters that are heightened versions of ourselves. And we have very, very loose plot lines that take us through each episode. So that way people can have a break from the sketches, they get to know us."
Until the Astronomy Club show premieres, check out the group's Comedy Central series right here.