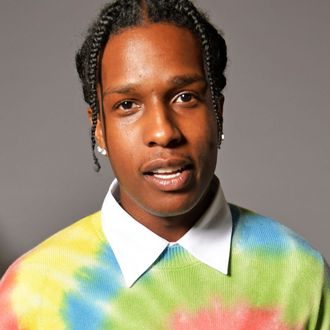 A$AP Rocky.
Photo: Swan Gallet/WWD/Shutterstock
A$AP Rocky won't be coming home just yet, even though Kim Kardashian West is on the case. A judge ruled today that Rocky will remain in custody for another week, until prosecutors can "complete the investigation," according to TMZ. "The Court decided that the artist will remain in custody until 25 July, because of the flight risk," the judge said. The judge has yet to rule on the two members of Rocky's crew that were arrested with him. Swedish prosecutors handling A$AP Rocky's case originally released a statement saying they wanted to indict him on criminal charges and did not want to release him until they figure out the facts of the case. They later amended it to say that they only needed more time.
Prosecutors say that Rocky and two of his friends face abuse, assault, and attempted assault charges for the incident earlier this month. Their statement arrived shortly after Kim Kardashian West confirmed that she and Kanye West reached out to Donald Trump, Jared Kushner, and Secretary of State Mike Pompeo about getting Rocky released.
A$AP Rocky and members of his crew got into this trouble while touring in Sweden. The rapper posted videos of the moments leading up to the fight, saying that men had been following and harassing both them and women passing by. On the bright side, Kim Kardashian West is getting a lot of firsthand experience for that law career.