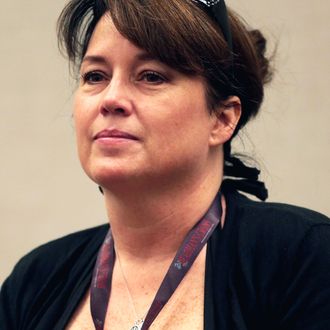 Earlier this year, Vulture reported on the curious case of paranormal-romance author Sherrilyn Kenyon, who claimed that "her ex and one of her former assistants hatched a 'Shakespearean plot' to murder her by poison." That claim led to a $20 million lawsuit in which Kenyon alleged that her estranged husband, Lawrence (the divorce is not yet complete), and two co-conspirators had engaged in a years-long campaign of secret abuse to steal the author's money and sabotage her career, and, in the case of Lawrence and one of the co-conspirators, even taint her food in hopes of claiming her life-insurance money after her death. Last week, Kenyon dropped the case — for now. The statement from her publicist reads:
Due to the financial impact this case has had on my family, I have made the difficult decision to "non-suit" my civil case without prejudice against my ex-husband, Ms. Plump, and Mr. Cavanaugh. Tabling this lawsuit at the present time allows me to focus my energy and financial resources on my divorce litigation. However, I maintain a strong and steadfast belief in the merits of this case. As the great Margaret Thatcher once said, "You may have to fight a battle more than once to win it." I am confident in the facts and evidence of my case and look forward to revisiting this lawsuit at a future time.
In the original court documents, Kenyon said she started suspecting foul play when, about five years ago, "her hair and teeth started falling out, and she developed intense nausea, tremors, disorientation, bone loss, facial swelling, and a peculiar metallic taste in her mouth." Tests of her hair, blood, and nails appeared to reveal that she'd had high levels of toxic heavy metals in her system, including lithium, barium, arsenic, and mercury. Her suit notes that her husband had taken out a hefty life-insurance policy on her and "stood to gain millions of dollars upon her demise." Additionally, the author says her husband mismanaged her business affairs, stole from her, and tried to sabotage her professional relationships. She also believes Lawrence was having an affair with Kerrie Ann Plump, one of the assistants involved in the suit.
Lawrence's legal team, meanwhile, has issued its own statement about the development, emphasizing that Kenyon has "of her own initiative fully and voluntarily dismissed her widely self-reported allegations of wrongdoing." They continued, "Facing a motion filed by Mr. Kenyon requesting involuntary dismissal and sanctions for filing unsubstantiated claims of far-reaching conspiracies, intentional destruction of Mrs. Kenyon's career, millions of dollars in damages, and attempted murder by poisoning, Mrs. Kenyon opted to dismiss all allegations rather than face presenting her case and her outlandish allegations to scrutiny by a jury of her peers."
No formal charges were ever filed against Kenyon's ex, and no further legal action is pending against any of the parties included in the lawsuit, although the Kenyons' divorce is ongoing. Through his lawyers, Lawrence thanked those who have supported his soon-to-be ex-wife over the past months and said he "further hopes that these same individuals will continue to support Mrs. Kenyon in getting the assistance she needs and in getting back to what she does best — writing fiction."