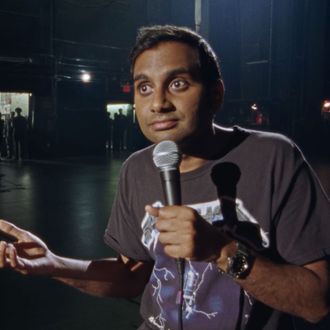 Aziz Ansari in
Right Now
.
Photo: Netflix
Netflix released Aziz Ansari's new Spike Jonze–directed stand-up special Right Now today, and the comedian wastes no time in addressing the sexual-misconduct allegations he faced in early 2018. After opening the hour with a joke about getting mistaken for Hasan Minhaj, the comedian adopts a more earnest tone to reflect on his year:
You know, I haven't said much about that whole thing, but I've talked about it on this tour, 'cause you're here and it means a lot to me. And I'm sure that some of you are curious how I feel about that whole situation. And, uh, it's a tricky thing for me to answer, 'cause I've felt so many things in the last year, so. There's times I've felt scared. There's times I've felt humiliated. There's times I've felt embarrassed. And ultimately, I just felt terrible that this person felt this way. And after a year or so, I just hope it was a step forward. It moved things forward for me and made me think about a lot. I hope I become a better person. And I always think about a conversation I had with one of my friends where he was like, "You know what, man? That whole thing made me think about every date I've ever been on." And I thought, Wow. Well, that's pretty incredible. It's made not just me but other people be more thoughtful, and that's a good thing. And that's how I feel about it. And I know this isn't the most hilarious way to begin a comedy show. But it's important to me that you know how I feel about that whole thing before we share this night together. Well, that was pretty intense. What else should we talk about?
The monologue is largely unchanged from the one he delivered during his pop-up show in New York this winter, where it came at the end of his set. Ansari does save part of his reflection for the end here, too. Returning to the quiet, whispered tone he used at the beginning, he takes a moment to thank the Brooklyn audience for coming out to see him perform. Just like in his earlier shows on tour, he confesses that in the past, when he'd thank the audience, he "never really meant it" — not that he wasn't grateful ("I'm not a dick"), but that he wasn't grateful enough. But in his special, Ansari goes a step further, saying the "old Aziz" — the comedian who wasn't grateful enough — is "dead":
But now, when I see you guys here, it hits me in a different way. I think about what it means that all you guys, you drove down here, you waited in line, and you did all of this stuff just to hear me talk into a microphone for like an hour or so. And it means the world to me, 'cause I saw the world where I don't ever get to do this again, and it almost felt like I'd died. In a way, I did. That old Aziz who said, "Oh, treat yo' self," whatever, he's dead. But I'm glad, 'cause that guy was always looking forward to whatever was next: "Oh, am I gonna do another tour? Am I gonna do another season of the show?" I don't think that way anymore. 'Cause I've realized it's all ephemeral. All that stuff, it can just go away like this. [Snaps fingers.] And all we really have is the moment we're in and the people we're with.
The special ends with Ansari guiding the audience for a brief moment of silence. "This is our moment right now. So you know what? Why don't we all just take it in for just a second?" he says. "And on that, I will say good night, and thank you very, very much."