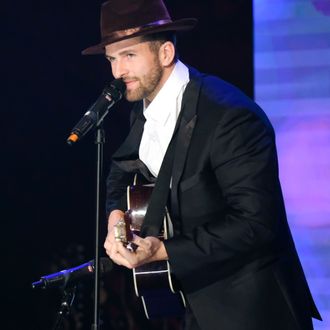 Jed Wyatt.
Photo: John Fleenor/ABC
Jed Wyatt, a noted Wrong Reasons punk who spent 60 percent of his time on The Bachelorette saying the words "musician" or "guitar", dropped some intel about how his career in Nashville is thriving on last night's episode — or rather, that the biggest win so far in his professional life wasn't taking a side job as a shirtless burlesque dancer to pay the bills, but creating a dog-food jingle for a regional brand. "At this point, my most major accomplishment is that I've signed a deal with a dog-food company," Wyatt bragged to Hannah Brown's unamused father. "I've already written their jingle and that's been like my first real breakthrough." What, like we're not going to show you that jingle now?
As People unearthed, Wyatt indeed was the voice behind a Better Bowl commercial jingle from earlier this year, where he crooned about how you should spoil your dog with beef liver morsels. It can be transcribed in one stanza: "You get home / You know who's been waiting / Wagging by the door. Rain or shine kind of love / Like nothing you've seen before. Your dog really does deserve the best / Go pick 'em up some Better Bowl." Cool.
Wyatt, who's currently one of Brown's final two suitors alongside sweet prince Tyler Cameron, is currently embroiled in significant postproduction, pre-finale controversy. In an interview from June, Wyatt's now-ex-girlfriend claimed he only went on The Bachelorette to get exposure for his floundering music career, and that they were going to immediately resume their relationship once taping ended. Tonight's finale should be … interesting.