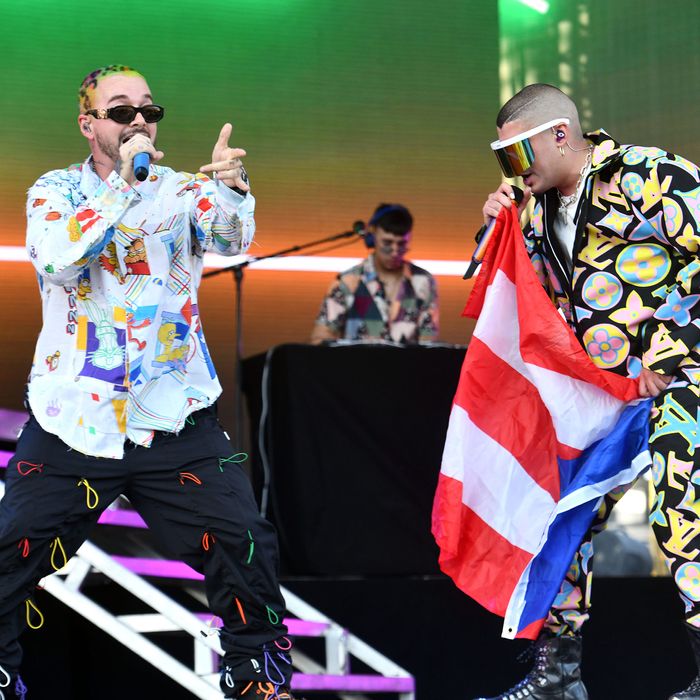 Oasis
has the star power to shape a milestone moment across the musical landscape.
Photo: Scott Dudelson/Getty Images
Although it caught plenty of people by surprise, Oasis — the new joint EP from Colombian reggaeton maverick J Balvin and Puerto Rican trap insurgent Bad Bunny — had been lurking on the horizon for a while. The artists, who first worked together on the 2017 track "Si Tu Novio Te Deja Sola," had talked about joining forces in interviews throughout the last year, and they'd hinted on social media that a massive project was on its way. When they finally unveiled their collaboration on June 28, they were both quick to point out the historic, unprecedented nature of such an endeavor.
"It was like we have to do something, a project that hasn't been done in the Latin market, from two huge artists and at the same time with two different styles, but at the same time with the same language," Bad Bunny said in an interview with Beats 1 radio host Zane Lowe, adding, "It's like a union of Colombia and Puerto Rico. There's a message that goes beyond. It's not like me and someone else from Puerto Rico. It's something bigger."
As lofty as that might sound, he's right: Oasis marks the first time that a pair of Latin urbano stars at the height of their careers have teamed up for an album designed to shift the tectonic plates of the global music industry. Beyond that, it's the official, long-form union of two titans who have defied the expectations — and confines — of Latin artistry by giving an effective middle finger to the so-called Anglo crossover model. While some Latin artists have had to mold their look and music to meet standards formulated for the Anglo mainstream, Bad Bunny and Balvin have shown that radically unique aesthetics — highlighter-colored hair, painted nails, and electric wardrobe choices — and sonic innovations sung entirely in Spanish attract international audiences with magnetic intensity. That they represent different parts of Latin America and the Caribbean makes Oasis a broader symbol of Latin unity and evidence of the role that Latin genres have had in mowing down music's language and cultural lines.
The EP itself is a nimble survey of the hybrid sounds happening in urbano music right now — ones that Balvin and Bad Bunny have each tested on their own impressive releases from last year (Balvin on Vibras and Bad Bunny on X1000PRE). Similar to those albums, the artists aren't afraid to muddle up genre conventions and mix nostalgia with contemporary influences. There's a touch of old-school Latin rock on "Un Peso," which features Marciano Cantero of the Argentine trio Enanitos Verdes; a dose of Afrobeat on "Como Un Bebe" with Nigerian Banku pioneer Mr. Eazi; and lots of slicked-back, down-tempo reggaeton romantico. Oasis recognizes how Balvin and Bad Bunny have pushed new urbano configurations forward, and by putting the artists side by side signals an industry power play revealing the new heights they can reach creatively as a duo.
Of course, pairing up for a joint album isn't new among Spanish-speaking artists. A quick excavation into Latin-music history turns up the partnerships of luminaries like Juan Gabriel and Rocío Dúrcal or Cheo Feliciano and Rubén Blades (a tour with rock renegades Gloria Trevi and Alejandra Guzmán is also noteworthy). However, these were often vanity or passion projects built to resonate in the Spanish-speaking world, and they frequently came later in the careers of such legacy artists. Early 2000s stars, like Shakira and Ricky Martin, had global appeal, but perceived language and market barriers likely kept Spanish-language joint albums intended for the mainstream from happening for stars of their caliber. Balvin and Bad Bunny have wanted to challenge the myopic thinking that has historically split Latin genres into specific segments, and Oasis sees the two of them doubling down on their efforts.
Additionally, hip-hop has revolutionized the idea of joint albums, with juggernauts like Jay-Z and Kanye West combining their star power in a fast-moving and often fractured music industry. Balvin and Bad Bunny understand that they, too, can make serious waves together, especially given the global implications of their partnership. As a pair, they're the consolidation of urbano talent from two very different parts of the Spanish-speaking world. Bad Bunny comes out of a Puerto Rican scene known as the breeding ground and commercial center of reggaeton, a genre with sonic roots that originated in marginalized Afro-Panamanian communities. Balvin, meanwhile, is a product of Medellín, which has peddled more affable and radio-friendly styles of the sound.
They celebrate the pan-Latin harmony that their partnership reflects on Oasis track "Yo Le Llego," where they shout out a list of countries throughout the Caribbean and Latin America. As cheerful as the moment is, it's also a reminder of the problematic racial dynamics that have benefited both artists on their global quest: Both Balvin and Bad Bunny are light-skinned rappers profiting from styles of Afro-diasporic music, and their image has undoubtedly had a role in their bankability in Latin America and across the world. Given the rampant colorism in the entertainment industry, their look is broadly marketable, and their status as trendy, popular figures, accepted even in exclusive circles of fashion and celebrity, has helped them maneuver through the cultural landscape.
In the urbano world, collaborations are more often the norm than the exception on singles and remixes. Daddy Yankee, Ozuna, Arcangel, and Nicky Jam constantly appear on credits, but not even rappers teaming up in the studio has resulted in such a major joint reggaeton or trap album. (Puerto Rican trap artists Bryant Myers and Miky Woodz did recently make Cambio de Clima, but the scale was smaller.) If it was competitiveness that kept major urbano artists from sharing the bill on a full project in the past, Balvin and Bad Bunny have a history of success and proven chemistry together: "Si Tu Novio Te Deja Sola" became the first trap song ever nominated for a Latin Grammy, and "I Like It," their feature with Cardi B, hit No. 1 on the Billboard Hot 100 last summer and also got a Grammy nod for Record of the Year. Ebro Darden, in a Beats 1 interview with Balvin last year, counted up the number of times that the artists had worked together and found that they probably had enough material then to put something out.
Surprisingly, despite their previous hits, the recordings on Oasis are understated, sometimes even teetering on underwhelming. Of the two artists, Balvin is more conventional; his voice is softer and his brand of reggaeton romantico is gentler and more generic than Bad Bunny's singular roar and off-the-wall beat selection. While their styles do blend seamlessly, they settle on laid-back grooves and lighthearted melodies that don't rise to the level of grandeur that Oasis aims for. That hardly matters: The production, by urbano's most sought-after hit makers, Sky Rompiendo and Tainy, is slick, fresh, and modern — and these tracks weren't made with the sole purpose of becoming streaming smashes. They're meant as a testament to creativity and imagination among two of urbano's biggest stars.
"Boom" and "explosion" are frequent — if tired — descriptions of urbano's renewed prominence in the pop sphere recently, and Oasis is a reminder of the well of talent and skill that has always existed within the genre. What Bad Bunny and Balvin have done is to capitalize on the new spotlight that they've been given and use that attention to form a partnership that, despite arguable sonic shortcomings, has the star power to shape a milestone moment across the musical landscape.