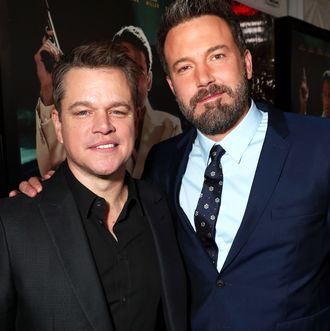 Our favorite fathers of daughters.
Photo: Todd Williamson/Getty Images
Twenty-two years after the release of Good Will Hunting, Boston's prodigal sons are circling an onscreen reunion. Per Deadline, Ridley Scott will direct a period revenge story titled The Last Duel, with Ben Affleck and Matt Damon considering starring. The synopsis, per Deadline: "It's a revenge story of two best friends. Damon and Affleck will play them. One goes to war and returns to discover the other has rapes [sic] the soldier's wife. No one will believe the woman, and the soldier appeals to the king of France and says he wants to fight a duel to the death, and if the other guy wins, he is innocent. It becomes the last legally sanctioned duel in France." Nicole Holofcener is writing the script with Affleck and Damon, based on the novel of the same name by Eric Jager.
Deadline hears that "every studio in town is waiting in the wings for this one," should Disney-owned Fox decline to proceed on the project. Will this collaboration, like Good Will Hunting, permanently play on a loop in frat houses across the country for the rest of our natural lives? Remains to be seen.