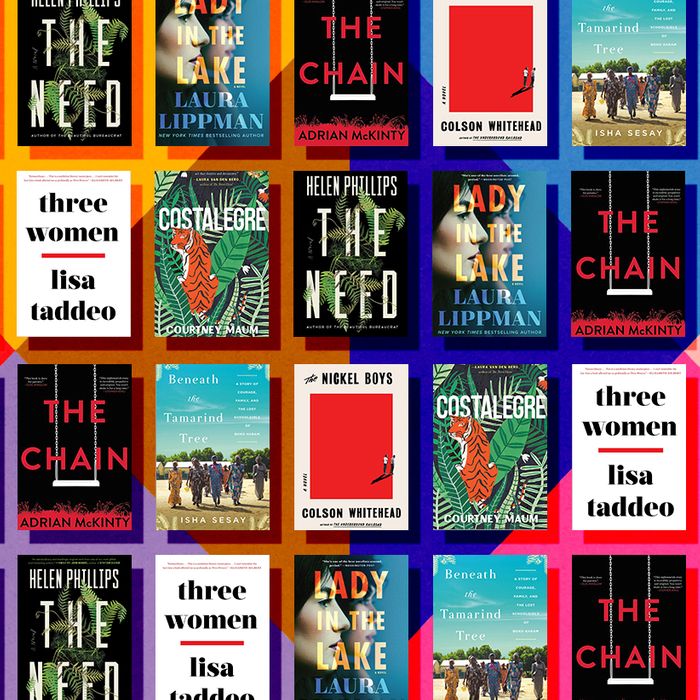 Each month, Boris Kachka offers nonfiction and fiction book recommendations. You should read as many of them as possible. See his picks from last month.
It may be a touch less nimble and wildly inventive than his last novel, the cultural blitzkrieg that was The Underground Railroad, but this follow-up is still top-shelf Whitehead: a parable about the inseparability of cynicism and idealism disguised as the fictionalization of a notorious real-life reform school in Tallahassee. Two boys, one wrongfully incarcerated, meet at the Nickel Academy, witness horrors up to and including murder as well as endemic corruption (exacerbated in their case by racism), and hatch a plan with drastically mixed results.
Molly is a paleobotanist enduring the usual joys and torments of early motherhood — and a little bit more than that. One day a person emerges from a toy chest in her home wearing a deer mask; it turns out to be a Molly doppelgänger, making eerie and perversely justified demands. Phillips plays with horror and surrealism to build a story that, like Jordan Peale's Us, uses doubling to complicate notions of goodness, sanity, free will, and selfhood while also putting on a terrifyingly good show.
The students of Chibok were lucky; an education for poor Nigerian girls was vanishingly rare. Then Islamists kidnapped more than 250 of them en masse. Sesay, a broadcast reporter who was born in Sierra Leone, managed to interview some of the survivors (many are still missing), but the footage never aired on CNN, as the 2016 election was under way and the world had moved on. We're lucky that her detailed reporting has made it into a book — an alternately harrowing and inspiring reminder of the power of education for both its beneficiaries and its savage enemies.
McKinty's latest thriller feels as difficult to pull off as the potentially gimmicky scheme at its center: A woman's child is kidnapped, and in order to secure his release she must kidnap a child in turn, then have the next parent kidnap another. If she fails, her son dies. The key to pulling it off as a novel is the author's choice of protagonist, Rachel Klein, a philosophy professor battling cancer and a bad marriage. She's the perfect pot in which to simmer a stew of ethical, moral, and existential quandaries while the action maintains a constant boil.
Taddeo's intensively reported triptych about women and their sex lives has spawned some criticism: that it downplays female agency, that it's limited to three white, mostly straight women (one who'd been preyed upon by a high-school teacher, another seeking escape from a sexless marriage, a third submitting to the fetishes of her husband). But when you judge it by what Taddeo actually achieves — an immersion course in the rituals and consciousness of individuals expressing their desires and paying an unfair price — you come away disturbed, entertained, jolted, and ultimately longing for a cigarette.
Maum's third novel begins as fictionalized art history — its main character and her mother are based on Pegeen and Peggy Guggenheim — but quickly soars into the self-sustaining orbit of accomplished fiction. Teenage Lara narrates her and her mother's 1937 arrival in Mexico, a refuge for artists and exiles ranging from Trotsky to André Breton. Maum renders their feverish world through the diary notes and letters of an adolescent burning with embarrassment, excitement, and love. Not a bad way to spend a world war, and reading about it is an excellent way to spend a summer weekend.
The acclaimed crime novelist draws on her time at the Baltimore Sun (where she met her husband, David Simon) for a layered novel that's part crime thriller and part historical fiction with a dash of Toni Morrison's Beloved. In the mid-1960s, Maggie leaves her wife and son to pursue her deferred dream of becoming a reporter and takes her passion to obsessive lengths while investigating the cold case of Cleo, the titular murder victim. Snatches of Cleo's ghostly narration highlight both their eerie connection and the complicated racial dynamic of Maggie's midlife crisis — and by extension Baltimore itself.