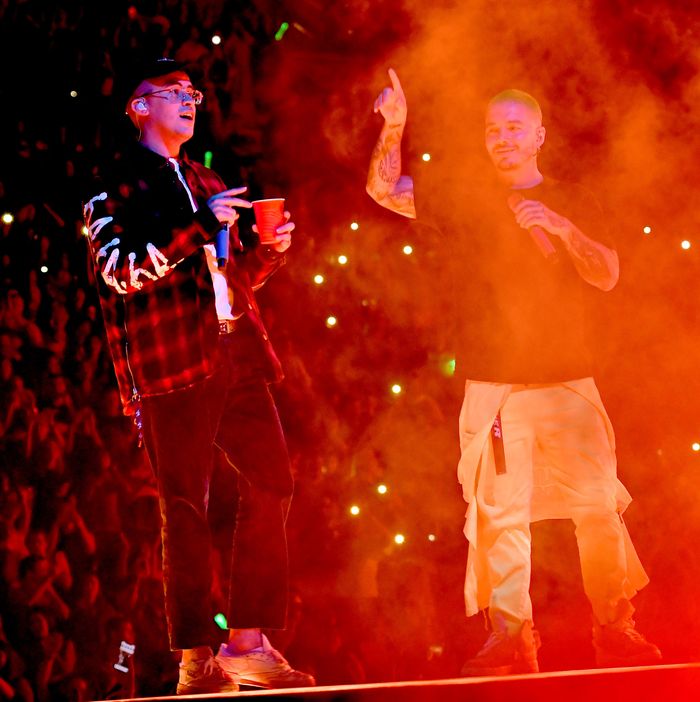 On
Oasis,
two of urbano's titans lure or outright shove one another into new, interesting corners.
Photo: Gustavo Caballero/South Beach Photo/Getty Images
Every week, Vulture runs through the best, most interesting, and sometimes most confusing rap releases and other news. In this installment: a big week for collaborative projects, including J Balvin and Bad Bunny; Nicki Minaj gives BET a(nother) piece of her mind; Mustard cements his legacy; Chance the Rapper's mixtapes finally come to streaming, Chaka Khan belatedly starts beef with Kanye, and more.
J Balvin & Bad Bunny, Oasis
Oasis was released without an official date but with plenty of warning: For months there were stray comments in radio interviews, cryptic teasers tacked onto the back ends of songs, and veiled Twitter messages suggesting the existence of a joint record made by J Balvin and Bad Bunny. While the solipsistic American view is to talk about what dominance the budding Latinx superstars have shown over American domestic charts, what's really happening on Oasis is two of urbano's titans luring or outright shoving one another into new, interesting corners and hearing one another battle his way out. One of the record's great strengths is its refusal to aim for the all-things-to-all-people middlebrowness that such a high-profile collaboration would seem to necessitate; instead you have the uncut Afrobeats pulse of their Mr. Eazi collab, "Como Un Bebe," or the strangely tranquil "La Cancion," which is stitched together by what's nearly a jazz trumpet solo.
Freddie Gibbs & Madlib, Bandana
The cartoon cover of Bandana is, as always, at odds with the relentless naturalism in Freddie Gibbs's rhymes. The Gary, Indiana, native's career began in earnest ten years ago with a pair of scorched-earth mixtapes and continued for the next half-decade despite label red tape and the near-collapse of the record industry. By the time he and Madlib released their first full-length collaboration, 2014's Piñata, Gibbs's very presence on the songs was seen as antithetical to the producer's comparative whimsy. That LP was superb as a formal exercise for Gibbs and as a showcase for Madlib, who had not produced a high-profile rap album in some time. Bandana feels much more like an act of collaboration. It lurches from the slippery, shifting lead single "Flat Tummy Tea" to the crackling sepia of "Palmolive," from the contemplative "Gat Damn" to the unlikely trap of "Half Manne Half Cocaine." It exists to rattle chest cavities.
Mustard, Perfect Ten
For the past several years, the former DJ Mustard has seemed to skip between dual lives: one as a high-profile hit-maker fluent in pop and dabbling in EDM, another as a sort of kingmaker in L.A., largely responsible for the ratchet sound that dominated the city at the beginning of this decade and whose DNA can be seen in the new generation of rappers bubbling up at the moment. Perfect Ten, his third album, smartly tries to recenter that latter identity from its first track, a mean, minimal careen with the buzzing rapper 1TakeJay. There are plenty of high-profile guests (Future, A$AP Rocky, Young Thug) and old friends (YG, Ty Dolla $ign, Tyga), but the album's most gripping moment is its other bookend, a collaboration with the late Nipsey Hussle.
Nicki Minaj Slams BET (Again)
Late last week, Nicki Minaj tweeted a scathing criticism of BET tied to what she believed to be poor ratings for the network's annual awards show. Minaj attached her message as a quote tweet to a post made by an account called Music News Facts. That latter post claimed that 2 million people watched the 2019 BET Awards — making it the lowest-rated gala in the network's history — and cited a chart from Wikipedia as evidence. (BET has not responded to Minaj's tweet per se but did send to Billboard a press release claiming that the awards were watched by 12.7 million viewers "across eight Viacom networks.") In any event, the rapper's tweet reads as follows:
"When u go out of ur way to b spiteful & hurt artists who have always supported ur show… when you fire great ppl who have put their heart & soul into the show… when you'd rather be a messy reality show than a prestigious award show… when ur still being dragged by that lace"
The parting shot makes it plain that this is an extension of the feud the two parties had back in February. On the night of the Grammys, right after Cardi B accepted the trophy for Best Rap Album, the BET account tweeted, "Meanwhile, Nicki Minaj is being dragged by her lacefront." In response, Minaj and Young Money pulled out of the BET Experience, the popular concert series in Los Angeles that coincides with the BET Awards. (A few days later, BET deleted the tweet in question and issued a statement of apology, claiming that the post was unauthorized and written by a rogue employee.)
Whether 2 or 12 million people saw them, the BET Awards this year featured performances by the likes of Cardi B and Offset, Lizzo, Lil Nas X and Billy Ray Cyrus, City Girls, and DaBaby, among others. There was also a long medley performed beautifully by this year's Lifetime Award recipient Mary J. Blige. The show ended with a tribute to Nipsey Hussle — the pre-show carpet was also blue in his honor — that included performances by YG and John Legend.
Chance the Rapper's Mixtapes Added to Streaming Services
Chance the Rapper has recently made his "debut album" available for preorder through his website. In addition to the new record, he's selling vinyl copies of his three mixtapes — 2012's 10 Day, 2013's Acid Rap, and 2016's Coloring Book. None had previously been available in that format. Perhaps most interestingly, 10 Day and Acid Rap have finally been added to major streaming services, with the major caveat that "Juice," the breakout hit from Acid Rap, had to be excised due to issues clearing its sample of the Donny Hathaway song "Jealous Man." (In its place is a 30-second snippet of Chance explaining the song's absence; the proceeds from streams of that clip, he says, will go to Chance's charity, SocialWorks.) Chance has said that his album is due some time next month.
Slim 400 Shot, Rushed to Hospital
Around 8:30 p.m. on Friday night, Slim 400 was shot between eight and ten times in Compton. According to sources close to the rapper who spoke with TMZ, the 31-year-old rapper was rushed to a nearby hospital and ushered directly into surgery. By the early-morning hours of Saturday, his condition was described as "critical but stable"; by 9 a.m. local time, sources said he was conscious. At the time of this writing, no arrests have been made.
A Compton native, Slim is a close friend of YG's — the latter rapper was reportedly at Slim's bedside through the night following that emergency surgery. Slim has appeared on many of YG's mixtapes and studio albums and has garnered a fan base of his own in L.A. with mixtapes like 2014's Keepin' It 400. He scored a hit in 2016 with "Bruisin," a song that paired him with YG and Sad Boy Loko, the Santa Barbara native currently fighting an attempted-murder charge in his hometown.
Chaka Khan Calls "Through the Wire" Sample "Stupid and Insulting"
On a recent episode of Bravo's Watch What Happens Live With Andy Cohen, the legendary singer Chaka Khan spoke for the first time about Kanye West's use of her voice on his 2003 breakout hit "Through the Wire." "I was pissed," Khan said of how she felt when she heard West's song. She went on to say that she had given West permission to sample "Through the Fire" after he called Khan to tell her how much her music meant to him, but that she was unhappy with how her vocals had been pitched up on the final version. "It was a little insulting," Khan continued. "No, it wasn't insulting — I thought it was stupid. If I'd known he was going to do that, I'd have said, 'Hell, no!'"