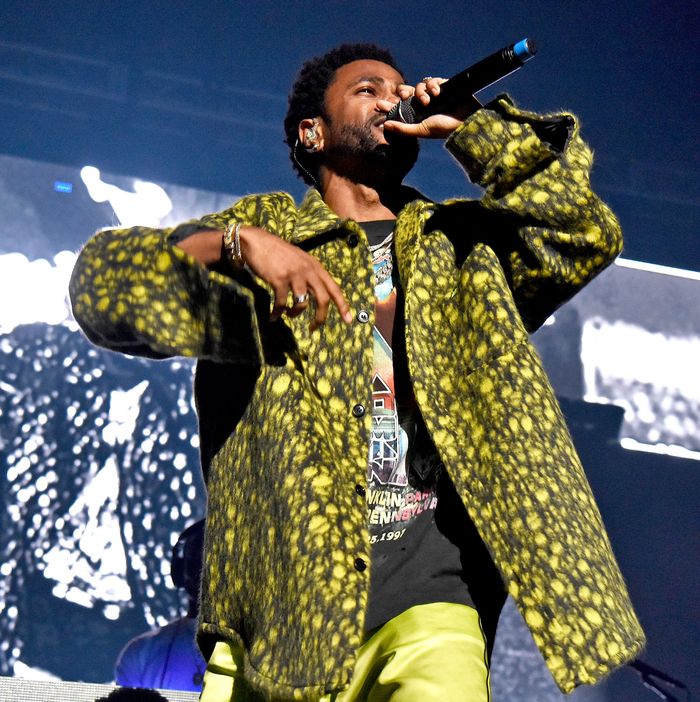 He's not only survived the sea changes in pop-rap sounds this decade, but navigated them deftly — at least in fits and starts.
Photo: Tim Mosenfelder/Getty Images
Every week, Vulture runs through the best, most interesting, and sometimes most confusing rap releases and other news. In this installment: Big Sean's return, Tyler the Creator baffles Funkmaster Flex with a freestyle, Chance the Rapper's debut album, Drakeo the Ruler gets acquitted of murder charges, and more.
Big Sean, "Overtime" & "Single Again"
Last week, Big Sean returned with a pair of singles: the small, moody "Overtime," and "Single Again," a summer hit by design. Both are slated for release on Don Life, his fifth album, which is due in September and which will be his first solo record since February 2017. (He released a surprise collaboration project with the producer Metro Boomin in December of that same year.) Alongside these new drops, Sean addressed his fans directly on Twitter, referring to a period of anxiety and depression followed by one of personal growth. "I think at one point I stopped having fun with life and it became a burden," he wrote, before urging his audience to find happiness within themselves and to get tested for food allergies.
Critically speaking, Sean has come to occupy a strange space: He's retained the careening, run-on sentence style that's a hallmark of so much Detroit rap, and yet is seen as a sort of control-group commercial rapper, his tics not so much regionalisms as they are part of the scaffolding of pop radio. He's nominally an A-list star whose music doesn't inspire strong reactions, positively or otherwise, outside of his core fan base and those who like to turn him into a cruel Twitter joke. His early-career singles were buoyed by outsiders — by Chris Brown, by Nicki Minaj, by Kanye, and Pusha, and Jay. The biggest and most creatively exciting song from his first half-decade, "I Don't Fuck With You," was a DJ Mustard master class that Sean allowed E-40 to steal. And when Kendrick Lamar's "Control" verse dominated the rap universe for weeks on end in 2013, the fact that it was a bonus track on a Big Sean album was thrown quickly to the footnotes.
And yet Sean has clung to the top of the pyramid. He's not only survived the sea changes in pop-rap sounds this decade, but navigated them deftly — at least in fits and starts. "Bounce Back," the lead single from his most recent album, is a contained, minor-key, capital-R Rap Song that reached No. 6 on the Hot 100 and kicked off the nth round of "Big Sean is good this time," his perma-album framing machine that seems to have already whirred awake ahead of Don Life.
"Overtime" actually grounds Sean in the Detroit scene that is exploding several commercial rungs below his own: He's not exactly jumping into the scammer-rap fray, but the song contextualizes his style as what it is — part of a specific, deliberate stylistic lineage. But it's "Single Again" that will be inescapable through the fall, thanks in part to guest vocals from the ever-reliable Ty Dolla $ign and, curiously, from Jhené Aiko, Sean's ex. It's the kind of song you write after a lot of therapy, full of platitudes and stock advice, but is rendered cleanly enough to slot happily into rotation.
Chance the Rapper, The Big Day
At one point on The Big Day, Chance the Rapper says of his new work that "every track could be the outro," which is kind of the problem. Where a raw, no-subtext sentimentality was a compelling undercurrent for the reckless youth shit on Acid Rap, here it tips too often into the saccharine, casting Chance as a well-meaning, well-off friend who truly believes he figured it all out before he turned 27. It's an album about marriage that seems to celebrate rather than prod at the institution, which is often endearing, even while it sometimes makes Chance sound like a youth pastor desperate to convince the cooler teens that the Lord is the biggest bae of all. The Big Day is musically varied, but Chance's bag of vocal tricks — of stops and starts and spoken-word cadences and breaks into song — is deployed far too predictably.
Rick Ross & Drake, "Gold Roses"
"Gold Roses" is far more ornate than Ross and Drake's collaboration from earlier this year, "Money in the Grave." It's made for divorced guys on empty yachts. Drake is in the mode where he's most comfortable: imagining himself as the topic of running, all-consuming gossip, feeding a half-imagined public tiny details that they must be salivating for. Ross, by contrast, is gruff and mercenary as ever, making Xanax abstinence and gifted Chanel seem roughly the same. It's a little staid for summer.
YBN Cordae, The Lost Boy
Maryland rapper YBN Cordae is a painfully deliberate writer whose music struggles to evoke the emotions that it, on paper, seems obsessed with. The Lost Boy finds him cloying and pleading and endlessly demonstrative.
Drakeo the Ruler Acquitted on Murder and Attempted-Murder Charges
Last Thursday, after exactly a week of deliberations, a Compton jury found Darrell Caldwell not guilty of the murder and attempted-murder charges against him. Caldwell, better known as Drakeo the Ruler — an ascendent star in his native Los Angeles, whose 2017 album Cold Devil is one of the decade's most striking rap records — was charged in connection with a December 2016 shooting in Carson that left one man dead and several others injured. One of his co-defendants, Mikell Buchanan, was convicted of murder and attempted murder, along with various weapons counts and gang enhancements; he is facing life without parole, pending a sentencing hearing in September.
These acquittals do not mark the end of Drakeo's legal saga, which has kept him in jail since the beginning of last year. The jury was hung on three counts, two of which might be litigated again in a retrial. The operative one is a criminal street-gang conspiracy charge, which could carry with it a life sentence. Central to the District Attorney's argument is the idea that the Stinc Team, Drakeo's rap group, is a gang, and that this "gang" had a plot to murder the rapper RJ. The D.A.'s office is expected to state whether they plan to retry the case at a hearing in September — the same hearing at which Drakeo will be sentenced on a gun charge, his sole conviction from the murder case.
The third codefendant in the case, Devante Caldwell — Drakeo's brother, who raps as Ralfy the Plug — was convicted on multiple gun-possession and commercial-burglary charges, stemming from music video footage and a string of shopping sprees at the Beverly Hills Neiman Marcus. He faces ten years in prison.
Tyler the Creator Gives Viral Freestyle on Funk Flex
Any time spent reading about what Tyler the Creator did on Funk Flex's show is better spent watching the thing unfold. There is the virtuoso performance-slash-comment section troll job; there are the cackling callbacks to the star's most poorly received work; there are Flex's bug-eyed reactions, which would probably make this whole endeavor work as a silent film. In an era when artists can beam whatever they like directly to fans in real time, the sheer insanity of this video argues for the continued existence of big-budget rap radio shows.
A$AP Rocky & Meek Mill's Legal Battles Continue
Despite international outrage, A$AP Rocky remains in a Swedish prison, awaiting trial on an assault charge that stems from a June 30 incident in which two fans stalked Rocky and his entourage, allegedly groping women while doing so. Meanwhile Meek Mill, whose career has been dogged by legal issues in his native Philadelphia, has been granted a new trial in a 12-year-old case that hinged on testimony from an unreliable police officer.
XXL Unveils Freshman Freestyles
Like death and taxes — the XXL freshman content is finally here. This includes the solo freestyles where each freshman raps alone, into camera, as well as those small-group cyphers. The groups for the latter are as follows: Roddy Ricch, Comethazine, and Tierra Whack; DaBaby, Megan Thee Stallion, YK Osiris, and Lil Mosey; and Blueface, YBN Cordae, and Rico Nasty. Rico takes it in a walk.
Max B's Sentence Reduced to 12 Years
Over the weekend, Max B announced on Instagram that what was once a 75-year prison sentence has been reduced to 12. "They gave me 75, got it chopped to a 20 then got it down to a dozen," he wrote underneath a picture of himself grinning, arms folded and hair askew, in a cell. A 12-year bid would give the Harlem native — who is serving his time in a maximum-security New Jersey state prison near Trenton — a release date some time in 2021.
Max's incarceration stems from a 2006 robbery that left one man dead. Max was not in the state at the time of the killing, but prosecutors argued that he was part of its planning. While out on bail awaiting trial, Max made some of the most stylistically innovative rap to come out of New York this century. As Max alluded to on Instagram, his sentence had previously been reduced to 20 years following a 2016 plea bargain deal that reduced the conviction to aggravated manslaughter. Earlier this month, Max made a return to music, teaming with his old collaborator French Montana for another installment in their Coke Wave series of mixtapes. He has also teased a new solo album called Negro Spirituals.