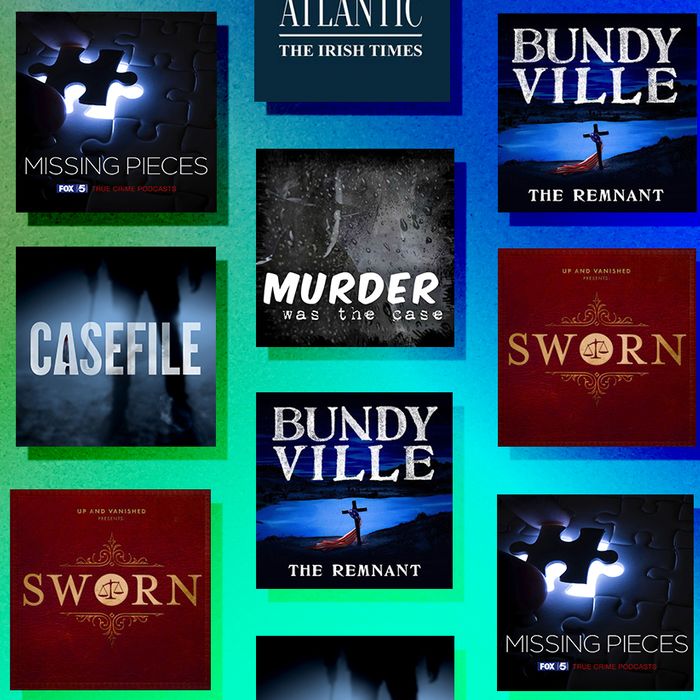 The true-crime podcast universe is ever expanding. We're here to make it a bit smaller and a bit more manageable. There are a lot of great shows, and each has a lot of great episodes, so we want to highlight the noteworthy and the exceptional. Each week, our crack team of podcast enthusiasts and specialists will pick their favorites.
Missing Pieces: Into the Woods: "T"
A young journalist enters the wilds of Idaho to document a hunt for gold … never to be seen again. The bizarre disappearance of Maryland man Terrence Woods in October of 2018 is the focus of FOX 5 DC's latest investigative series. (The podcast previously covered the D.C. mansion murders and the disappearance of Alison Thresher.) Reporter Melanie Alnwick introduces us to Woods, a hardworking young filmmaker whose wanderlust drove him to cover stories all around the globe. His last assignment for a U.K.-based television network found him tailing a group of treasure seekers in the Gem State, only to be reported missing a couple of days into the job — allegedly having run off of his own accord. That explanation made no sense to Woods's father, however, whose recollections of his son and the harrowing call he got from the show's producers make up the bulk of this brisk first episode. It's a strange case, to be sure, and one that is still very much open. In coming episodes, Alnwick promises a nearly unfettered look into FOX 5's investigation, from inside strategy meetings to interviews with key sources — all of which should make for an intriguing listen for true-crime fans and news hounds alike. —Amy Wilkinson
The Irish Times: Atlantic: "Land of Heart's Desire"
The unsolved mystery of Peter Bergmann unfolds like a well-plotted murder mystery, with tidbits of information revealed at just the right time to move the story forward. In this three-part podcast, Irish Times writer Rosita Boland delves into the story of a man calling himself Peter Bergmann, who checked into a hotel in County Sligo, Ireland, in June of 2009. He was found dead on a local beach five days later. Police soon discover he'd used an alias, and his identity remains unknown. He had no passport, no ID, and had removed the labels from his clothing. The Austrian address he used to check into the hotel didn't even exist, which makes Boland surmise that he must have been familiar enough with the area to know the address was bogus. CCTV footage shows his movements in the days prior to his death, including the ongoing presence of a mysterious purple plastic bag. The bag appeared full when he left the hotel each day but was not seen when he returned. There's no question Peter Bergmann went to Sligo to disappear. The question now is, with renewed attention on the case, will anyone come looking for him? —Lara Bricker
Sworn: "Polygraphs and Scent Dogs"
How do innocent people get convicted? Every week, Sworn, a new podcast by the producers of Up and Vanished, hosted by former defense attorney and former prosecutor Philip Holloway, examines the how and why of things going horribly wrong in the criminal justice system. In this episode, we hear from William Dylan, sent to prison for murder in 1981 and released in 2008. What's truly chilling is that because Dylan was so willing to talk to the police (he had nothing to hide, after all), he unintentionally gave them information that placed him in proximity to the scene of the crime. There's more, though — Dylan being asked to alter his appearance to abide eye-witness testimony, plus polygraph tests and other flawed science, and the use of scent dogs, who, according to Tracy "Trace" Sargent, should never be the only reason a person is convicted, but rather as one tool in an investigation. (Guess what happened in this case?) Tune in to Sworn to hear from the people these strategies most directly impact, who, via some truly repugnant circumstances, become the change-makers. —Chanel Dubofsky
Bundyville: The Remnant (all episodes available now)
It begins with the death of a man named Glen Jones, who uses a homemade bomb to blow up the home of a former friend, killing himself in the process, in a small, remote town in the Arizona desert. From there, Bundyville: The Remnant, from Longreads and Oregon Public Radio, follows a chain of associations into the dark heart of anti-government and white supremacist extremism. Leah Sottile, the host of last year's excellent first season of Bundyville, has arranged this season as a series of self-contained but linked stories, each focused on a person or place associated with the patriot movement. Among other things, she interviews a man whom the FBI regards as the most dangerous person in the militia movement, looks at the life of LaVoy Finicum, who was killed during the Malheur National Wildlife Refuge occupation, and visits a county in Washington State that is the epicenter of the movement. In episode five, "The Politician," she profiles Washington State representative Matt Shea, who wants to create a state called Liberty that would merge eastern Washington with Idaho and be guided by "biblical principles," and who wrote a manifesto titled "Biblical Basis for War," advocating for the killing of all males who don't submit to his brand of Christian rule. Yet despite these fringe beliefs, he is easily reelected again and again. It is a fascinating and harrowing listen, just like the rest of the series. —Toby Ball
Murder Was the Case: "Chasing Monsters, Part 1 and 2"
In these episodes, criminologist Lee Mellor, the podcast host, is joined by filmmaker Celene Beth Calderon, and former cop and crime TV host Sarah Cailean, and a lot of bourbon. They discuss Theodore, Calderon's six-episode documentary series about those who were affected by Ted Bundy, and what was in a box of Bundy's belongings given to Calderon by a friend of his, who just casually hung on to it for 40 years, as well as the connection between Bundy's crimes, mass shootings, domestic violence, and misogyny. If you haven't already heard of Theodore, get ready for your new obsession.
The second half of the episode features Sarah Cailean, co-host and executive producer of Hell in the Heartland, HLN's documentary about Ashley Freeman and Lauria Bible, two teenagers who disappeared in Welch, Oklahoma, in 1999 after Freeman's parents were found shot dead inside the remains of the family's burned-out trailer. Cailean is now investigating the cold case of Renee Bergeron, murdered in Alabama in 1993, and the three talk about what it means to be "less dead," why showing people a mug shot of a victim won't necessarily help you solve a case, why a sexual homicide is never "just" a sexual homicide, and the documentary project that's coming out of Renee's story. Tuck in and listen to these episodes, they're fascinating, funny, and full of righteous anger. —Chanel Dubofsky
Casefile: "Hannah Foster"
Whether owing to the source material or the slightly menacing tone of its anonymous Australian narrator, Casefile's cold opens always seem to engender a vague sense of foreboding. Yet none has sent a chill down my spine quite like this week's episode, "Hannah Foster," which sounds more like a Wes Craven film than police-blotter material. On March 14, 2003, a call comes into the U.K.'s emergency services number, 999, but no one seems to be on the line. An operator tries unsuccessfully for several minutes to make contact, finally transferring the call to the automated Silent Services line that prompts callers to press "55" if they are on the line but unable to speak for whatever reason. Again, several activity-less minutes go by and the call is finally terminated. You know where this is going — there was someone on that line and that someone was 17-year-old Hannah Foster, who was abducted off the street a mere five minutes' walk from her home. From there, the case spirals out in many unexpected directions — which I won't spoil here — but it suffice to say, there's no happy ending for Foster. However, the episode does end on an unexpectedly touching note — a welcome coda to this dark, sad tale. —Amy Wilkinson