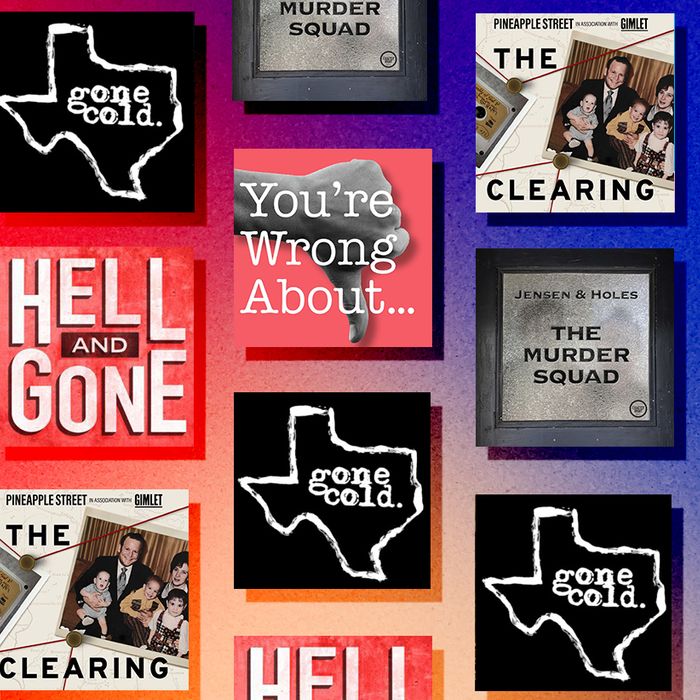 The true-crime-podcast universe is ever-expanding. We're here to make it a bit smaller and a bit more manageable. There are a lot of great shows, and each has a lot of great episodes, so we want to highlight the noteworthy and the exceptional. Each week, our crack team of podcast enthusiasts and specialists will pick their favorites.
You're Wrong About: "Tonya Harding Part 1"
Hosted by Michael Hobbes and Sarah Marshall, You're Wrong About is one of the best stealth true-crime podcasts out there. Sure, not every episode deals with an act of malfeasance, but the ones that do (see the excellent "Kitty Genovese and 'Bystander Apathy'" episode) always shed new light on an old case. This is true even of stories we've heard many times over, like the sad tale of Tonya Harding, brought to the fore once again by the 2017 film I, Tonya. This first installment focuses on the events leading up to the attack on Harding's fellow competitor, Nancy Kerrigan. Hobbes and Marshall go deep into the world of amateur figure skating, examining the outmoded ideas of femininity that made Harding a black sheep of the sport — and Kerrigan a favorite. Pains are also taken to lay bare a few of the recent biopic's shortcomings in the portrayal of Harding's alleged abuse at the hands of husband Jeff Gillooly. (Essentially, the movie may have been a little too kind to Gillooly based on what Harding says actually happened.) One thing that is immediately clear? Harding deserved better from just about everyone in her life. —Amy Wilkinson
The Murder Squad: Jensen and Holes: "Jenkins County Jane Doe"
On February 14, 1988, the body of a young woman was discovered in a duffel bag in a dumpster in Millen, Georgia. On this episode of The Murder Squad, hosts Billy Jensen and Paul Holes, along with Laura Norton of The Fall Line, examine the existing clues — the bedding she was wrapped in, a sketch made based on what physical characteristics could be discerned, that duffel bag — in order to attempt to get to the bottom of this mystery. Was she a migrant worker? A sex worker? Had she been trafficked into working at one of many "massage" parlors across the state? Who is the dude who called in to suggest the police pursue a guy named Johnny Young? What's a rumor and what's real? As of today, we still don't know who she is or who killed her, but thanks to Norton and her team's dogged research, and the work of the Georgia Bureau of Investigation, there are some potential leads. The charge to listeners in this episode is not just to contact Jensen and Holes if you have any information (such as where one might have purchased such bedding) but to send in photos of the area — of Millen, Augusta, and Savannah — from the late 1980s and early '90s. —Chanel Dubofsky
Gone Cold: "Summer of a Lost Girl: The Abduction & Murder of Dannarriah Finley"
This episode of Gone Cold, a Texas true-crime podcast, focuses on the unsolved kidnapping and murder of 4-year-old Dannarriah Finley, who disappeared from her home in Orange, Texas, on July 4, 2002. Not only was it a national holiday (and, you know, the day Julia Roberts secretly got married), but Dannarriah disappeared just a few weeks after Elizabeth Smart during a summer in which child kidnappings were seemingly everywhere — or perhaps it was just the media coverage that made it feel that way. White, blonde, affluent children are the ones who make the national news; the search for Dannarriah, a black girl from a working-class family, apparently didn't merit nationwide attention.
Even though it's been 17 years since the little girl's murder, friends, family, and investigators in Orange haven't given up the search for Dannarriah's killer. No suspects have been officially named — investigators seem to be playing this one close to the vest — but the more media attention Dannarriah's case gets, the more tips that will come in and the closer they will be to finding whoever committed this despicable crime. —Jenni Miller
The Clearing: "Creepy John Wayne"
So you have a neighbor who is problematic, to say the least. As in "shot a gun into a group of children to scare them" problematic. And then one day he disappears, along with his family, and then, a few weeks later, a police officer comes by to ask some questions about said problematic neighbor, and after he leaves you realize that the police officer WAS THE NEIGHBOR, wearing a fake mustache.
Those who knew murderer Edward Wayne Edwards, the subject of The Clearing, report a lot of stories like the one above, told to host Josh Dean by Edwards's neighbor Diane Slaughter and her mother, Lynn — stories that made Edwards's daughter April think she was crazy, they seemed so unbelievable (like the time he took April, her mother, and siblings to a crime scene). In this episode, April attempts to excavate her memories to figure out what really happened before, during, and after every time her father piled his wife and children into his car and fled one town after another because, he claimed, he was being pursued by "bad guys."
Edwards, who died in prison in 2011, is thought by some to have been one of the most prolific serial killers in history, responsible for the deaths of JonBenet Ramsey, the Black Dahlia, Laci Peterson, and basically every unsolved murder on record. Maybe he was, and maybe that will come to be revealed over the course of the podcast, but at this point, what's most remarkable in this case are the revelations about memories — how they can hide and be hidden — and the fact that, even though it seems inconceivable, we are actually capable of gaslighting ourselves. —Chanel Dubofsky
Hell and Gone: "The Waiting Game"
The second season of Catherine Townsend's thrilling investigative podcast focuses on the extremely suspicious death of Janie Ward back in 1989. Ward, a high-schooler whose sister described her as someone out of the B group in Romy and Michele's High School Reunion, was at a party in an isolated cabin in the Ozarks when she allegedly fell off a porch less than ten inches high, suffering fatal neck and spinal-cord injuries. However, the two autopsies that have been performed on her — one in 1989 and one in 2004 — came to different conclusions about what could have caused those injuries. There are plenty of other loose ends to investigate as well, such as the sand in Ward's hair and why her clothes were changed from the preppy ones she was wearing when her late father Ron identified her at the morgue to the black, skull-emblazoned T-shirt she was in before her autopsy, after a night at a local funeral home.
Townsend starts by interviewing journalist Mike Masterson, who introduces her to Ward's mother Mona and sister Krystal, and the four have a meeting at a local restaurant to talk about Ward's death and Ron's own investigation into the matter. Later, the Wards hand over a treasure trove of media from Ron's research, and it's especially moving to hear him discuss identifying Janie at the morgue and concluding that his daughter had, in his opinion, been beaten to death. Townsend also offers an update on the murder of Rebekah Gould, which was at the heart of the first season; it sounds like this is an ongoing investigation that will continue to be a hot topic in this second season of Hell and Gone. —Jenni Miller