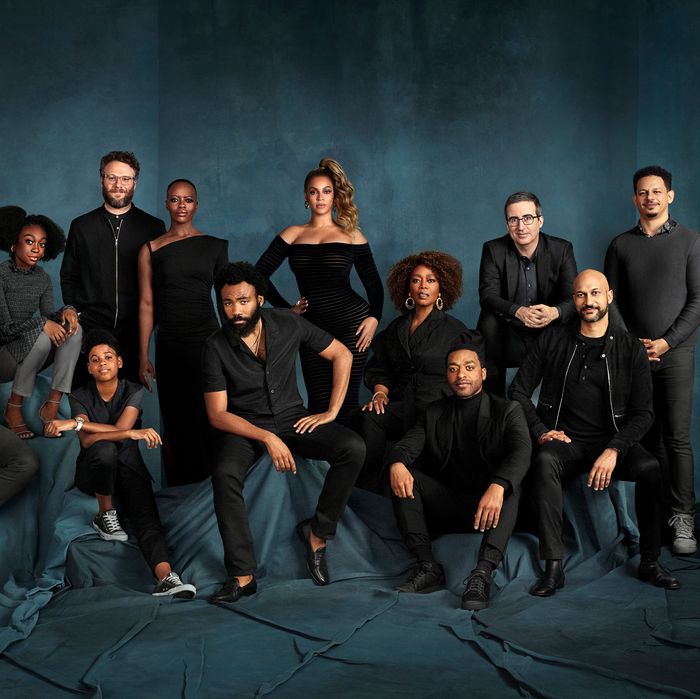 The "Dark Universe" cast photo will not be outdone!
Photo: Kwaku Alston
Every once in a while there comes a time when the cast of a big studio movie must awkwardly gather together in a ramshackle Sears Portrait Studio and pose for a photo. Tom Cruise, Russell Crowe, and Johnny Depp put their best feet forward for the "Dark Universe" cast photo, and it continues to haunt our nightmares. Now it is time for Beyoncé Presents: The Lion King to wear different variations of the same gray-black color scheme and show those clowns how it's done! (Extremely unimportant but worth considering: Tom Cruise is in the center of the "Dark Universe" cast photo, while Beyoncé is in the center of the Lion King cast photo. What might their version of A Star is Born have been like, if it actually came to fruition?)
The Lion King shot can be broken down thusly: On one side of Beyoncé is Donald Glover, Florence Kasumba, JD McCrary, Seth Rogen, Shahadi Wright Joseph, and Billy Eichner. On the other side of Beyoncé is goddess Alfre Woodard, Chiwetel Ejiofor, John Oliver, Keegan Michael Key, and Eric André. If there is indeed a multi-verse, as Bradley Cooper's tethered Jake Gyllenhaal would like us to believe, Beyoncé is certainly at the center of all those universes, too. So thank you for your important work, everyone featured in this photo alongside Beyoncé! When the rapture comes, Blue Ivy will remember your service. But the real co-star of the picture is all that gray-blue crumbled-up fabric on the floor. What's going on there? Seriously!