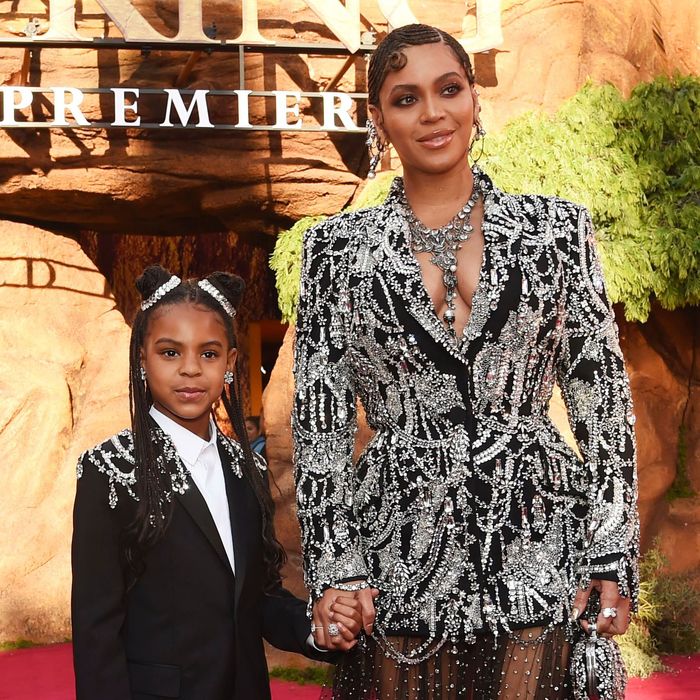 Run Blue Ivy her check!
Photo: Chris Pizzello/Invision/AP/Shutterstock
Beyoncé Presents: The Lion King is truly the gift that keeps on giving. This summer alone we've gotten Beyoncé and her daughter-manager Blue Ivy Carter frowning at the film's U.S. premiere (probably because the Disney check hadn't cleared yet). We've gotten Beyoncé's first real live interview in years. We've gotten her song and music video "Spirit." We've gotten Beyoncé smiling at Meghan Markle, and Jay-Z giving the duchess a very safe church hug. (We have also gotten a lot of people issuing pointless, weightless reminders that The Lion King remake is not "all" "about" "Beyoncé," to which I say: The hell it's not!) First thing Friday morning, Beyoncé Presents: The Lion King presented yet another gift: The Lion King: The Gift — her companion album for the film — and specifically the song "MOOD 4 EVA."
Could Angelina Jolie's Maleficent cheekbones slice me open from five-head to feet? Yes. Would I let Dan Stevens as the Beast leave me on read? Unfortunately. How ready am I for Halle Bailey as Ariel? Extremely. But nothing could compare to "MOOD 4 EVA," which raised me from my slumber and had me dancing around my apartment until 1:30 in the morning. "MOOD 4 EVA," my friends, is a near-perfect song.
On The Lion King: The Gift, Beyoncé has curated a collection of music from black and African-American artists. Blue Ivy makes an appearance, as do Jay-Z, Pharrell, Tekno, Mr. Eazi, Burna Boy, Tierra Whack, WizKid, Major Lazer, 070 Shake, and Childish Gambino. (It is worth noting that Jon Favreau's Lion King soundtrack could only secure the vocals of Donald Glover; I imagine Beyoncé said, and I'm paraphrasing here, "On my album we will hit the notes — Childish Gambino or nothing.") The Gift's highlight is the DJ Khaled (???) and Beyoncé–produced "MOOD 4 EVA," where Beyoncé chews us up, spits us out, and reminds us that if we need to recover, maybe the Ramada Inn has a vacancy? Because we live in a country that does not have nationalized health care, and we don't have Blue Ivy managing our finances.
Beyoncé's hardest bar, her greatest line, her sickest burn, is just her reciting her government name: "I am Beyoncé Giselle Knowles-Carter," releasing every syllable with a snarl, like a threat and a promise all at once. (Obviously, she follows that by listing her royal résumé: "I am the Nala, sister of Yoruba / Oshun, Queen Sheba, I am the mother.") Beyoncé on "MOOD 4 EVA" is the mother I never had. (To both my actual mother and Laurie Metcalf in Lady Bird: Please don't read this.) She is the sister everybody would want. She is the friend everybody deserves. I don't know a better person. I don't know a better person!
Jay-Z and Childish Gambino have a pair of minimal contributions, sure, but this is Beyoncé at peak Beyoncé: Why would you try her? Why would you bother? Blue Ivy locked her mother in the studio and said, "You better come up with something so I can cash this Disney check." (The only imperfect thing about "MOOD 4 EVA," it should be noted, is the goofy way Donald Glover as Simba says "Nal-augh?" on the Nala-Simba interlude that immediately follows "MOOD 4 EVA." That is, incidentally, not a mood I want for even a little bit, not even at all.)
But "MOOD 4 EVA" is the second part of a one-two punch: Before Beyoncé demands sirens and goose bumps and diamonds, she coos on her latest Kendrick Lamar collaboration "Nile." (The two last united on Lemonade's "Freedom.") Here are things I know about the Nile: It is the longest river in the world. It is in northeastern Africa. It flows north. But most importantly, Beyoncé has it running through her body. One day, Blue Ivy will give us a fuller, longer version of "The Nile," which currently clocks in at less than two minutes. I imagine Blue's just waiting to see what we clowns can pull together for Beyoncé Presents: The Lion King's first weekend gross.