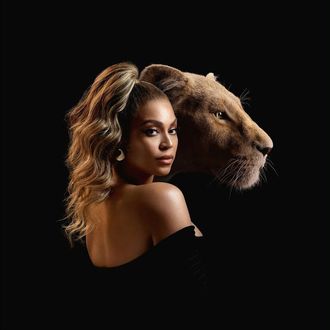 The gift that keeps on giving.
Photo: Kwaku Alston. © 2019 Disney Enterprises, Inc.
Anything Beyoncé does in the public eye is a gift. The Gift, while not quite a Beyoncé album, is a present we didn't know we needed. And it's giving Bey a chance to create music she normally wouldn't, collaborate with a variety of artists she normally wouldn't, and win an Oscar, which she otherwise has been denied (justice for "Listen"). But The Gift is more than that. It's a gift that keeps on giving in the form of Blue Ivy verses, Tierra Whack features, and a whole bunch of Nigerian artists to fall in love with. Its most giving gift is the gift of not including Drake on an Afrobeats album because you know he's somewhere mad as hell. Here are the best moments from The Gift, each of which feel like a personal kiss on the forehead from Beyoncé herself.
"Don't Jealous Me"
Yes, we were also confused about why we're so excited about a Beyoncé song that doesn't have Beyoncé on it. But once you listen through, it's immediately clear: Mr Eazi, Tekno, and Yemi Alade are powerhouses, but so smooth the dance moves just flow out. Play it at every single function you're invited to.
"Nile"
Reunited for the first time since Lemonade's "Freedom," Beyoncé and Kendrick Lamar's voices open the song, speaking in unison, hardly singing "One time I took a swim in the Nile." It's hypnotic and beautiful and realizing they pronounce "the Nile" like "denial" halfway through the song is a galaxy-brain moment.
"Mood 4 Eva"
Donald Glover must have gotten home from recording "Can You Feel the Love Tonight?" and worked on his scales and his arpeggios in order to be on "Mood 4 Eva." Beyoncé starts and ends the song before Jay-Z and Childish Gambino even get a word in. She raps circles around her real and her CGI lion husband, both of whom have careers in this genre.
"Brown Skin Girl"
When I tell you I wept through this song … I wept. Blue Ivy kicks us off, singing along with Brooklyn rapper-singer Saint Jhn. Thinking about Blue, and Beyoncé's love for her daughters, makes this such an emotional song, despite its light and sweet beat. It's so kind of Blue Ivy to let Beyoncé make her little songs and voice her little lion. I mean, Blue Ivy, manager extraordinaire, is the one we really have to thank for The Gift.
"Otherside"
Beyoncé pulls out her deep voice, her "If you try this shit again" voice, her "I Been On" voice, at the end of "Otherside" to sing in Swahili as Bankulli sings in Yoruba.
"My Power"
There's truly nothing more powerful than a track with Beyoncé, Philadelphia rapper and visual-arts genius Tierra Whack, Moonchild Sanelly, and Nija (who's just 21 and won two Grammys writing for Cardi B). The song is a force from start to finish, just like these crazy-talented artists. It's a dance song, a hype-up song, and an inspirational anthem all in one. And isn't the true gift the way the music makes you feel?