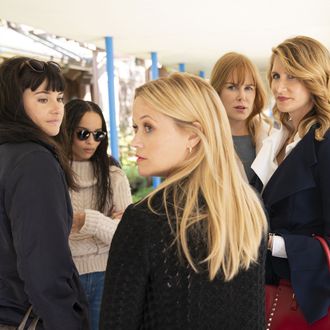 Photo: Jennifer Clasen/HBO
The second season of Big Little Lies ended Sunday with the Monterey Five turning themselves in and clearing the air. What isn't clear is what happened behind the scenes with director Andrea Arnold, who was hired to helm all seven episodes of season two because the first season's Emmy-winning director and executive producer, Jean-Marc Vallée, was working on Sharp Objects.
IndieWire reported on July 12 that Vallée, who remains an executive producer, took over the show's editing after filming had ended and that no one informed Arnold, even though she had hired her own editing team. But during HBO's executive session at the Television Critics Association press tour on Wednesday, president of programming Casey Bloys said, "There were no surprises as to how this was going to work" for anyone on the show. "We were clear with Andrea, as were the producers, that nobody was looking to throw out the baby with the bathwater," he added. "We didn't want to reinvent the show."
Bloys says that Big Little Lies followed the usual TV protocol of a director turning in their cut of an episode and then having the showrunner and other producers "hone" the episode until they arrive at a final cut. Arnold turned in cuts for each of the seven episodes, he added, and the show's seven executive producers asked Vallée, who was on a break, to help them edit the episodes. (Vallée was nominated for an Oscar for the editing of his film Dallas Buyers Club and nominated for an Emmy for editing Big Little Lies.)
"There wouldn't be a second season of Big Little Lies without Andrea," Bloys said. "We are indebted to her. I think she did a beautiful job. She got extraordinary performances out of this cast. But as anybody who works in television knows, the director typically doesn't have final creative control. So the idea that creative control was taken from a director is just a false premise. For anyone who understands television, this is business as usual. I would be hard-pressed to point to any show that airs a director's cut as its episode. It's typically the raw material that the producers work from."
But the first season of Big Little Lies did, in fact, operate more like a film set, with Vallée directing in his signature style — no rehearsals, using as much natural light as possible, and he himself often behind a handheld camera — and then editing the episodes with his team in Montreal. Vallée often enhanced scenes on the fly on set to align with his aesthetic, which showrunner David E. Kelley welcomed.
"Jean-Marc was not given carte blanche," Bloys explained. "He and David and the producers happened to have an aligned vision of what they wanted. Because they were establishing the look and feel of show, they were working in unison. Andrea was never promised she would have free rein. We were clear, the producers were clear, that while we hired her for her eye and for her talent, we were not looking to reinvent the show. That was clear for everybody."
Bloys also said that Arnold was "absolutely" informed that Vallée had been called to work on the show in postproduction, and talked about why episodes of the second season of Big Little Lies credited 9 to 11 editors per episode. "Jean-Marc is an editor and he has a team of editors that he works with," Bloys said. "The only thing that's unusual is that he's very particular about who he works with and how he works."
Arnold, Vallée, and Kelley have thus far all declined to comment on the Indiewire report.
Although the first season of Big Little Lies was intended as a limited series, Bloys said the producers and cast became excited about exploring what happens after a big lie is told in the second season. At the moment, however, he doesn't see an "obvious place" to continue with the story. "This group is an extraordinary group of actors and writers and producers and directors, and if they came to me and said we have the greatest take, listen to this, I would certainly be open to it because I loved working with them. Who knows? It just doesn't feel like it, but I'm certainly open."