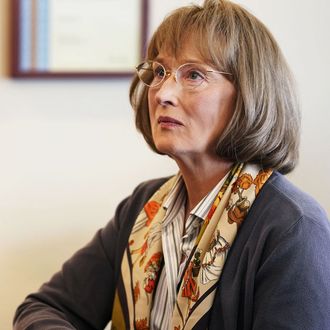 Meryl Streep was dropped on this Earth with the express purpose of teaching us how to act. She teaches us with her performances and she teaches us with her words. And even her peers could stand to learn a thing or two, specifically how to mind their own business. Meryl Streep's co-star on Big Little Lies, Poorna Jagannathan, who played the embattled lawyer of Celeste (Nicole Kidman), told Vanity Fair that Streep would push back on acting notes she disagreed with. "Meryl wouldn't entertain any comments that insinuated she was the villain," Jagannathan said, but insisted that Streep wasn't rude. The three-time Academy Award winner would simply reply "that's not of your business." Please just imagine watching Meryl Streep place that gold cross necklace in her mouth and replying "That's not of your business" when you ask "Excuse me, what?" It's a lesson directors and civilians alike should learn. Some things simply are not our business, but here's a quick list of what is, what isn't, and what, at the very least, should be.
Meryl Streep's Mary Louise teeth: our business.
Why the bridge was featured so prominently in the BLL opening credits: apparently not our business.
The abundance of bangs this season: thankfully not our business.

Whether or not Abigail went to college: Not really our business, but we are invested in that plotline.

Amanda Arnold–Jean-Marc Vallée drama: absolutely our business. In fact, we would like to know more.
What happened to the ice-cream scene: our business as soon as we get our hands on the DVD extras.
Why that one woman kept a masturbation diary: Not. Our. Business.