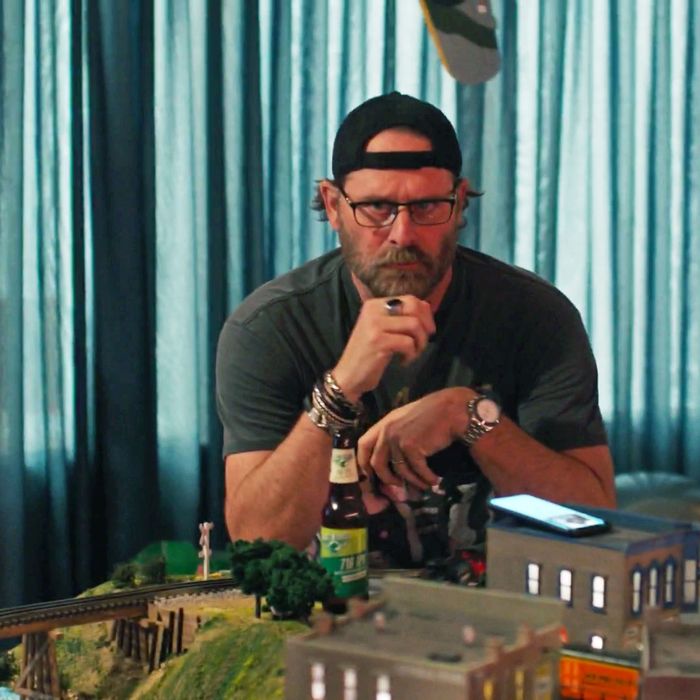 That face when you love trains.
Photo: HBO
There are few redeemable qualities about Gordon Klein (Jeffrey Nordling) in this season of Big Little Lies, which begins with him being busted for insider trading, peaks when he bankrupts his family's savings, and crescendos — at the end of this week's episode — with the bombshell that he paid the family's au pair for freaky sex stuff. If someone held a gun to our head and made us say one nice thing about Gordon, though, it would be easy: This guy has great taste in trains. Really great taste!
The first time we got a peek into Gordon's man cave earlier this season, a stunningly large and intricate train set was the room's focal point — an amusing companion for him to drunkenly mope around while lamenting his failed GulfStream dreams. But alas, as revealed at his and Renata's (Laura Dern) bankruptcy meeting of creditors in episode six, Gordon hadn't fully paid off the set's costs, which likely means one thing: The government is going to board at Liquidation Station and hop off at No Mercy Boulevard, taking away one of the last things that brings him joy.
"The train was something added by David Kelley, because he wanted this guy to have a man cave," Big Little Lies' production designer, John Paino, told Vulture. "When I was researching man caves, it made sense that he had a train and enjoyed collecting memorabilia. We wanted to have a really expensive train set in there to show his wealth. What would be something expensive he could lose?"
The set, which Paino estimated is 12-feet long and 18-feet wide, was custom built by a small team at the Train Shack in Burbank, and it cost the show a cool $30,000. (Translation: This ain't some measly Thomas the Tank Engine play set.) "I drew a layout of the train set's tabletop," Paino explained about its creation. "The train company we hired have people who actually specialize in setups for rich people. We showed them the drawing and they were able to make something close to that."
Since Gordon hails from Buffalo, New York, Paino and his team were keen on crafting a set that mirrored the city, adding an extra layer of personal significance. "We wanted it to be based on some landmarks from the Buffalo area," he said. "There's actually a famed train depot in Buffalo, which used to be breathtaking but now is in ruins. We incorporated that building into the makeup of the tabletop. We did a lot of references to other Buffalo landmarks, too."
Other details are too small for a non-railfan to notice, such as the Santa Fe Express — one of the most coveted lines for collectors — being included in the set. But, overall, Paino hopes viewers will realize a love of trains transcends any socioeconomic status. "There's a huge, complex world of train sets," Paino said. "To have Gordon be into that was a nice touch."