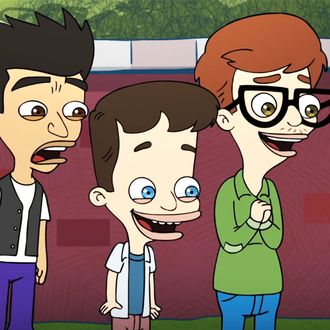 Big Mouth.
Photo: Netflix
It's a crazy week for animated comedy series over at Netflix. Not long after confirming it had unjustly canceled Lisa Hanawalt's beloved freshman series, Tuca & Bertie, the streaming network dropped the news today that the Nick Kroll and John Mulaney–starring animated series, Big Mouth, has been renewed for three more seasons. In addition to the renewal, Netflix has signed a multiyear deal with Brutus Pink, the animation production company behind the show, to produce more animated series and films for the streaming network. Big Mouth co-creators Kroll, Andrew Goldberg, Mark Levin, and Jennifer Flackett lead the creative team behind the company.
"Big Mouth brilliantly captures the most awkward phase in a person's life, puberty, in a hilarious yet heartwarming way," Mike Moon, head of adult animation for Netflix, said on the renewal. "We couldn't be more excited to continue our relationship with Brutus Pink and bring more stories, more humor, and more hormones to Netflix members around the world."
Big Mouth, which debuted back in 2017, wrapped up its second season last October and also dropped a Valentine's Day special earlier this year. In November it scored a renewal for a third season, which is slated to premiere sometime this fall. Today's renewal secures a fourth, fifth, and sixth season for the series, so don't expect the Big Mouth kids to escape puberty any time soon.