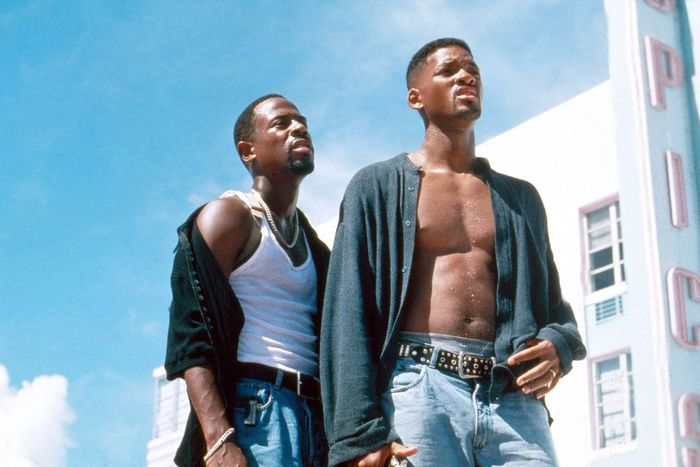 Bad Boys.
Photo: Columbia Pictures
Are you new to comedy podcasts, overwhelmed by the array of options, and wondering where to begin? Then welcome to Start Here, a recurring guide to the best comedy podcasts — and our recommendations for which episodes are the best entry points to your next auditory obsession.
At the end of each episode of Black Men Can't Jump [In Hollywood], hosts James III, Jerah Milligan, and Jonathan Braylock rate the film under consideration with either a raised black fist, a white palm, or nothing at all. Braylock explains that the proprietary rating system is "not based on how much we like the film or how well we think it was made. We rate them on how well they helped the cause of more leading black actors in Hollywood." Over four years and hundreds of episodes, the show has evolved into an intersectional ally, periodically pairing movies like Crazy Rich Asians and Coco with guests from different cultural perspectives. The BMCJ Patreon expands the format further to include TV shows, pop-culture events, and blockbuster films with black actors in supporting roles. But to call this a great "black film podcast" would be reductive: In a market lousy with movie podcasts, Black Men Can't Jump [In Hollywood] is one of the funniest and best out there, period.
As members of the hilarious sketch group Astronomy Club (along with Keisha Zollar, Monique Moses, Caroline Martin, Ray Cordova, and Shawtane Bowen), James III, Milligan, and Braylock have been satirizing the culture for a long time — first on the UCB stage, then on a Comedy Central digital series, and soon on their own Netflix sketch-comedy show. On the podcast, the three have been talking about movies in the context of Hollywood's diversity issues long before the systemic lack of diversity in film criticism became public discourse. Tackling classics like Beverly Hills Cop, Blazing Saddles, Training Day, and of course Hancock helped them find their own unique voices at first. Milligan (Desus & Mero) fills the role of the hypermasculine bro, fantasizing a swirl (interracial hookup) for each film no matter how extraneous to the plot. James III (Adam Ruins Everything) is the consummate comic-book nerd, always pitching ways for Will Smith's iconic superhero Hancock to make a cameo. And Braylock (Unbreakable Kimmy Schmidt), whose biracial background provides a slightly different lens, is the engine that keeps the show moving and the puns flying. Their 2017 Seriously.TV (RIP) series Projecting, about three movie-theater employees, heightened their characters in delightful ways while staying true to the pop-culture jokes fans of the podcast have come to know and love.
A BMCJ episode that perfectly captures the show's energy dropped in May 2017, when BMCJ reviewed Bad Boys (1995) with the help of The Daily Show's Roy Wood Jr. The trio often rolls without a guest, but Wood's immediate chemistry and enthusiasm for Bad Boys put this ubiquitous cable rerun over a number of personal favorites — especially Boo! A Madea Halloween, Suicide Squad, Girls Trip (featuring fellow Astronomy Club member Monique Moses), and obviously Hancock (featuring Ramy Youssef).
The show's cold open usually features Braylock forcing the movie's title into a really bad pun (see: Pokemon: Detective Pikachu). On this occasion he's gifted the ultimate setup, after Milligan and Wood trade too-good-to-be-true stories about a couple of real-life bad boys. Cue one of the best theme songs in the podcast game. Wood drops a bombshell to kick off the Bad Boys discussion: Will Smith and Martin Lawrence's Mike Lowrey and Marcus Burnett were originally written for Dana Carvey and Jon Lovitz. Let that sink in for a minute. Instead, Michael Bay gambled on two unproven movie stars who were lighting up early-'90s television. The buddy-cop vehicle allowed Smith and Lawrence, as Braylock says, "to be black without making it the point." This really hit home for a teenage Wood and adolescent James III, Milligan, and Braylock. "This was the first time in my life I remember as a kid thinking, That looks like me — that is possible," Milligan confesses.
This genuine excitement shines through for all 87 minutes of the episode. Téa Leoni's Julie is noted as one surprise highlight — a strong, funny lead who avoids the "damsel in distress" love-interest trap. And in a Michael Bay movie? Impossible. They point out how the "comedic relief" cops, Sanchez and Ruiz (Nestor Serrano and Julio Oscar Mechoso), are presumably burned alive in the third act, then quietly replaced in the sequel. (Conspiracy theorists, get on this.) The shadow of Will Smith always looms large over BMCJ, so his extremely '90s business-casual turtleneck and pre-Ali "average dude physique" are paid proper homage. And human IMDB Wood doesn't let us forget Mark Mancina's original orchestral theme song, replaced by the inferior "Shake Ya Tailfeather" in the sequel.
An apologetic Wood leaves after 45 minutes, but the trio don't miss a beat. They've encountered so many problematic tropes over four years of the podcast that any subverted ones are given high praise. Here Milligan applauds Smith for the way he saves Lawrence from getting hit by an oncoming car at the end of a chase scene. "This is one of my personal pet peeves … When I see movies and someone tries to save someone else from getting hit by a car and they push. Grab and roll, man!" He makes sure to reassure his friends that if "one of y'all walk in front of a car, I'll grab and roll, but I'm not about to push … not today." At its best, BMCJ evokes the feeling of listening to your funniest friends in the car on the way home from the movie you just saw together (or haven't seen at all).
It's no surprise BMCJ gives Bad Boys four well-deserved black fists, thanks to a rare double-fist from James III. Braylock sums it up best: "This film was considered a 'crossover' movie, but that term 'crossover' hopefully gets to go away, so by the time a film like Ride Along comes out, nobody's saying 'crossover film.' It's just a movie. That begins with a Bad Boys … These guys had a shot, and they knocked it out of the park." Fans are still waiting with bated breath to find out if Milligan will fulfill his on-air promise to knock it out of the park himself on camera in 2020's long-overdue sequel, Bad Boys For Lif3. Your move, Jerry Bruckheimer.