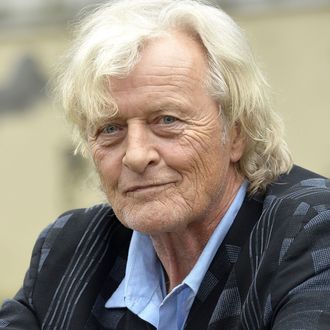 Rutger Hauer.
Photo: Agf/Shutterstock/Agf/Shutterstock
Actor Rutger Hauer, perhaps best known for his role as Roy Batty in the sci-fi classic Blade Runner, died last Friday at the age of 75. At the behest of his family, the news was kept private until his funeral could be held Wednesday. Hauer's agent confirmed to The Hollywood Reporter that the actor died in his home in the Netherlands after a short illness. The Dutch performer started his career in 1969 on the German TV show Floris, but just a few years later was given a starring rolling by Paul Verhoeven in the 1973 film Turkish Delight. Hauer gave his most famous performance in Ridley Scott's Blade Runner as a replicant droid on the run. Hauer shouldered one of the most famous scenes in cinema history with his "Tears in Rain" monologue, which he revised from the original script, using some of his own additions in the final cut.
Hauer continued to work through the last decades, up until his last days. In the 1980s he starred in films like Richard Donner's Ladyhawke, and played the infamous John Ryder in The Hitcher. Often an intense an imposing presence, the Dutch actor was well-suited to roles in genre films and TV shows, like playing the ultimate evil in the original Buffy the Vampire Slayer movie (1992) and the sinister Cardinal Roark in 2005's Sin City, the same year he appeared in Christopher Nolan's Batman Begins. In his late 60s, he even starred as the titular character in indie-exploitation picture Hobo With a Shotgun from 2011, and he had a multi-season arc on HBO's True Blood late in the show's run. Hauer was also attached to multiple projects yet to be filmed, and had completed work on several films that have not yet been released.