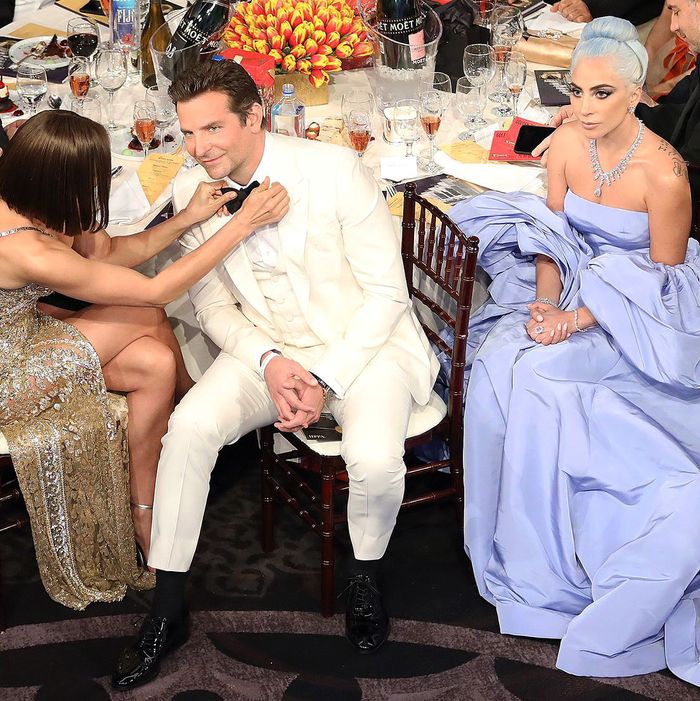 Bradley Cooper and his leading ladies.
Photo: Richard Heathcote/NBC/NBCU Photo Bank
We started caring about Bradley Cooper and Irina Shayk's relationship, in the words of John Green, slowly and then all at once. Their post–Met Gala make-out piqued our interest back in 2015, but if we're really being honest, as soon as Bradley Cooper said he was in love with Lady Gaga's face, we strapped in for whatever was going to happen between him and Shayk. Through "allergies" and arguments, these two Capricorns dug their horns into their relationship and for that we mourn them. We mourn their fabulous vacations. We mourn their public displays of affection and their public displays of hatred. Here is an extensive recollection of their relationship plus what Lady Gaga was up to.
January 17, 2015: After five years, soccer star Cristiano Ronaldo and our heroine, Irina Shayk, mutually call it quits. The circle of life begins again.
March 19, 2015: Bradley Cooper and Suki Waterhouse break up. Notably, Waterhouse is presently happily dating Robert Pattinson. Truly cannot wait for that timeline.
April 22, 2015: Just one month later, Cooper and Shayk traipse around New York City, including at the Broadway musical Finding Neverland. Is this where Bradley Cooper decides he should do a musical? They also mingled in D.C. at a White House Correspondents dinner party.
May 5, 2015: If you're going to confirm your relationship, do it at the Met Gala. Instead of posing together on the red carpet, Cooper and Shayk took a bolder approach and made out at Rihanna's after-party. Where was Leo? Standing guard?
August 9, 2015: Bradley Cooper begins working on A Star Is Born. It's the beginning of the end, but things only ramp up for Cooper and Shayk. For a while, their relationship plays out happily, like the first half of the Up intro.
August 12, 2015: They hang out on the Amalfi Coast.
September 14, 2015: She hangs out with his mom.
October 22, 2015: They hang out with both moms.
January 21, 2016: And in the new year, they start looking for a home together.
March 1, 2016: As rumors fly about a potential break, Cooper grabs breakfast with Naomi Campbell and sparks new dating rumors. But it was breakfast and they both dressed like they were going to the gym after. So it makes sense that nothing came out of that.
March 8, 2016: Casting for A Star Is Born hits a little bump when Beyoncé asks for too much money. BRB, imagining a world where Beyoncé is Ally and this timeline doesn't exist.
March 9, 2016: Cooper and Shayk make their red-carpet debut at the L'Oréal Red Obsession Party in Paris after 11 months.
July 10, 2016: After a quiet start to summer, Shayk is spotted tearing up while they're at Wimbledon. Not the type to go full Justin and Hailey Bieber, their reps clarified that Shayk's eyes were watering due to allergies. That is exactly the kind of lie two Capricorns would make up.
July 18, 2016: Bradley Cooper is very hands-on in recruiting a new leading lady, Gaga, that is.
July 19, 2016: Lady Gaga and Taylor Kinney end their engagement and part after five years together.
August 16, 2016: History is made. Oscar voters everywhere feel a chill. Lady Gaga is cast in Bradley Cooper's humble remake of A Star Is Born.
September 5, 2016: Things get real comfy, real fast. Gaga and Cooper are spotted getting groceries together, which is high on the list of Cooper doing platonic things with beautiful women. Breakfast? Groceries? Next has to be a doctor's visit.
November 30, 2016: Irina Shayk is pregnant and "so excited." Tabloids stop referring to her legs as "pins" and start calling her things like "mama-to-be."
December 21, 2016: Mama-to-be is caught wearing an emerald engagement ring. Cooper's Catholic upbringing really jumped out.
February 10, 2017: Lady Gaga begins dating her agent, Christian Carino, presumably for making the Super Bowl deal work.
March 2017: A baby, Lea de Seine Shayk Cooper, is born. Not to be confused with Cooper's other baby, A Star Is Born, which won't enter the world for about a year.
July 10, 2017: Things are good. They have millions of dollars. They have an infant. They leave that infant at home to vacation with Anderson Cooper.
May 5, 2018: They attend their first official Met Gala together and Shayk isn't just wearing Atelier Versace, y'all. She's wearing an engagement ring. It feels like the last five minutes of a rom-com.
August 31, 2018: Bradley Cooper says he "fell in love" with Lady Gaga at the Venice Film Festival. It's one thing to ruin his own relationship, but don't ruin Italy for Irina, Bradley.
October 5, 2018: Welcome to the world, Bradley Cooper and Lady Gaga's baby, A Star Is Born.
October 11, 2018: Returning from a solo trip to Ibiza (couldn't step foot in Italy), Shayk seems "miserable" at dinner with Cooper. Similarly, he is pissed at Taffy Akner-Brodesser and, more generally, the press. It's not our fault he professed his love for Lady Gaga to Variety.
October 16, 2018: Probably shook from the events in Venice, Lady Gaga and Christian Carino get engaged!
February 2019: Bradley Cooper starts to grow out his beard.
February 2019: Another Capricorn lie: Shayk claims they are just private people.
February 19, 2019: Lady Gaga and her fiancé, Christian Carino, split. She waits by the phone to find out if Cooper has done the same.
February 24, 2019: Bradley Cooper and Lady Gaga sing "Shallow" at the Oscars. Twitter orgasms. Shayk, presumably, packs up the house.
February 26, 2019: Just kidding — she absolutely doesn't do that, but she should have. Instead, they share a very tense car ride because open hatred together is better for children than two happily separated parents.
February 28, 2019: Lady Gaga shuts down reports that there's anything happening between her and her director and co-star. He doesn't even have an Oscar … so …
March 12, 2019: Rumors Lady Gaga is pregnant? Yeah, pregnant with #LG6.
May 6, 2019: Shayk attends the Met Gala alone.
June 3, 2019: After a quiet few months, Bradley Cooper and Irina Shayk's relationship is hanging on by a thread. The thread is named Lea de Seine.
June 6, 2019: Cooper and Shayk break up due to irreconcilable differences. "He doesn't drink and is into spirituality. She wants to go out," a source says. Hopefully they each learned something from this relationship: how to effectively lie to the public.
July 11, 2019: Irina Shayk explicitly says nothing about her unconfirmed split with Bradley Cooper, making a delightful pivot from bold lies to bold silence.