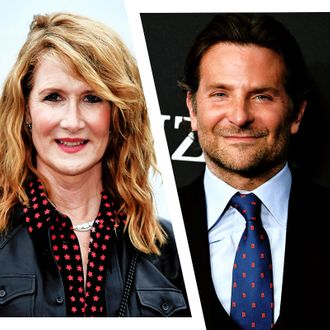 Laura Dern and Bradley Cooper: A lunch is born!
Photo: Getty Images
What did you do on Saturday afternoon? Did you have lunch with Bradley Cooper? (In that case, Laura Dern, hello!) Did you have lunch with Laura Dern? (In that case, Bradley Cooper, please respond to any one of my hundred remaining questions about A Star Is Born.) If you did not lunch with either of these people, here is little bit of news for you: Bradley Cooper and Laura Dern had lunch in New York City on Saturday.
According to the Daily Mail, Cooper has been spending more time in New York City recently after his split from Irina Shayk. He and his longtime friend Dern were spotted grabbing a bite to eat in Manhattan. What did they discuss? Did Laura Dern, in the key of Renata Klein saying "That's perjury babe," say something like: "You should not have ever shaved your Jackson Maine beard, babe," or "When are tickets going on sale for the rumored live Star Is Born reading, babe?" or "Why was the Anthony Ramos character listening to 'Yonkers' by Tyler, the Creator after the 'Shallow' scene, babe?" It is, perhaps, more likely that she said something very sympathetic and understanding, and offered him support and gentle career advice during his breakup.
If you saw Laura Dern and Bradley Cooper lunching and/or happened to observe her giving him some Tom Ford bronzer and a beauty blender so he can return to his Jackson Maine tan, I can be reached via email at hunter.harris@nymag.com.