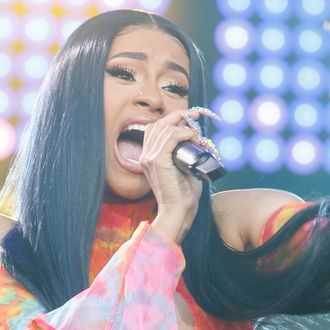 Photo: Randy Holmes/ABC via Getty Images
Cardi B's show in Indianapolis was canceled shortly before it was set to begin on Tuesday due to a "security threat." Without going into further detail, the rapper tweeted out an apology to fans. "Dear Indiana people I'm so sorry for today .I will like to let you know I was at the venue I was even rehearsing a new move I been excited to do on my show," she wrote. "Unfortunately there was a security threat that is currently under investigation right now. My safety and your safety first." Cardi also included footage of rehearsal taking place at the venue, seemingly to reassure skeptical fans.
"Im so sorry guys I never dealt with a situation like this before and I'm not taking any chances," she wrote in a similar apology post on her Instagram. It's unclear what the security threat was or how Cardi's team became aware of it. The Indianapolis Metropolitan Police tweeted out that they'd been informed of an "unverified threat," but that it was not an active incident and an investigation was ongoing. Meanwhile, the concert has been rescheduled for September 11.