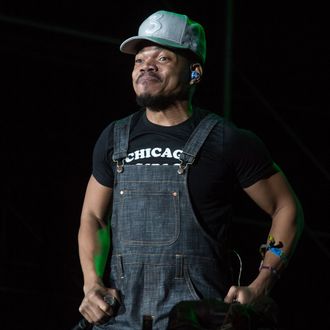 Photo: Santiago Bluguermann/Getty Images
Chance the Rapper is five days into teasing his upcoming "owbum," which is definitely due out sometime in July, maybe today or tomorrow or July 31. Who's to say? Not Chance, that's who. The Chicago rapper is clearly enjoying driving his fans crazy, and to up the ante he posted a teaser last night featuring new music over a loving video tribute to his wife, Kirsten Corley, including a shot of her wedding ring, photos of their daughter Kensli, and their actual engagement video.
"Oh my god, it's the greatest day of my life/So glad you've arrived," he sings. "But the only way to survive is to go crazy." As for the song itself, it's a loving sonic tribute to the beautiful, beloved Phil Collins, Francis and the Lights–style.