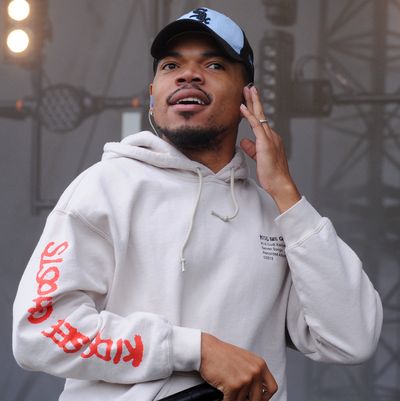 The 22-track album is a treasure trove of easter eggs, unexpected finds, and introspection.
Photo: Timothy Hiatt/Getty Images for Nickelodeon
Though it arrived better late than never, Chance the Rapper's debut album, The Big Day, is here in the nick of time to catch the last few weeks of summer-cookout season. The album, inspired by Chance's wedding earlier this year, satisfies all your two-stepping needs with a guest list that includes En Vogue, SWV, and DJ Casper, plus interludes from John Witherspoon and more. But that's just the surface: The 22-track album is a treasure trove of Easter eggs, unexpected finds, and introspection, including even more surprising appearances from Randy Newman, Death Cab for Cutie, and Shawn Mendes; a new spin on a Broadway classic; a possible pregnancy reveal from Nicki Minaj; and the details of how Chance would like to be remembered (spoiler: definitely not as a hologram). Here's the beginner's guide to all the standout moments on The Big Day.
Death Cab for Cutie on "Don't You Remember"
Yes, that is the voice of Ben Gibbard you're hearing on the hook of track two. In an Instagram post, Death Cab for Cutie explained the origin of the collab, saying they met Chance three years ago at Bonnaroo and realized they were all pretty big fans of one another. "Fast forward to 2019," reads the post, "and we were truly surprised and honored when Chance got back in touch and asked us to be part of a song called 'Do You Remember.'"
A Family Affair on "Eternal" and "Roo"
Both Taylor Bennett (Chance's younger brother) and CocoRosie have featured verses on "Roo," which is sonically darker and more confrontational than most of the rest of the album. Taylor comes in with:
"When I was 11 heard my homie dad died

This shit deeper than music I got PTS for life

So if you do production just make sure the drums right

The independent Bennetts will never need your advice."
And in his swing at side pieces, Chance recruits the services of his dad, Ken Bennett, who co-wrote it.
Getting Real About Relationship Issues on "We Go High"
The Big Day has Chance's signature celebratory vibe all over it, but he's also always ready to remind you that the road to marital bliss can be rocky. Chano has been with his wife Kirsten Corley for years, and they've known each other most of their lives. On "We Go High" he gets at some of the (mostly) private troubles they experienced before patching things up and getting married earlier this year, with a second daughter now on the way. See:
"My baby mama went celibate

Lies on my breath, she say she couldn't take the smell of it

Tired of the rumors, every room had an elephant

Tryna find her shoes, rummagin' through the skeletons

She took away sex, took me out of my element

I tried to do the single-dad mingle-dance."
Bringing the '90s Back: "I Got You (Always and Forever)", "Found A Good One (Single No More)"
The music, the vibe, the clothes, the people! Chance takes it back to those halcyon days of 1993 with features from SWV on "Found A Good One," about finding that long-term love, and En Vogue on "I Got You," which is really its emotional sequel on Big Day. The latter track also has a cameo from gospel singer Kierra Sheard.
Shawn Mendes Gets Invited to the Cookout
Chance flips the Top 40 NOS switch on "Ballin Flossin" by tapping pop prince Shawn Mendes to deliver the chorus on this brief, slick track (much like when Chance recruited Justin Bieber for Coloring Book's "Juke Jam"). There's also a Brandy sample ("I Wanna Be Down") and additional ad-libs by Chicago legend DJ Casper (of "Cha Cha Slide" fame), daring you to keep your hips still the entire time.
The Surprise Coda on "5 Year Plan"
If you thought Death Cab was a surprise, "5 Year Plan" will throw you for a real loop. Near the end of the song you'll hear the voice of Randy Newman encouraging you to push through your trials over a piano accompaniment. (It is Randy Newman, after all.)
"Get a Bag" by Way of James Taylor
James Taylor sang about his "Only One" and you'll hear a twist on that song's "telling you now" chorus guiding you through Chance's "Get a Bag."
Last Wishes on "Sun Come Down"
Chance has a specific talent for making the present about the infinite. He celebrates life by seemingly accepting it could end at any second and he therefore must be at peace with what he's left behind. "Sun Come Down" skips ahead to his eventual death, and he has a few very specific requests he would like you to observe. Among other things: Leave the damn holograms out of this.
"Please don't let my death be about my death

Please don't make no movies about my death

Please make my death about my life

If you make a movie 'bout my life, make it right

Please don't make no holograms, don't wanna do it twice

You wanna use my likeness, please approve it through my wife

And if you get the license then you better use it right

Don't misconstrue my offerings to offer new advice

If I said it, I meant it

If I'm dead, it's cemented."
And since he's getting personal enough to hint at his last will and testament, Chance also uses the track to check the apparent rumors his marriage was just about publicity and exposure:
"I don't want nobody to be at my wedding

That won't be there for my marriage

They can see that shit on Facebook

They can like it, they can share it

Like, 'Look at that li'l dress and how she wear it

I thought that pregnant belly prolly tear it

You know they only did this shit for money

I know one day that they just co-co-parent

I gotta zoom in, count up all the carats.'"
Nicki Minaj Raises Eyebrows
On "Slide Around," Nicki acknowledges her Grammys drought (a line which *tugs at collar* comes post–Cardi win) but shrugs it off with a quick "no Grammy, still a goat, though," and on "Zanies and Fools" it seems like she's spilling tea on her relationship and family plans:
"I met my husband when I was 17 out in Queens

If you love it, let it go, now I know what that means

While he was up North for a body

I bodied everybody and got known for my body

My nigga home now, he the Clyde to my Bonnie."
Sotto voce, she adds at the end of that run: "Bout to walk down the aisle and be a mommy."
"Zanies and Fools" Borrows From Broadway
Chance draws some inspiration from Rodgers and Hammerstein on "Zanies and Fools," which swirls up the refrain "Impossible / It's Possible" from the Broadway musical from Cinderella and famously performed by Whitney Houston and Brandy in the 1997 live-action remake. (Big year for R&H: Their estates also claimed 90 percent of the royalties from Ariana Grande's "7 Rings" earlier this year for its use of "My Favorite Things"; no word on how much Chance had to shell out.) It also references when Chance met his wife, all the way back when they were both 9 years old and she was performing Destiny's Child songs at a party in his mom's office.
The Skits: "Photo Ops," "4 Quarters in the Black," "Our House"
As Chance is always celebrating the blessings of the present, he is also folding immediate reflections into his work, looking back and looking forward and examining his legacy at the same time. The Big Day is like a big wedding celebration, and he recruits wise elder voices John Witherspoon, Keith David, and Cree Summer to do the skits, ribbing the man of the hour and talking about home and family and looking to the future.