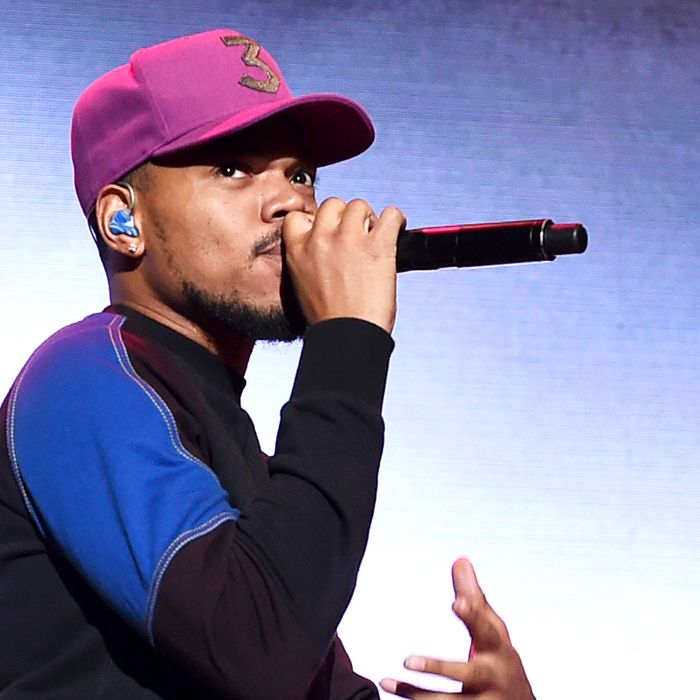 Are we ready to receive a rap album about quitting drugs and cigarettes and staying at home?
Photo: Kevin Winter/Getty Images for LiveNation
In a late capitalist hellscape where bots sway elections, and brands prattle like listless teenagers on social media to humanize corporations whose mergers push them closer and closer to the trust nightmares Bill Taft and Teddy Roosevelt sued half of creation to halt, the most defiant thing you can be is independent. On an internet where breaking out of niche notoriety into gen-pop renown often means having your ideas commodified by corporations on the hunt for cool-kid cachet — to quote Maybelline, "Summer '19 in three words: hot girl summer. PERIODT!" — we are both excited pop-culture patrons and suspicious objectors. We love to see unlikely parties upend patterns and get filthy rich; excitement for Lil Nas X's "Old Town Road" is unblemished after its fourth official remix in as many months. We itch when we feel like we're being worked; pushback for Taylor Swift's Lover-era charm offensive outstrips the innocent pep of the singles. In an era when businesses go to dramatic lengths to get our attention, it stands to reason that there are people using motivational positivity as a pathway to success, but absent the ability to read minds, we believe in the genuineness of the people we like and reserve suspicion for the ones we don't.
Chance the Rapper's career is a perfect storm for all of these conversations. The Chicago rhymer's songs are messages of hope that balance street smarts and liturgy. It was disruptive at the start of the decade having exuberant voices like his rise from the seat of American race-wealth disparity and speak out about systemic inequality and the nearness of death and violence in undervalued communities. But like Drake said, "Winning is problematic." Chance's music grew chipper as the years advanced, ditching the bad-kid vibes of his 2012 debut 10 Day, a mixtape inspired by a two-week school suspension for pot possession, on the way to 2013's stressed, vital Acid Rap; then ceding the spotlight to his friends and his band, the Social Experiment, on 2015's Surf; and resurfacing well-adjusted and worshipful on 2016's Coloring Book. Along the way, an artist who touted himself as a champion of independent music landed Nike and Kit Kat ads. A rapper who promised never to cut a label deal scored half a million bucks from Apple to premiere a mixtape. A brand that poked fun at big business started making big business moves.
This is mostly standard behavior for a rapper big enough to headline festivals, but when righteousness is your platform now, people start looking for the con. They're used to spirituality being treated like a grift, to deceitful megachurch pastors milking congregations all the way to the bank, to abusers being coddled by church brass, and to politicians pushing hateful legislation in the name of religion. They're used to silence in the American Evangelical community in the face of political policies that run at cross-purposes with their faith. These associations aren't Chance's fault, but they do color the conversation as his music aligns more directly with his faith. In the past, DMX and Lauryn Hill went platinum weaving prayers and Bible verses into their albums. Nation of Gods and Earths wisdom peppered records by Brand Nubian and Wu-Tang Clan. Q-Tip and Mos Def sometimes rapped about Islam. Woke figures like Erykah Badu and Common explored spirituality across traditions. But what pleased that generation isn't a lock for this one.
In dialing the spirituality of Chance's music up from tired ("I still be asking God to show his face") to wired ("We give the glory to you, God / One living true God / He make us booyah / Throw up the Wu like U-God"), his new album The Big Day runs the risk of alienating fans who don't subscribe to its worldview. Big Day is wedding and graduation music, E for Everyone rap, hip-hop's answer to dad rock or posicore. Chance is adjusting to life as a father and a husband and saying good-bye to old habits. "One day, you get 1Oak'd and poppied out, and popping out don't seem as popular as just passing out," he raps in "We Go High." The slow slide from lines about relationship problems in the first verse to the Disney references and church humor of the third typifies an album about locating your purpose in life and charging forward with the personnel necessary to get you there. The stress is in the rearview. The man found his calling.
Big Day is, to quote Death Cab for Cutie, the sound of settling. It is the rare 2019 event album that seems genuinely excited about the future. "Do You Remember" looks forward to a time when this year fades into the fondness of memory in verses from Chance and a gorgeous chorus from Death Cab's Benjamin Gibbard. It's jarring because of the strangeness of nostalgia for the present as a lyrical conceit and also because there are a lot of people who'd prefer to forget what they've seen this year. "Do You Remember" is hopeful in the way that old gospel songs are, in the resolute faith in our ability to beat what's plaguing us. Its positivity can be cloying, but Big Day is daring in its insistence on making plans, having dreams, and seeking out small comforts in days where panic feels more natural. "A lot of shit came at you in a five-year span," Chance says in "5 Year Plan." After two verses of advice about prioritizing self-care, the song closes on a promise from Randy Newman that, "You can get over anything, almost." Fans might prefer a return to the chilly uncertainty of "Acid Rain" or "Paranoia," but there's value in Big Day's lullabies about how there's totally a future, and we're totally going to make it there.
Chance is trying to bring everyone together. It's apparent in the verses, the guest list, and the production, which gamble on a mix of trap, conscious rap, new-jack swing, house, indie rock, and easy-listening values. The En Vogue a cappella at the top of "I Got You (Always and Forever)" calls back to the group's 1990 smash "Hold On." "Do You Remember," "Town on the Hill," and the title track reunite Chance with Francis Starlite of Francis and the Lights, who brings Justin Vernon along. "Ballin Flossin" works a sample of Brandy's debut single "I Wanna Be Down" into a cool house jam with Shawn Mendes; later on, SWV shows up on the Miami bass romp "Found a Good One (Single No More)." Right after the Randy Newman feature at the end of "5 Year Plan," "Get a Bag" floats a chipmunk-soul sample of James Taylor. Lyrical workouts with Megan Thee Stallion and Gucci Mane on "Handsome" and "Big Fish" go swimmingly; the swag rap at the start of "Hot Shower" is technically sound but tonally draining. DaBaby steals the show in the end, as Smino does when Chance finishes roasting side pieces on "Eternal." Big twists are routine and jarring — in three and a half minutes, album opener "All Day Long" zips through beat changes, breakdowns, and an unexpected appearance from John Legend — but, for the most part, rewarding.
Twenty-two tracks in 77 minutes is enough music to feel daunting. Not everything on the album needed to be on the album. ("Eternal," "Hot Shower," "Town on the Hill," and "Found a Good One" are pleasant, but each song rehashes an idea the album express more cogently somewhere else.) That said, Big Day wisely spreads its best tracks around evenly in the sequencing, and the further Chance wanders from the wedding-reception concept posited in songs about marriage and interludes staged as toasts to the groom, the more effortless and relatable his raps get. "Handsome," "Big Fish," and the Nicki Minaj and Lil Durk team-up "Slide Around" give Chance space to have fun rhyming without pomp and holy circumstance. "Get a Bag" gets its kicks bragging about blowing money right after "5 Year Plan" reminds listeners to be sure to use their paid time off.
Big Day is far from the slog the feistier internet gags about it might suggest, although it sometimes runs a little mawkishly wife guy in ways that marital-bliss records like Beyoncé's 4 or the Foreign Exchange's Leave It All Behind have managed to skirt in the recent past. It is better to have an artist go away for a while and come back telling us how his life changed in the interim than to come back making music he thinks we want to hear. The kids always say to "keep that same energy," but when you get to 30, you realize the path through the next 30 requires you to burn the chaff in your circle and lead a simpler life. The Big Day delivers pointers for accomplishing the task, but are we ready to receive a rap album about quitting drugs and cigarettes and staying at home? If you talk about God, will your record still get played?