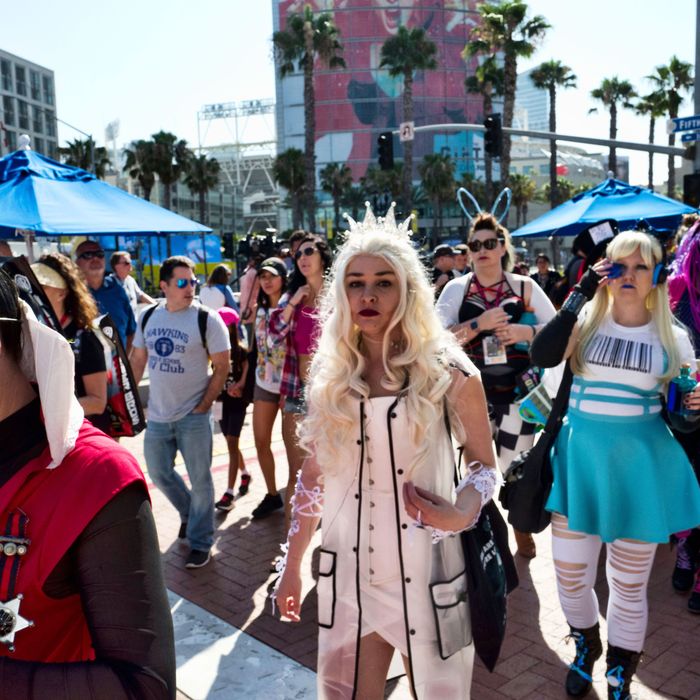 Photo: Richard Vogel/AP/Shutterstock
Producer Michael Uslan can pinpoint the precise moment he began to fear for the soul of San Diego Comic-Con. The filmmaker behind several Batman movies and a self-described "true comic-book geek" can fairly be called one of the architects of the modern-day Comic-Con. After all, he helped import the trailer for the first film ever marketed directly to the conventions' fanboy masses — director Tim Burton's Batman — in 1989. And Uslan has returned to the four-day event time and again throughout its evolution from a humble jumble of cosplay, comic-book commerce, and superhero fandom to Hollywood's go-to ambush marketing platform for megabudget genre fare: horror, sci-fi, animation, and caped-crusader-oriented TV and film projects.
But around 2013, in the denouement of the blockbuster success of writer-director Christopher Nolan's Dark Knight movie trilogy (which Uslan executive produced), he began to despair the way the entertainment-industrial complex had come to overshadow the convention's original raison d'être. "I had concerns that Hollywood had co-opted the soul of Comic-Con by moving the entire concentration to movie stars and to the films and away from the comic books," Uslan says. "And look, I started this. I'm willing to take blame as well as responsibility for what has evolved here. I would go and see artists from comic books, dealers of comic books, and original art off to the side … Marvel's success had begun to burgeon around that time. And I felt that people were coming to Comic-Con to see the actors that were in the latest movie or to get movie merchandising stuff as opposed to the underlying comic books or graphic novels themselves."
With the 50th annual Comic-Con kicking off Wednesday night, welcoming a total expected attendance of 135,000 people from more than 80 countries, a competing concern has some industry observers' eyebrows raised. While San Diego Convention Center's cavernous Hall H is set to host splashy panels by Disney/Marvel Studios, Paramount, Netflix, and HBO over the next few days, a handful of Hollywood's major studios have chosen to sit out the proceedings this year. Notably absent: Universal (despite the fact that Fast & Furious Presents: Hobbs and Shaw is destined for theaters on August 2), Sony (home to the Spider-Man Cinematic Universe, which has had a receptive audience at the convention in the past), Warner Bros. (studio home to the DC Extended Universe, which has Wonder Woman 1984 currently in the works), and Lionsgate (passing up a chance to build buzz for its upcoming Rambo: Last Blood and Scary Stories to Tell in the Dark). Fans and producers alike are wondering: Is SDCC as appealing a marketing tool to Hollywood as it used to be?
According to one outspoken industry insider who works with several studios that have historically attended Comic-Con, the paucity of studio attendance this year can be attributed to a growing consciousness inside the C-suite that attempts at word-of-mouth marketing in and around SDCC don't necessarily translate into bigger box-office returns. "They finally realized that Twitter doesn't sell movie tickets," this person says. "The big Marvel films, they owe the fans. But you're trying to get space here for why? It's like couch potato geek heaven. Not filmgoers. They're mostly comic-book fans, after all."
The more common refrain around Hollywood, though, is that 2019 is an off year for film at the con; that some years, due to vagaries of timing and production schedules, studios just don't have new trailers or sizzle reels ready for the convention's July deadline. An executive at one of the studios sitting out this year's Comic-Con refutes the idea that its absence was dictated by a growing disillusionment with the convention. "We just didn't have anything that worked with the timing or that was ready," says this executive, who asked not to be identified because the person was not authorized to speak publicly. "We love SDCC! We are hard-core nerds."
"You can't read into one year like this," says another corporate strategist for many of the major media companies that debut materials at SDCC. "A lot of it has to do with product. A lot of my clients don't have product that's ready for prime time. Especially on the film side. Last year was robust. Is it a one-off year or a trend? We won't know until we see what happens. But I'm not hearing people say, 'Comic-Con is a waste of time and money. Why are we going there?'"
The same executive notes that the coveted Hall H panels don't come cheap. With a starting price around $250,000, costs can increase steeply depending on how many stars and filmmakers are brought in for the event and whether they fly by private jet or commercially. "People are evaluating the costs and the return," the person notes. "For the last three years, people have been looking at the ROI. That's for sure. There's a case to be made that people are being more discerning. If you don't have a stellar group of offerings, you might not go because the costs are great."
San Diego's Comic-Con has long reigned as North America's preeminent comics-related convention — and boasts a kind of household-name brand recognition that remains unmatched by competitors. But in recent years rival cons like New York Comic Con, Chicago's C2E2, and Disney's D23 have eroded SDCC's dominance, providing alternate platforms for studios to stoke movie buzz. These days, you're unlikely to see a Star Wars panel at Comic-Con, as most Lucasfilm content is revealed at Disney's own convention.
And as Geoff Boucher, editor of the superhero-skewing news site Hero Nation, points out, even though fewer studios than usual are headed down Highway 5 to San Diego this weekend, SDCC's television presence provides a strong indication of where the convention is headed. "One of the things that's happening now is that some of the projects that would have been movies five, ten years ago, are making the trip to Comic-Con but they're cleverly disguised as television shows," Boucher says. "Netflix, Hulu, Amazon, DC Universe, and HBO are getting into superhero series that would have been unimaginable a few years ago. Superhero shows were just really hard to pull off. But now everyone seems to be diving into it with things like Watchmen, Umbrella Academy, Doom Patrol. These are all edgy, dark TV shows that would have been rated-R or PG-13 films."
For his part, producer Uslan feels the convention is healthier without the overwhelming displays of studio marketing firepower. "It's like science says, everything ultimately seeks its own level," he says. "And now that the studios are not making Comic-Con their sole and No. 1 marketing effort — while still making it an important marketing effort — the seas are calm. It had been seeking its own equilibrium, and I think it's finally arrived at that."