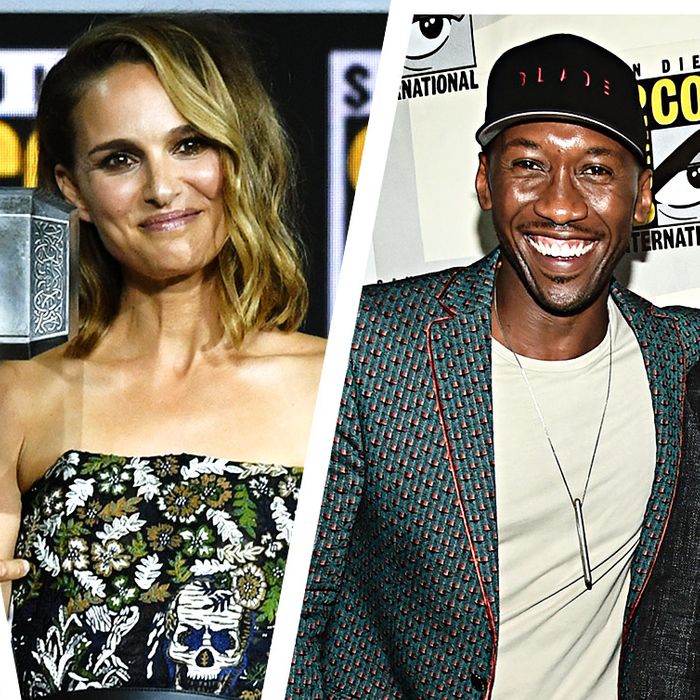 Simu Liu, Natalie Portman, and Mahershala Ali are part of Marvel's undisputed team of Comic-Con champs.
Photo: Getty Images
It felt like a transitional kind of year for San Diego Comic-Con. Once a necessary stop for the major studios looking to show off their biggest-budget projects — including but not limited to superheroes — it's now a wait-and-see game for attendees, eager to find out who will show up in SDCC's biggest venue, Hall H. With fewer of the Hollywood stalwarts onboard ahead of Comic-Con 2019, observers wondered: Had the event returned to its nerd roots, reprioritizing TV shows, comic books, and graphic novels? Or was this just an off year, with film studios taking a step back to focus on their 2020 sizzle reels? Perhaps next year we'll have a better answer. For now, we can only speculate on the Con's future while determining who won and who lost the 2019 extravaganza. From this year's massive Marvel news dump to the good vibes of The Good Place panel, here are our highlights (and lowlights) from a weekend in geek Valhalla.
Who Won Comic-Con?
Jordan Crucchiola: I would love to give a surprising "Well, actually …" answer for this, but it has to be Marvel. With a lot of big players like Universal and Warner Bros. totally absent from Hall H this year, the field was open for someone like Paramount — or even Netflix! — to really bowl people over and win the headline wars. And while that Tom Cruise cameo was a great twist after the Terminator: Dark Fate panel, the Disney superhero house showed up and trounced everyone. Ahead of SDCC, I speculated that Marvel — a surprise presence at the Con, since it's got the D23 event coming later this summer — would break some news. Kevin Feige & Co. had, up until this point, been reluctant to talk about Phase Four, waiting until the Infinity Saga wrapped with Endgame and Spider-Man: Far From Home. Well, with the former movie swallowing up Avatar's box-office record this weekend, the studio went ahead and stomped into San Diego to gave us Natalie "Thor" Portman, Mahershala "Blade" Ali, Simu "Shang-Chi" Liu, and more. I'd call it a Comic-Con coup, but Marvel never set down the crown in the first place.
Chris Lee: No disagreement here, Jordan. Marvel is the undisputed heavyweight champ of this year's Con. But that comes with a kind of asterisk. In a year when Warner Bros., Universal, Sony, and Lionsgate sat out the proceedings, competition wasn't exactly stiff in the film space. TV superhero offerings from Hulu, Amazon, HBO, and Netflix did manage to suck up some of the oxygen the studios would otherwise have been breathing, but not nearly all of it. Marvel Studios managed to break a week's worth of news in a single, overwhelming 90-minute panel that showcased more A-list talent and splashy new content than every other studio presentation in San Diego combined. Still, I'd argue that, as a subset victory within Marvel's primacy, Shang-Chi and the Legend of the Ten Rings (starring Simu Liu) arguably broke out as the winner of Hall H. The little-known Chinese-Canadian actor only auditioned for the job of Marvel's first-ever, ceiling-shattering Asian superhero earlier this month and iced the job the Tuesday before Comic-Con. Before that, he'd been berating Marvel about the role last year.
Who Lost Comic-Con?
Jordan: I wasn't at the Westworld panel, where it seems like everything went perfectly well, but the rest of HBO's appearances in San Diego were a mess. The Game of Thrones panel has been a fan-favorite event at the Con for years now, but this one shouldn't have even happened. You can't have a victory lap when the prevailing narrative around your show's final season is how you failed to stick the landing, a detail that must have influenced Thrones producers David Benioff and D.B. Weiss's decision to back out entirely, just days before the event. That hung the attending cast members out to dry as they tried to walk the line between honoring the biggest professional experience of their careers and walking around the huge elephant in the room. It was a bad look, and didn't do anything to help put a neat bookend on the GOT experience. If HBO had an hour in Hall H it just needed to fill, it could have pulled Thrones and subbed in its big, shiny, extremely Comic-Con friendly Watchman series.
Chris: Netflix is clearly positioning The Witcher as its Game of Thrones rejoinder: a quasi-medieval fantasy-thriller featuring Henry Cavill in a long, gray wig as a century-old monster assassin for hire, chockablock with epic battle sequences and heavy emoting in the Queen's English. But the materials presented at Comic-Con looked utterly preposterous — actually, borderline nonsensical. Cavill's sidekick is some kind of half-man, half-hedgehog! Sure, the Man of Steel star put in his 10,000 hours to learn to convincingly swing the broadsword. But the series — based on a book series by Polish fantasy author Andrzej Sapkowski that inspired a much better known trilogy of role-playing Witcher video games — seems to lack the gravitas that made Thrones a premium-cable juggernaut for the past eight years. The vibe inside Hall H during the Witcher panel was decidedly "meh." Considered within the context of the unstated but implicit goal of creating a hive of buzz through its SDCC unveiling, there's no way you can say the series's presentation took anything less than an L.
What Was the Best Thing We Saw?
Jordan: The best piece of entertainment I saw was the trailer for Snowpiercer, which is set to debut on TBS next spring. I'm only passingly familiar with the graphic novel, but despite loving the movie by Bong Joon-ho, I've stayed skeptical about the series. It's been plagued by production delays thanks to the original showrunner acrimoniously departing the project — along with its high-profile first pilot director — and while I trust Graeme Manson from his days running Orphan Black, the amount of time it's taken to get this off the ground, paired with the drama and the cost, had me concerned about a big-budget mess. Well, the trailer they debuted at Comic-Con had me audibly saying "Wow!" multiple times. Just that little look at the world-building was extremely impressive. Am I a sucker for Jennifer Connelly? Yes. But Daveed Diggs was a real star on that panel stage, and seeing him with co-stars like Alison Wright and Lena Hall made me more intrigued than ever for this TV epic. Turner is spending big on it, and its SDCC presentation felt like a total win for generating long-lead interest in the premiere.
Chris: Outside of the knock-down, drag-out Florence Pugh–Scarlett Johansson Black Widow fistfight — footage of which was presented during Marvel's showcase, and is certain to rank up there with Uma Thurman and Daryl Hannah's Kill Bill fisticuffs and the Gina Carano–Michelle Rodriguez subway brawl in Furious 6 as one of moviedom's most memorable physical altercations — in a word: Picard. I'll admit, I had low hopes for this Star Trek spinoff. But the trailer was so elegant, elegiac even, and struck such a cool balance between sci-fi eye candy and actual character-driven drama, I found myself surprisingly compelled. Pulitzer Prize–winning novelist Michael Chabon is the showrunner on Star Trek: Picard and although this is his maiden voyage apropos anything television, the trailer and his take on the character as a kind of lion in winter seems to arrive fully realized — at once of a piece with previous Trek series and movies but utterly sui generis. "We pointedly want to not make a sequel," Chabon said during the Picard panel. "Tonally it's a hybrid. Slower, more gentle, morel lyrical. Certainly more character based. It takes on a hope for a future that is better than the world we live in today … It's a new Star Trek show made by people who love the old Star Trek shows."
What Was the Worst Thing We Saw?
Jordan: Sticking with the theme of HBO losing the Con, by far the absolute worst thing I saw was the Watchmen "activation," which is basically a big, sometimes interactive marketing setup that companies use to draw eyeballs. Comic-Con is filled with them, and if entertainment sponsored by multinational corporations bums you out, the Watchmen installation was about as soulless as it gets. SDCC is filled with ads disguised as fun houses, but companies do a pretty good job making expensive, elaborate activities that amuse fans. Watchmen's only presence around town, however, was literally a parking lot on a corner of a block with a big 51-star American flag hanging and a blue booth connection. HBO is a pioneer when it comes to making TV that looks expensive, and everything about this felt cheap.
Chris: See my comments on The Witcher!
Did Anything Pierce the Armor of Your Cynicism About Large Corporate Fan Events?
Jordan: I love Comic-Con, so the cynicism never overtakes me. But if I could have brought a Con curmudgeon with me to any one event, it would have been the emotionally restorative experience of watching The Good Place cast and creator cry over how much they love the show and how much they will miss making it. Almost every cast member shared a story that illuminated how and why series creator Mike Schur is an inspiration. The chemistry of the ensemble is exactly what you'd want it to be on your favorite comedy show. The people onstage and the people in the crowd felt equally invested in and appreciative of the characters and the stories, and everyone is just so damn funny. William Jackson Harper (Chidi) sang the theme song for his dog Chico, and Schur gave a convincing monologue about how much D'Arcy Carden deserved an Emmy nomination. Nearly everyone cried as the cast led the entire room in a standing ovation for a weepy Schur. For one hour in a convention center, any and all cynicism about fandom and the parade of brands and advertisers seeped out of the room. Amid the Comic-Con madness, it was truly the Good Place.
Chris: For me: no. The magnitude of ambush marketing at this year's SDCC was truly next level. Media companies branded on giant yachts abutting the convention center — a fairly new thing in my experience — and rented entire floors of every hotel within eyesight of the Con's main drag to cloak in billboard-esque marketing. The avalanches of cash Hollywood continues to throw at this fan event are staggering but also gross.
Any Lingering Questions Coming out of the Con?
Jordan: This might seem small, but why was Ruby Rose not present at her very own debut Batwoman panel? Producers Sarah Schechter and Caroline Dries did a good job talking about the show in her absence and staying compelling despite the fact that the code of Comic-Con is no spoilers!!!! But Rose was supposed to appear at the event, as well as at the annual Women Who Kick Ass conversation in Hall H. She posted a very earnest video to her Instagram explaining how she absolutely had to be on set to work on the show, but … really? No doubt the CW's six-day shooting weeks in Vancouver, British Columbia, are tight, but it was a very odd look considering this was Rose's big chance to swan across a stage in San Diego and say, "I'm Batwoman, bitches!" Her absence felt even larger when confronted with her face plastered on banners and elevator doors across town.
Chris: Considering Nikolaj Coster-Waldau got "lightly booed" for defending the death of his character Jaime Lannister in the arms of Cersei, and that Game of Thrones showrunners David Benioff and D.B. Weiss chickened out of the show's valedictory panel, I'm truly bewildered by HBO's decision to host a Comic-Con presentation this year. Especially in the denouement of a season that sparked a Change.org petition to "Remake Game of Thrones season 8 with competent writers." (To be fair, there is a Change.org petition for everything these days.) The show has been coming here to great fanfare since 2011, and there's a ton of fan equity with these characters, but in the lead-up to what was supposed to be a victory lap, fans inside Hall H were clearly restive and palpably unhappy with the way GOT concluded its eighth and final season. HBO, why!?