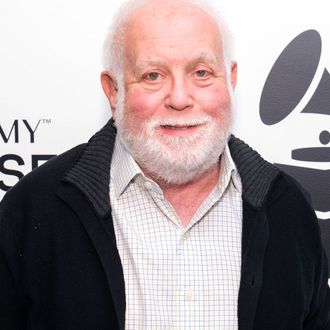 Ken Ehrlich.
Photo: Timothy Norris/WireImage
Every new year like clockwork, Grammys producer Ken Ehrlich finds himself in a feud with some of the biggest names in music. Last year, it was Ariana Grande. Before that, he had beef with Lorde, Frank Ocean, and Nicki Minaj. But according to a new release, the 2020 Grammy Awards will be his last. Ehrlich has been the award show's executive producer for 39 shows, with next year's being his 40th and final. Ben Winston, who likely wants no smoke, will executive produce the show alone in 2021. His credits include The Late Late Show and the creation of Carpool Karaoke with James Corden. Hopefully the new leadership will usher in a new era for the Grammy Awards, one where we don't fall asleep halfway through and Beyoncé finally wins Album of the Year. (Yes, the producer has nothing to do with that decision, but it's on our vision board!)
Ken Ehrlich butted heads with a number of artists in recent years. He found himself in scalding-hot tea earlier this year when, in an interview with the Associated Press, he said Ariana Grande dropped out of the awards ceremony because "she felt it was too late for her to pull something together for sure." Ariana "Workaholic" Grande, who is currently on a world tour after releasing two albums in six months, breaking off an engagement, and losing Mac Miller, immediately clapped back. "I've kept my mouth shut but now you're lying about me," she tweeted. "I can pull together a performance over night and you know that, Ken."
She added that she offered three songs to perform at the show and the producers declined them all. The tweet prompted Nicki Minaj to reveal that she, too, "pissed off" Ehrlich and was "bullied" into staying quiet for seven years. (In 2012, she performed now–meme hit, "Roman Holiday," introducing the world to her alter ego, Roman, at the 54th Grammys.) Despite being nominated for two awards (and winning for Best Pop Vocal Album), Ariana Grande declined to attend Ehrlich's little event.
The year before, Album of the Year nominee Lorde declined to perform in a Tom Petty tribute medley after not being offered the chance to perform her own music. The four male AOTY nominees — Kendrick Lamar, Bruno Mars, Childish Gambino, and Jay-Z — were each offered the chance, although Jay-Z declined. Ehrlich shrugged it off, saying, "There's no way we can really deal with everybody."
In 2017, Ehrlich called Frank Ocean's 2013 performance of "Forrest Gump," "faulty," as a response to Ocean not submitting his new album, Blonde, for Grammy consideration. Ocean begrudgingly wrote a Tumblr post addressing it and calling out the Grammys for "cultural bias." "As much as I hate to make you guys famous or even respond to you directly. We all die one day and you're old so fuck it," Ocean started off with the heat and ended by saying, "1989 getting album of the year over To Pimp a Butterfly. Hands down one of the most 'faulty' TV moments I've seen." Taylor Swift truly cannot escape other people's drama.
With Ehrlich's departure, perhaps we'll see some artists returning to the awards show, less beef with this 70-something-year-old man, and more with this one.