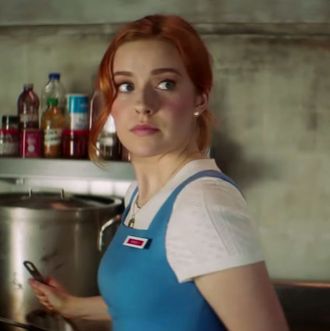 The opening minutes of the CW's new Nancy Drew series feature kissing and implied sex between two of its young, attractive leads, and it closes the same way. In other words: It's a pure hit of exactly what you're tuning into the CW for these days, complete with a not-natural but still-believable redhead (Kennedy McMann) in the starring role. At San Diego Comic-Con on Thursday, the producers and core cast of Nancy Drew shared a sneak preview at their upcoming series premiere, which debuts on October 9, and hung out for some question-and-answer time afterward to talk about their adaptation of the iconic literary mystery series.
It was clear from the first trailer released this spring that new Nancy Drew was going to take a lot of cues from the Riverdale playbook, but just how similar will the tone of the two shows be? Well, when we say, "Drama series set in a fecund small town that looks nestled in the evergreen rainforests of the Pacific Northwest and seems like it could always be a crisp 64 degrees outside, and it revolves around a bunch of late-teenaged characters who end up solving mysteries and hanging out a lot at a local diner," which show would you guess we're describing? And what if we told you that same small town lives under the pall of a teen's tragic death-by-water, and the lead character's dad is played by a signature 1990s hottie? There are even wry voiceovers! We won't spoil any of the actual plot details in Nancy Drew episode one, but suffice it to say, if you love dark and sexy Riverdale but find yourself longing for the presence of a keen girl detective, Nancy Drew is your new strange addiction. (And Freddie Prinze Jr. is the new '90s hottie in residence.)
So now that you know the vibe, what about the mysteries on offer? When asked if the CW series would be directly tackling any of the storylines from famous Nancy Drew books, the producers gave a swift and certain "no." So don't expect a "Secret of the Old Clock" episode to show up down the line. These new Nancy tales will be "inverted" and "reinvented" for modern times, say the writers, with the primary nods to Drew canon coming in the form of Easter eggs — like a red pajama set that CW Nancy wears harkening back to a book cover in the series.
This isn't your grandmother's or even your mother's Nancy Drew series, but it is a slightly soapy-looking mystery show set in a town that's "a vortex for supernatural events." So get ready, gumshoes. Your new binge bait awaits.