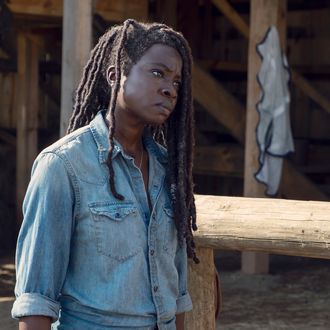 Photo: Gene Page/AMC/© 2018 AMC Film Holdings LLC. All Rights Reserved.
All good things must come to an end, which is why that damn zombie apocalypse just will not quit. One of the The Walking Dead's leads, however, has decided to take her final zombie-decapitating bow after the show's forthcoming season. "I can confirm this will be my final season as Michonne on the show," Danai Gurira told the audience at The Walking Dead's San Diego Comic-Con panel on Friday, confirming rumors that emerged back in February. "I would just like to say that this has been one of the purest joys of my life, to play this role and to be amongst these people."
With her decision to put down her sword and exit the AMC show after joining the ensemble in season three, the Black Panther actress follows in the frantic, zombie-fleeing footsteps of Andrew Lincoln, who left TWD after season nine, though of course he will be returning for the series' upcoming spin-off movies. (And whose to say Danai Gurira couldn't join him for a little more swordplay on the big screen?) Moderator Chris Hardwick announced that The Walking Dead's season ten will premiere on Sunday, October 6.