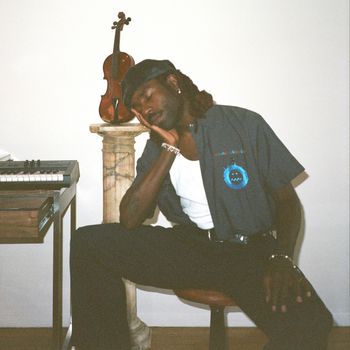 Less than a year later, Dev Hynes is back with new Blood Orange music. Here's why he couldn't wait.
Photo: Dev Hynes
Devonté Hynes moves like an old-world cartographer. Blink, and you find him clear across the planet from where you last heard from him. His records, released under the name of Blood Orange in this decade, are postcards from far-flung corners, logs of places he's been, people he's met, events he can't put out of his mind, and sights and sounds that captivate him. His signatures are tender, gossamer vocals and hooks that sway like heat haze under a blazing sun. Blood Orange sounds like summer; new albums land every few years in large part between June and August, chock-full of historical allusions, impressionistic lyrics, and an unpredictable slate of sounds and special guests. 2013's Cupid Deluxe paired Dirty Projector Dave Longstreth and Lil B and A$AP Mob collaborator Clams Casino. 2016's Freetown Sound was a rush of jazz, soul, rock, and New Wave sounds dusted in political ire.
Dev works at the same pace that he travels. When we met last August, in advance of the release of the dire but hopeful Negro Swan, he admitted to throttling the pace of the Blood Orange project to give fans room to breathe, to crafting whole albums the public never gets to hear, to distributing them to friends on cassettes and quietly moving on. Angel's Pulse, the first Blood Orange mixtape, out Friday, might have suffered the same fate, but the artist is changing his method. Dev calls the mixtape "somewhat of an epilogue" to the last album, and that's true in the sense that it feels like the healing ride home from a film that shook you up, where you flip through radio stations to try to calm your nerves. Pulse zips through half a dozen genres and almost twice as many guests in little over half an hour. If you're not eyeballing the track list, you might mistake the whole mixtape for one long, winding suite, raising an eyebrow in disbelief every few minutes at how smoothly you transitioned from psych-rock to gospel to dance music to Memphis rap.
"Take It Back" exemplifies the effortless slipperiness of both Blood Orange and Angel's Pulse. It opens as a gauzy, breathy chant and drifts through soulful notes from Brooklyn singer and model Justine Skye and an ethereal Spanish-language section featuring Venezuelan electronic producer and Björk cohort Arca, then barrels home on a gutting verse from Brockhampton's Joba. Elsewhere, Dev trades lines with Chaz Bundick of Toro y Moi and hosts a summit between Tinashe and Three 6 Mafia's Project Pat and Gangsta Boo. I rang him up ahead of the fourth of July break — while Dev was on a rare trip back near home in London — to get to the bottom of the creation of Angel's Pulse and came away with gems about how his songs evolve from solo demos to team efforts, his wide-ranging listening habits, and his experience working on a song with Mariah Carey.
When we spoke about your last album, you said that you make music at a faster clip than you put it out, partly to keep from confusing people. But now, you're back with your second project in under a year, which is the fastest turnaround in Blood Orange history. What changed your mind?
I had a few different moments within the last year that made me realize how much nothing matters. And I've been trying to spin that realization to a positive. First of all, no one ever thinks about what you do as much as you think about it. I think I've always known it, which is why I've been able to finish records. The fact that I'm not tweaking a snare sound for two years is because ultimately I'm always aware that no one fucking cares. So using that logic, and applying it to a slightly bigger situation or scale, has kind of helped. I'm 33 now, and I make so much music, and honestly none of it really matters. I don't know what I think I was holding out for. In the back of my mind I had this weird thing where I thought that in a fair world, the energy you put out, you'd get back equally.
Ooh.
I think I held on to that logic for some reason. It's just not true. You'll never ever get back close to the energy that you give out.
The internet shook me out of this. You put out a certain energy, and it cuts weird ways. It comes back to you in ways you didn't intend or expect. Sometimes there's animosity. Sometimes there's love. But you can't tell which it'll be beforehand.
You never know. I was hanging on by a thread before, but now I truly don't care about any of it.
You're catching a case of the 30s.
Yeah. That's the gist of it.
What makes Angel's Pulse a mixtape and not an album?
I fell toward the word mixtape in terms of talking with everyone, friends and label and whatnot. In my ideal world, I just put it out, and people can do whatever.
You'd rather not have to label it?
That's my dream. It's just the next group of songs.
The best I can figure is that an album is a statement, but a mixtape is more of a mood, or a series of moods. There's freedom in the latter because there aren't as many expectations of formality.
Exactly. And I think that's why I gravitated toward mixtape. I just want people, if they hear it, to enjoy it. I don't want them to have to think about anything else.
I think you baked that carefree mentality into the design of it.
It was essentially made the same way Negro Swan was made, which was just running around and being in places and inviting friends in. But one key difference is that I wasn't really ever alone when I was making Negro Swan. There were always people in the room, whether they were just talking or singing, or friends hanging out. With this one, it was a lot of isolation and then bringing people in. Things were finished a lot quicker than I usually finish them.
Where did you record this time?
"Berlin" was made in Berlin, and "Baby Florence" was made in Florence. There was a house in L.A. that I rented, and people would come by. Some of it was in Helsinki. Some of it was in Dubai. Everything was mixed and finished in New York at Electric Lady. It was really, really scattered.
How did you end up in Dubai?
"Take It Back" was finished there. I did a show, and then I was working on this song in my hotel room, and Arca texted asking me what I was up to. She was in London. I sent the song, and she sent her part back to me, and it was done as quick as that. Arca's one of the few people — maybe Tyler [the Creator], too — that I've seen or been around that work as quick as I do musically.
What inspired you to put Arca, Joba, and Justine Skye on the same track?
Justine's been hanging around a bunch, and we always wanted to work together, so when that song didn't have anyone on it, Justine did vocals. Joba and I had been talking for so long about doing stuff. He's someone who kind of has a big influence over the record. There are so many different moments that I texted to him while making it, just sending little bits for him to listen to. "Take It Back" was one of those loops.
He's more perceptive than people might think he'd be as a guy who yells a lot in Brockhampton. When I profiled the group last year, I was blown away by how different he is onstage and off.
I owe him a lot. I guess a big thing with this record is that … I had some pretty horrific moments in the last year, and I would talk to Joba in those moments. I kind of leaned on him quite a bit, emotionally. Him doing his verse on "Take It Back" was one of the last things that actually happened. It felt complete. It felt real.
I've been getting this feeling from your records for a while that you're as much a historian as a musician. There's this very specific late-'90s, early 2000s production vibe captured. You nailed the sound of a classic hip-hop-soul record so closely that it feels deliberate. I wonder if you're purposefully pairing sounds from eras that people don't expect to hear together. Track one, "I Wanna C U," sounds like a Beatles song to me, specifically like the cool soul covers that would come out a little while after the original.
I like that track one. I went through many track ones before eventually falling back on that one. You're kind of correct. It's much more instant. It's more "I'm an excited kid in the moment." I'm like, Oh shit, it'd be cool if this had this vibe. Sometimes what I'm doing reminds me of something else, and then I maybe lean into that, or to bring something else into it. Like "Hope" on Negro Swan. Val — Tei Shi — was in my studio and started doing the hook on that song. It reminded me of like, Mya, or someone from that era, which made me think about songs like that where you had a male voice on the hook, and then I thought, It would be crazy if that voice was Diddy. Very much in the moment. Sounds trigger thoughts from my childhood and from my music fandom.
When there's a large library of sounds that you've heard and books that you've read, it comes out of you in strange ways.
It tends to shock me, sometimes, how it comes out.
How much of the versatility in the Blood Orange sound would you say can be attributed to the group of players you've assembled?
Unsure, because with me, my strengths are starting and finishing, so I'm really into the idea of the middle bit being a playground, and bringing voices in, and that definitely brings versatility to it. That widens it and takes it places I couldn't. Voices are the most signifying instruments. Someone else's voice, someone who's a master of their particular voice, will instantly pull you in a direction that you could never go by yourself, which is why I like to get other people's voices in. But at the same time, I think that how I choose to tie it all together brings it back into a world that you could see as Blood Orange.
So, the intent is in the tailoring. You might use different fabrics, but it's the same hand doing the stitching?
Right. Exactly.
I'm intrigued by the choice to call up Chaz from Toro y Moi for "Dark and Handsome" and have him rap. I thought his last album had some subtle suggestions that he could be doing what guys like Travis Scott do if he wanted.
That verse is fire. Every time people hear it, they're always like, "Who is that?" Chaz Bear, man. Fuckin' Toro coming through with bars.
You're doing more rapping, too.
That's true. I do. A bar or two.
Caught that Three 6 Mafia spirit working with Gangsta Boo and Project Pat?
It's actually true. [Laughs.] They need to stop co-signing me.
How did you become involved with Mariah Carey on "Giving Me Life"? I thought Caution was one of her better albums.
I think so, too, personally, as a Mariah stan. Or as a member of the Lambily. That was crazy. So someone reached out from her team asking if I was around in L.A. to work. Through the years, there'd be messages like that about certain stuff that never panned out. Usually what happens is someone's team asks me if I want to work with whoever, and then I'm super jacked for it, and they're like, "Cool. We also just signed this artist from London if you want to …"
"We'll make this work for you if you work on this for us" transactional music-industry talk?
Yeah. It's not "Fuck no" because I don't care about the new artist. I just like honesty and vibes. You don't need to trick me, you know? I'm pure vibes. There's a song that isn't on this record, that is a fire record with fire people, and one of the people fucked up the vibe, so I scrapped the song a week before the listening [session] happened. It's really, really, really important to me, to the point that if you hear me on a song, production- or songwriting-wise, that's the only song I've done. There aren't a bunch of sessions that have never come out. I just want everyone to feel so good while making stuff.
Anyway, Mariah's people hit me up, and it was a crazy thing. I went to the studio, and if I remember correctly, we didn't even make music for the first three hours. We just listened to music. Her music knowledge is out of control. It's another planet of music knowledge.
She's a singer who doesn't get enough credit for being an incredible songwriter, and for knowing what she knows about how to make good records. I think a lot of people believe she just gets the material and sings it.
No, no, no. Everything is written in the room. It was me at a piano and her sitting next to me. We wrote that song. Even the snare sound was her telling me what snare sound she wants. Even the samples! I do a lot of talking sample things in my music, and I think people probably think that was me, but that was her. She knows every word to Coming to America. She literally spoke the samples to me, and when I went and found it, it was verbatim. It's a somewhat out-there song, and I think people thought the out-there parts were my influence when they weren't.
Did you know Slick Rick was going to be on the record, or did you find out later?
Well, the funny thing is that on the very first day, when we had the beat going, she kept telling me, "This would be amazing with Slick Rick on it." She said he was her favorite rapper when she was growing up in New York. So when Slick Rick eventually appeared on it, I was like, Oh shit, that was real. She meant that.
Incredible. What have you been listening to lately? I saw you at the Vampire Weekend Father of the Bride release show. That album took control of my life for a while. What's on your plate now?
I haven't fully dug into it yet, but I heard the first song on [Thom Yorke's] Anima, but I haven't gotten to hear the rest of it.
There's a song called "Dawn Chorus" that sounds like someone falling asleep at the keyboard. It's the most unusual idea. It's one of his better solo albums.
That's tight. A Moon Shaped Pool might be one of my favorite Radiohead albums.
It was a left turn for them that worked really well.
There are songs on that album that destroy me. I was listening to that quite recently. I've been listening to — [laughs] the childhood me will be a little upset, but I've been listening to (What's the Story) Morning Glory? lately.
Oasis has a weird rep because it's huge '90s music, but those songs are sturdy. If I hear one out anywhere, it's immediately a party. I wouldn't put it on, but if it comes on …
I was a huge Blur fan just 'cause I was from Essex. It was as territorial as that. But I was watching old interviews recently where they were like, "Think what you want, but these songs are gonna stand the fucking test of time, and these songs are gonna go on forever and forever." Bloody shit, they were right. I can't believe it. [Laughs.] So I've listened to that, Faye Wong, Mitsuko Uchida playing Schubert and Debussy, Kelly Moran, Can's Lost Tapes, Dennis Russell Davies and Maki Namekawa performing four-handed Fidelio by Beethoven, Talk Talk…
Which album?
Well, I've been listening to The Colour of Spring because I realized I've never heard it.
That was an incredible loss. Mark Hollis made amazing music. I bought the solo album recently. It's staring at me on my desk.
So influential. I had a song on Freetown Sound called "I Know" that was hugely influenced by Talk Talk.
I wouldn't have guessed!
That's usually the case with my stuff. It's hard to pin what the main musical influences are.
This interview has been edited and condensed.