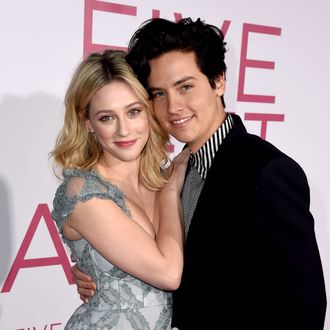 What secrets lie behind these eyes?
Photo: Kevin Winter/Getty Images
Why won't Lili Reinhart and Cole Sprouse just let us be happy for them? The pair posted mysterious Instagram captions suggesting that they haven't broken up, as Us Weekly and W magazine have reported. If they are over, that sucks, but we're all mature Riverdale stans who can handle chaos. If they're still together … why are they doing any of this? For the love of collaborating on cryptic captions over iMessage and confirming the best bits with a "Haha" react? Listen, a little will-they-won't-they or a little Irina Shayk evasion is fun for everyone. But is it worth line-reading captions like they're poetry? Well, we're doing it anyway. Let's take a look at their mysterious Instagram posts.
Cole's post is definitely more veiled than Lili's, simply suggesting that they aren't happy with sources talking about them to the media. It's the plot of Cardi B's "Press." Everyone's familiar. But instead of ending full stop, he adds that they're fueling their "bacchanalian sex cult." How proud is he of using that word, first of all? Second, so are they still having sex? Are they having sex with multiple partners? Are they coming out as polyamorous? Are we reading too far into a joke? There are no wrong outcomes here. We would just like to know which one it is.
Lili's caption bluntly refutes what the sources have been saying. Or maybe she's just being aggressive about everyone knowing her business. (Again, Cardi B already wrote the lyrics to that song.) In reality, Lili Reinhart's movie, Hustlers, in which she goes from stripper to badass con artist, premieres in September. This media stir and leaning into the DGAF attitude? It's the perfect recipe for movie buzz. So, in the end, if we can't be happy for real-life Bughead, let's just be happy for Lili Reinhart, New York's Jessica Pressler who wrote the story that inspired the movie, and all of the other drama queens in Hustlers.