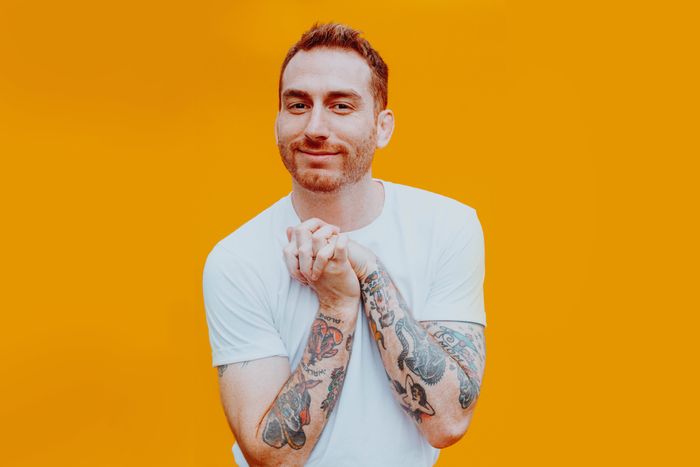 Diego Lopez.
Photo: Christina Casillo
Diego Lopez (@thisdiegolopez) is a stand-up comedian, writer, and mixed martial arts instructor based in Brooklyn, New York. He's also the host of the A Little Time podcast and web series Nihilift, so please be nice to him.
This week, Diego and I talked about hot people telling mediocre jokes, punching piñatas, and hating working out.
How did you get started in comedy?
I've wanted to be a stand-up since I was 11 years old. I always loved saying stupid shit in front of people who aren't allowed to talk. I moved to NYC with the intent to start here, but I started training and fighting in mixed martial arts and put comedy to the side. After achieving my goals in MMA I finally started mic-ing almost five years ago, and it's been a living hell ever since.
Do you think your Twitter comedy and your IRL comedy have any similarities? Differences?
Twitter is basically an ongoing open mic for me. I get to try stupid ideas all day and see what gets traction and what doesn't connect with people. I do end up using Twitter for jokes that are simply too dumb to do onstage. It's all what I find funny, but some of the stuff I believe in less goes on Twitter first. You never know what will be your next closer.
In addition to doing stand-up, you host a podcast and a web series. What inspired you to start them? Do you incorporate your sense of humor into them at all?
My podcast, A Little Time, I host with my best friend and roommate Mike Abrusci, who is a much better comedian than me. It's all about funny. The goal is to make each other laugh, make the guest laugh, and have as much fun as possible. We don't love doing homework for comedy. That's what I want to listen to most often. Nihilift is my depressing workout web series, which is more about the physical aspect of my life that is bad. I'll work out, but I'm not fucking happy about it. I don't like how in any workout video I see, the person doing it acts like they're also some motivational guru. Just show me how to hate my body less, you dork.
Everything has my humor added to it, because that's my only currency. That's where I want my value to be rooted.
What do you think the future of stand-up comedy looks like?
I think the future of comedy is hot people telling mediocre jokes at bougie speakeasies. Lots of visual bits, every comic brings their own projector. Outfit-based comedians spliced in with aggressive truth tellers spitting out "Back in my day" jokes, but it's about the early 2000s. I'm never gonna make it. This article will be the height of my fame. Please remember me.
Has anyone hired you to beat their kid up at their birthday party yet?
One time someone emailed my gym to try to hire me to do a martial arts demo for their kid's birthday party, but they wanted me to be dressed as Spider-Man, which I didn't want to do. I don't think people understand how not acrobatic actual fighting is. I'd just be throwing crisp jabs at a piñata and all those kids would be bored and I'd be offended. Just a heads up: If you're rude to me on Twitter I will ask for your home address.