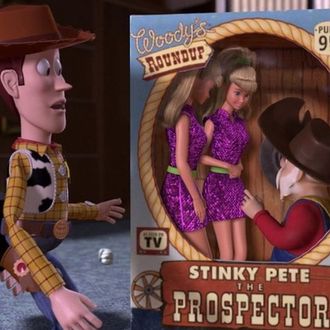 Photo: Pixar/Walt Disney Pictures
Owing to the #MeToo and #TimesUp movements permeating the Hollywood community, a suggestive post-credits scene from Toy Story 2 has been scrubbed by Disney from the film's latest digital and Blu-ray release. Per Vox, the "casting couch"-esque scene features the villainous character Stinky Pete (voiced by Kelsey Grammer) hitting on twin Barbie dolls, whose advances are interrupted by an unsuspecting Woody (Tom Hanks). "Y'know, I'm sure I could get you a part in Toy Story 3," Stinky Pete tells the intrigued dolls, stroking one of their hands. When Woody walks by and sees what's going on, though, Stinky Pete gets flustered and shoos the Barbies away. "I'm sorry, are we back? Oh, all right girls, lovely talking you," he says. "Any time you need some tips I'd love to chat with you." The scene is short, only lasting about 30 seconds.
In addition to Hollywood's reckoning of sexual misconduct and abuse in wake of the countless allegations lodged against Harvey Weinstein, Disney was faced with numerous misconduct claims about John Lasseter, chief creative officer of Pixar and Walt Disney Animation Studios, in 2017.
Among other allegations, multiple women claimed Lasseter cultivated a "sexist and misogynistic" workplace at Disney, and that he also frequently engaged in unwanted physical contact with them. Disney executives reportedly worked around Lasseter's inappropriate sexual behavior for years prior to the claims becoming public knowledge. Lasseter has since stepped down from his role at the company. He's now heading Skydance Animation, despite the objections of many actresses.