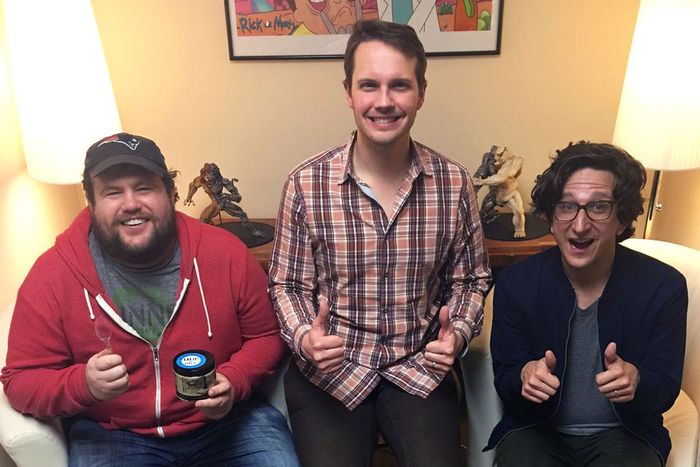 Paul Rust on
Doughboys
.
Photo: Doughboys/Twitter
Are you new to comedy podcasts, overwhelmed by the array of options, and wondering where to begin? Then welcome to Start Here, a recurring guide to the best comedy podcasts — and our recommendations for which episodes are the best entry points to your next auditory obsession.
Laurel and Hardy. Abbott and Costello. Farley and Spade. These are just a few of the comedy duos that never hosted a podcast as funny as Doughboys, the preeminent show about fast food and friendship. Each week, the faux-normcore (but actually delightfully perverse) Nick "Burger Boy" Wiger and the grizzly (but actually warm) Mike "the Spoonman" Mitchell visit a chain restaurant with their guests, and then they regroup to recap their experiences and share hot takes. They also try a new snack food in every episode, which they usually review while they are still chewing.
Prior to the podcast, both men had tasted fame in the comedy world — Wiger for his work with Funny or Die and appearances on Comedy Bang! Bang! as unheralded novelty songwriter Leo Carpazzi, and Mitchell as a creator and star of IFC's The Birthday Boys — but neither was a household name. Their odd-couple pairing came as something of a shock to anyone who did not know them personally, as did the show's almost immediate popularity for the (now-defunct) Feral Audio podcast network.
From its first episode in May 2015, "Chili's With Eva Anderson," Doughboys was a propulsive joke laboratory for its hungry co-hosts. The hosts' mission, as they explained it, was a humble one: to eat from, rank, and rant about chain restaurants with a game guest in perfectly digestible segments.
Doughboys episodes open with the reigning champion of podcast theme songs, a 15-second slam-bang joyride by Don't Stop or We'll Die's Michael Cassady. Wiger then poetically introduces whichever famous food-chain business will later receive a one to five "fork rating" based on its quality. The boys and their guests perform taste tests on snacks and rate those, too, as "Snack" (good) or "Wack" (the opposite of good) (in some inter-food bigotry, the snacks don't receive numbered forks). Finally, they respond to submissions from their "Feedbag," a quite grotesque euphemism for their fan emails. And while that essentially explains the show's format, it fails to capture what made Doughboys an instant success among foodies and comedy nerds in equal measure.
It probably helps that even listeners who don't eat from chains have been nonetheless inundated with the Doughboys' presence through advertising or physical proximity, which made the podcast accessible in ways that more inside-joke-driven comedy podcasts, like Comedy Bang! Bang! or Harmontown, are not. Then there was Wiger and Mitchell's deliciously antagonistic chemistry, the casual cruelty of which only got funnier after Mitch began addressing Wiger as a cuck.
Still, while the hosts bill themselves as "fast-food connoisseurs," real hostility or snootiness were never intended to be part of their shtick. Rather, as they signaled to Anderson during the first episode, the show is a celebration of its guests, and it relies on their willingness to get real about their relationships with food.
In the four years since the launch of the Doughboys mini-empire — with a massively profitable Patreon, a cross-country tour, and a recent move to the HeadGum network — perhaps no one has embraced that opportunity with the openness of Paul Rust, whose loopy appearance in episode 39, "Wendy's With Paul Rust," remains the podcast's all-time comic high point.
Wiger begins this episode from February 24, 2016, by asking the seminal Wendy's question: "Where's the beef?" His introduction, however, is cut short by the tale Mitch spins about the origins of Wendy's founder Dave Thomas: "Obeying doctor's orders, she pushes, breathes heavy in exhaustion, then pushes some more until finally the head of a young child begins to crown at the top of her stretched-out vaginal cavity. And on top of that child's head, a single white curl."
Soon comes Rust, who at the time of his appearance was flush with the launch of both his beautiful Netflix series Love (which co-starred Mitchell as the unreliable lunk Randy) and Pee-wee's Big Holiday, as well as his recent marriage to Love co-creator Lesley Arfin. All three men seem grossly stoked to see one another, with Wiger profusely thanking Rust for the generosity of his time and Rust, in kind, singing the show's praises.
This all might sound like a big comedy circle-jerk if not for Rust's loopy sincerity, a rare element in the typically roast-heavy Doughboys studio. Which is not to say that Rust does not offer his own fair share of zingers (Mitchell: "When I was eating keto …" Rust: "It's pronounced 'Cheetos'") so much as that he immediately subverts the expectations of listeners thirsty for Mitch and Wiger's blood with his trademark combination of earnestness and absurdist puns about 69ing.
Under Rust's influence, hosts and guests alike start to spiral into darkness. Wiger warns that the show is coming unhinged before describing how to get someone pregnant by urinating blood. Mitch does a lisping imitation of Beyoncé's husband, Jay Leno. At one point, Rust even suggests that Courtney Love might have assassinated JFK. Things only threaten to return to normal, boring conversation when everyone reviews their meals (Burger Boy gets a chicken sandwich, Spoonman gets the No. 6, and Rust gets the standard single with cheese, fries, and a Coke) until Rust, recalling his teenage connection to the chain, sings a ballad that everyone agrees deserves to reach No. 1 on iTunes: "Frosties and French fries, Frosties and French fries / How ya gonna eat 'em? How ya gonna taste 'em?"
Though Wendy's is a genuinely bad restaurant (I can say that because, like any true fan, I bought a burger-fries-Frosty combo while listening to the episode), all three men award it five forks, anointing it to the heralded Platinum Plates Club. The snack they taste — a cookies-and-cream-flavored cookie dough from the Cookie Dough Café — fares worse, with Rust and Mitch rating it "Snack" but Wiger declaring it "Wack" (after two bites taken directly into the mic — those sensitive to eating noises, beware).
By the time Rust plugs season one of Love, the Doughboys seem shell-shocked by the depths they've descended into over the course of almost two deranged hours. Ultimately, it's Burger Boy himself who sums the experience up best: "This episode is like … it's two pillars: It's at once so disgusting and also makes so little sense. It's so hard to follow what is being discussed. It's a David Lynch episode of Doughboys that would screen in Spike and Mike's twisted animation festival." Now tell me that doesn't make you drool.