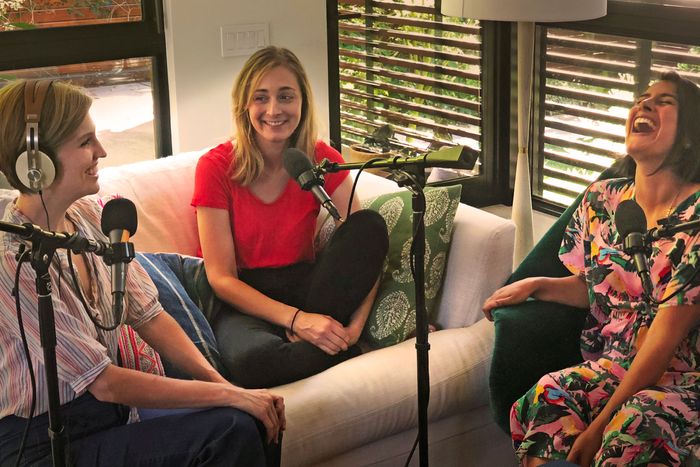 Earios co-founders Amanda Lund, Maria Blasucci, and Priyanka Mattoo.
Photo: Matt Gourley
Thanks to the always-expanding podcast universe, there's a show out there for everyone. But are the people making and distributing these shows really representative of everyone? Nearly all major podcast networks that host, develop, and promote popular podcasts are run by men, making it harder for women to find networks that connect with their ideas. While it's probably just a coincidence (or I've stumbled onto one of the biggest conspiracy theories in podcasting), one of the first big podcasts to really shape the medium — not to mention become one of the most influential of all time — starts with the exclamation "Lock the gates!"
So after being faced with one too many locked gates when it came time to pitch their ideas to networks, actors, writers, and podcasters Amanda Lund and Maria Blasucci decided it was time to take matters into their own hands and blow them down altogether. They enlisted the help of comedy producer and filmmaker (and Vulture writer) Priyanka Mattoo, and together they've created Earios, an entirely woman-led podcast network.
Following a successful Kickstarter campaign last summer, Earios launches today with a slate of 12 shows, 4 of which you can start listening to right now, featuring hosts such as Lesley Arfin, Margaret Cho, Kimmy Gatewood, Aasha Davis, indie pop darling Feist, and Camilla Blackett, as well as the three Earios co-founders. Plus, there's an exciting bunch of guests with upcoming appearances on all these shows, like Diablo Cody, Kate Berlant, John Early, Natasha Rothwell, Jonathan Van Ness, Kat Von D, Natasha Leggero, and of course (because what's a podcast without him?) Paul F. Tompkins.
To mark this momentous event in audio history, Vulture jumped on the phone with the team behind Earios to talk about this new space they've carved out for themselves and other women to help make it easier to share ideas with a like-minded community, and how they're so much more than just the Lifetime network of podcasts.
So, why did you decide to start a podcast network of your own?
Maria Blasucci: It all started when Amanda and I had a podcast idea for the podcast we do now called The Big Ones, and no one wanted to take it on to their network. And if they did, they wanted to develop it, and we just had a very clear idea. And we were like, "No, it's just very simple." It got to the point where it felt like pitching a television show, and podcasts never seemed like that to us. We'd been doing it for a while. We thought this is crazy that now you even have to develop podcasts. So we thought, We've been told no so many times in our lives. Why don't we just start a network of our own where we can be the ones making the decisions here?
Priyanka Mattoo: And then they called me because the girls have amazing ideas, but I execute them. [Laughs.]
I was a producer on their show Ghost Ghirls, and we've worked together in various capacities since. So I've always just kind of been like, "Bring me anything and I'll make it happen." My itch is making something out of nothing and also supporting women. So when they came to me with this idea, I was like, "Yeah, let's see what we can do. I'm sure we can muscle up some money. I know how to build a development slate. It can't be that different from TV or film. So let's do it." And we did it.
What was your experience pitching to other networks versus what it would be like pitching to you guys?
Amanda Lund: We didn't get too far in the pitch process, but just being involved in podcasts, we've seen it go from freewheeling, anything goes, "it's all about the artists" to there being so much money in it now, which is just crazy.
PM: I found it kind of discouraging because other networks are now into just holding onto IP — coming up with ideas so they can make them happen and turn them into something else. And I don't think that's what we're leading with, though of course it would be cool to one day have a Dirty John or a Serial. We really just wanted to make stuff. We wanted to listen to women's ideas and say, "Yeah, I like that idea; let's make it happen." There's such a small barrier to entry. Everything doesn't have to be a multipart series for Netflix. It could just be a podcast. It could just be you getting your idea out into the world. And that's what we're here for right now.
AL: We have so many wonderful, funny, creative friends we just love to collaborate with anyway. So for this first slate, what we really did is just talk to all our great friends and say, "Hey, do you have any ideas?" and if they said, "Yeah, I want to do this!" it wasn't, "Okay, well let's enter into a six-month-long development phase." It was just, "Okay, great, we trust you. We love you. Let's just do it."
I think a lot of people think of podcasting as accessible — anyone can do it, you just need a recorder. So what is a show that's on a network, in general, getting that an independent show isn't getting?
AL: Maria and I have been doing podcasts independently for quite a while now. Since we started this network, we've been helping people make their podcast for Earios through development, through providing recording infrastructure and editing people's projects, and taking a lot of care to make these shows as good as they can be. And the whole time being like, Oh my God, imagine if someone had come in and done this for us when we had our podcast idea! That would have been amazing. So we're giving this support — the same tender loving care to each one of these shows that we've given to our own shows — that we have never had help with. So just having a group of people that want to support you, just with the tech aspect of podcasting. Then helping with every step of the way. And then after we launch, helping with promotion, all that stuff is really valuable. That's why people want to be on a network.
PM: We've had different people come to us for different things. Some people will come to us with an idea and say, "I have this idea; I don't know what to do." And we can say, "What if the show is structured like this? Let's do a test episode. Here's how an episode is structured. Here's how the series is structured. Here are your guests. Here's your theme song. Here's your art."
But there are some people that have existing podcasts that just needed a distributor and some promotion. So yes they're independent, they've been doing everything themselves, and they would love the infrastructure, so all they have to worry about is the creative. So in that case, we can put it out and help promote their ad sales partners and monetize their ad sales partners. So whether it's an acquisition or it's a development piece, they each get different things.
When podcasting first kind of became a big thing ⁠— and it actually feels like this has been happening forever — anytime anyone would start a podcast, the feeling would be, "Oh, everyone has a podcast." But, when we say "everyone," we're talking about a specific kind of everybody, right?
AL: Yes. Yes we are. [Laughs.]
PM: Yes. Let's say it's very … monochrome. But the landscape is the landscape. A lot of men have podcasts, but that's great — we love men; we have man friends. But, for me it was certainly really interesting to try and move the needle because there are so many women with great ideas, and sometimes it helps to just be like, "Yeah, I think that's a great idea. Let's try it. Let's put it out there. Maybe it'll be great. Maybe it'll be terrible. Who knows? We think it's good." Just to take a chance on people and to build their confidence and their ability to put stuff out there.
I've been in the entertainment business a long time. I write a column for Vulture that's about telling people everything's going to be okay and just to try things, and sometimes you just need someone to tell you that. And that's kind of been our process. Because a lot of it was young women being like, "Yeah, I have this idea, but …" And we're like, "Yes, that's great. Let's make it." And then we made a Kickstarter. Once that got picked up by Vulture, then the incoming calls started. Because there are certainly people we didn't even know who were interested in working with women, being affiliated with a network, and sort of fighting the good fight. We've said from the beginning that our content is for everyone. It's not going to be all lady content. We aren't the Lifetime of podcast networks, but we do want the hosts to be women.
Yeah, that feels like a very small but important distinction where you say Earios is by women but for everyone. When you hear "for women" it's written off as frivolous, like how we have "chick flicks."
PM: Yeah! I was talking to someone about Jennifer Weiner today. She's a great writer. She sells millions and millions of books. They're amazing books about the human condition. But just because she's a woman and her paperbacks are kind of colorful and they're released during the summer — and this is something that she rails against, as she should because she's a fantastic writer — but because she writes for women they're often dismissed as "beach reads." So, I don't know. Do we know if everyone's going to show up and listen? Do we know men will show up? I know that women have a thirst for more content, so we're excited to fulfill that for sure.
A lot of podcasts have communities and fan bases, and a lot of these fan bases turn kind of toxic. I know you as a podcast network can't really control that, but it feels like when the vibe coming from the top is different, it can trickle down and the fan base might be different as well.
MB: Amanda's and my podcast, The Big Ones, that's going to be on Earios, too, [and] the fan base is pretty split down the middle between men and women, and I think maybe because we call attention to it a lot that we're women. We even do this thing at the top where we say you have to subscribe and rate and review us, and if you don't we threaten them [laughs] because we heard that women are more afraid to ask for money or to join their Patreon because they're sorry. Men make more money in podcasting because they're more like, "You need to do this!" and they do it at the top of the show. So we started this thing where we're going to start talking like men and say, "You have to donate," and then people do and they don't make a thing out of it. But we like to call attention to that, and the fans that we have are very respectful of all that. It's fun to point that stuff out and not have people get mad and have them laugh at the idea of it.
PM: I think part of what you're asking is what kind of community we are hoping to build. I personally don't get very sappy about my relationship with Amanda and Maria, but I think we all know how lucky we are to enjoy working together, and to work together as well as we do. We work really hard. We've been working super hard ever since the Kickstarter launched, but we really, really, really enjoy it. On a daily basis we are laughing, we are enjoying the content, we are enjoying the creative conversations, and we hope that is visible and we hope that trickles down, for sure, into the community. Our stuff — you won't find anything super mean-spirited or edgy to be edgy. We think it's just enjoyable, good, thoughtful stuff with smart hosts, and that's exactly the brand we hope to put out there.
Is there anything else we should look out for?
PM: You see from the slate, we have a wide variety of topics, from a wide variety of people like Margaret Cho and Lesley Arfin, and some cool indie hosts that we love. And because our first round has been people we've been friends with, we'd be more and more excited to cast an even wider net. The more diverse, the better. We'd love to do a true-crime show, we'd love to do something more serialized and produced that might be fiction. We're open to all kinds of genres.