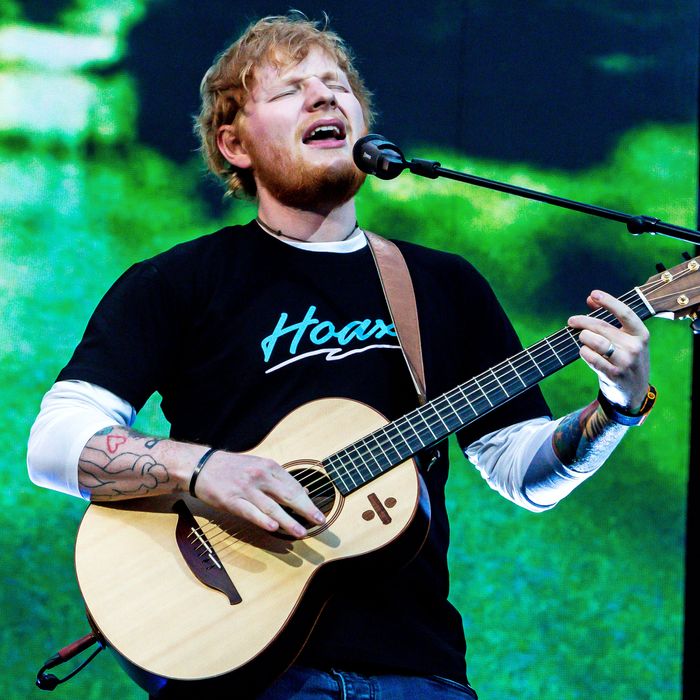 Has the singer-songwriter already peaked?
Photo: Ricardo Rubio/Europa Press via Getty Images
Before he thought out loud and fell in love with shapes, Ed Sheeran was an acoustic rock crooner of the Jason Mraz variety filing gooey love songs in a series of self-released EPs released across the mid- to late-aughts. The fifth, titled No. 5 Collaborations Project, paired the singer-songwriter with an array of great grime artists including Wiley, Jme, and Ghetts and affixed chunky low end to the neat and clean man-and-a-guitar aesthetic of the prior projects. The rap infusion paved the way for Sheeran's ascent on the British charts in 2011, where the breakthrough of the gutting drug ballad "A-Team" was followed by folk-rap hybrids like "Drunk" and "You Need Me, I Don't Need You," the title track from the 2009 acoustic EP You Need Me re-recorded in the meatier style of No. 5. The easygoing rap-rock mix gave Sheeran's songwriting legs. He's been running the charts on both sides of the Atlantic ever since.
No. 5 was a no-brainer idea Sheeran has resisted revisiting for years. Outside of 2012's The Slumdon Bridge, a four-song EP with Alabama rapper Yelawolf, the British-Irish singer has mostly flown solo. The main voice on all of the entries in his mathematical series of studio albums (covering +, x, and ÷) has unilaterally been his own. Ironically, Sheeran does some of his most successful writing when having to consider other voices — see: the killer Justin Bieber hit "Love Yourself" and the fleet rap verse planted in between Future and Taylor Swift on Reputation's "End Game," and remember that "Shape of You" was originally intended to be pitched to Rihanna. Returning to the concept of 5 for the new No. 6 Collaborations Project is smart planning, because of the sense that 2017's ÷ gave that we'd seen everything this performer can do. The push he gets from 6's esteemed guests adds a much-needed pep to his pop, rap, and folk routines.
The obvious teamings here are the best. "Take Me Back to London" catches grime star Stormzy at the peak of his notoriety, referencing the Glastonbury headlining gig that has since made the London rhymer the talk of the biz. "I Don't Care" is a keen synthesis of the shrewd world-pop of Justin Bieber's Purpose and Sheeran's melodic sensibilities. "South of the Border," in spite of the itchiness of the title and central working metaphor — which seems to be a double entendre about border crossings and nether regions — works in the back end as a long overdue collaboration between Camila Cabello and Cardi B. "Put It All on Me" and "I Don't Want Your Money" are strong duets with newly minted R&B heavy-hitters Ella Mai and H.E.R. where Sheeran benefits from bouncing vocals off a more capable singer. He gets the same kind of nudge from Meek Mill's effortless timing on "1000 Nights."
Some of these collaborations are music-nerd fever dreams that either benefit greatly or fall short thanks to their principal strangeness. Matching Argentinian reggaeton star Paulo Londra and London rapper Dave on "Nothing on You" is a genius stroke. Atlanta's Young Thug and London's J Hus make great sparring partners on "Feels." "Remember the Name" with Eminem and 50 Cent draws gimmicky, precious rhymes out of Sheeran ("Never was a sick kid, always dismissed quick / 'Stick to singing, stop rappin' like it's Christmas'"); he raps the verse like someone reverting to their giddy inner child in front of their heroes. "Blow" lands great vocals from Bruno Mars and Chris Stapleton but drowns them in dated production that calls back to the sporting-event jock rock of turn-of-the-millennium U.K. bands like the Music. The Skrillex team-up "Way to Break My Heart" doesn't take flight 'til the last 30 seconds; "Antisocial" is the driest beat Travis Scott has appeared on since the Fate of the Furious album, and the song rehashes the club VIP–slash–recluse lyrical conceit of "I Don't Care" mere seconds after the Bieber track finishes.
Honest, diaristic lyrics are Ed Sheeran's blessing and his curse. When he hits, you relate hard. When he doesn't, you're more likely to remember the creative melodies and deliveries than any of the words they're meant to house. He gets creamed by a lot of No. 6's guests playing anchor while his friends catch waves. Try as he might, he can't land a more fun, more silly couplet in "1000 Nights" than Meek Mill's "Flippin' off a yacht in Ibiza / Clearport, hasta la vista." Em runs off with the nostalgic "Remember the Name" in verse two: "From Taco Bell to TRL, I climbed the Billboard charts to the top until / As fate would have it, became an addict, funny 'cause I had pop appeal." Get it? "Pop a pill"? Cardi and Camila have so much fun at the end of "South of the Border" that you might forget whose song it was.
No. 6 spotlights Sheeran's versatility but also his limits. It takes a real chameleon to work with stars of rap, rock, R&B, country, dance music, pop, reggaeton, and grime, and come away with an album that doesn't reek from stem to stern of trying too hard. In that respect, No. 6 might be Ed Sheeran's most ambitious, and in large part, most impressive full length to date. (It's ironic that the cleverest path forward for him this year has been to revisit his own past. Pop stars of this era hate to retrace steps.) That said, as the 15-song album rolls on, its pure pop choruses start to feel like the artist reheating and repurposing his own melodies. The faint whiff of "Shape of You" in "Nothing on You" and "1000 Nights" makes you wonder whether this artist has peaked. Is he coasting in a lucrative musical holding pattern, or is this all there is?