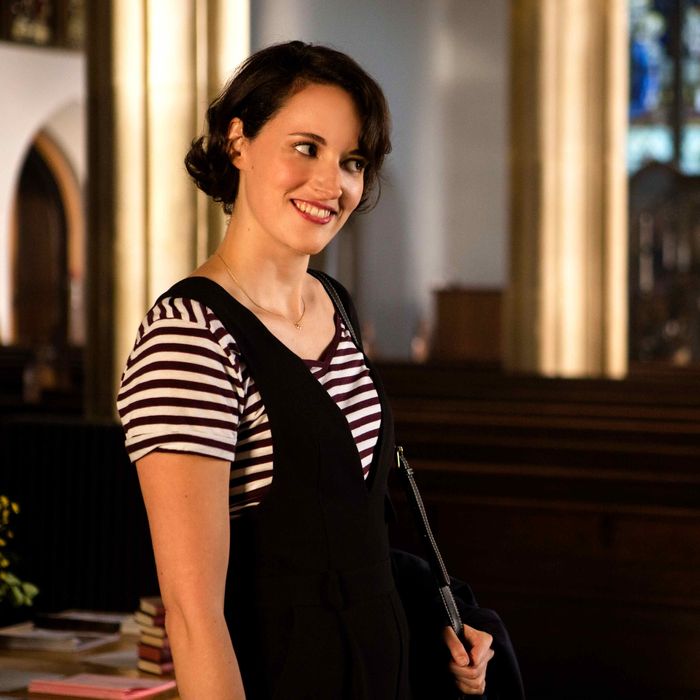 Congrats,
Fleabag
!
Photo: Amazon Studios
The 2019 Emmy nominations have been announced and, in accordance with tradition, some great shows and performers received nods that came as delightful surprises, while others were egregiously overlooked entirely.
Who falls into which category? Let's go to the list of major* surprises and snubs. (*Major implies this is not a complete list, and that you are welcome to chime in with additional surprises and snubs in the comments.)
The Surprises
Eleven Nominations for Fleabag
For its first season, Phoebe Waller-Bridge's fourth-wall-shattering character study received zero nominations. It made up for that with its season season, which received 11 nominations, including one for Waller-Bridge's performance, one for her writing, one for directing, and four for supporting and guest actresses Olivia Colman, Sian Clifford, Fiona Shaw, and Kristin Scott-Thomas. Sadly, Hot Priest Andrew Scott was bypassed; may he find solace this evening in a refreshing can of gin-and-tonic.
Schitt's Creek was finally nominated!
After four years of zero Emmy acknowledgment, Schitt's Creek received four nominations, including nods for Eugene Levy and Catherine O'Hara, as well as a spot in the Outstanding Comedy race. Proof that if you want your non-Netflix show to win an Emmy, make sure all previous seasons eventually wind up on Netflix.
The Good Place was finally nominated for Outstanding Comedy!
If this is actually a joke and it turns out we're in the Bad Place, please, don't tell me.
Holy Game of Thrones supporting actresses nominations!
Cersei Lannister barely got the opportunity to show any emotional range during the final season of Game of Thrones, but Lena Headey earned her fifth nomination for Outstanding Supporting Actress, a category that also features every supporting actress who has ever appeared on GOT. I'm kidding! But Supporting Actress is dominated by women from that show; Sophie Turner, Maisie Williams, and Gwendoline Christie were also nominated, allowing the show to occupy four out of the six spots (the other two went to Fiona Shaw for Killing Eve and Julia Garner for Ozark).
Alfie Allen was nominated?
Ladies, gentlemen: Reek was nominated for an Emmy. Allen actually did a fine job of portraying Theon Greyjoy throughout Game of Thrones' run, but it's hard to argue that season eight was a stand-out moment for him. Hence the surprise of seeing his supporting actor nomination alongside co-stars Peter Dinklage and Nikolaj Coster-Waldau. All of this GOT love speaks to the Emmys' desire to reward the biggest show of this decade, answering the fan response of "Worst. Season. Ever" with, "Oh yeah? Well, we're giving it 32 Emmy nominations, bitches."
Robin Wright was nominated for House of Cards?
After the Kevin Spacey debacle, I assumed Emmy voters would try to forget House of Cards ever existed. But I guess they decided to acknowledge the fact that those left behind, including Wright, persevered post-scandal. (The series earned three nominations, including one for supporting actor Michael Kelly.)
When They See Us got a ton of nominations
Ava DuVernay's portrait of the Central Park Five slid onto Netflix in the final days of Emmy eligibility. But it came out the other side with 16 nominations, including an impressive 8 across the acting categories.
BoJack Horseman finally earned an Outstanding Animated Program nomination
After years of horsin' around — get it?!?! — Emmy voters finally gave BoJack Horseman the Emmy nomination it has deserved since at least season two.
Big Mouth got one, too!
True, the Netflix toon about puberty didn't have to wait as long as BoJack did. (It only got snubbed for Outstanding Animated Program for one season before scoring this year's nomination for its second.) Still, a happy surprise to see it in the mix, especially since the episode that won it the honor is the phenomenal "Planned Parenthood Show."
PEN15 got an Emmy nomination
The Hulu comedy's well-deserved, but not entirely expected, nod came in the form of a writing nomination for the episode, "Anna Ishii-Peters," scripted by stars Maya Erskine and Anna Konkle. Considering its competition — Barry, Fleabag, The Good Place, two episodes of Russian Doll, and the Veep finale — it's definitely an underdog. But it was so nice of the Emmys to let Maya and Anna sit at this table in the cafeteria.
Beyoncé was nominated!
She's been nominated three times before, so I guess it's not so surprising. Like, I imagine an assistant said to Beyoncé this morning, "Hey, your Netflix special, Homecoming, got six Emmy nominations this morning, including one for your co-direction!" And Beyoncé said, "Oh, that's nice," and then went back to doing some intense hot power yoga fusion workout that would kill most mortals.
The Handmaid's Tale received 11 nominations even though its second season was not eligible for Emmy consideration.
Wait, what? Yes, this is super confusing, but I'll try to explain: Because three episodes of The Handmaid's Tale arrived on Hulu outside of the Emmy consideration period, it was not eligible to compete in the main Outstanding Drama categories. However, individual episodes that fell in the 2019 window could vie for awards on their own, which is why certain Handmaid's Tale episodes were nominated in several technical categories, as well as writing, directing, and guest acting. Look, we don't make the rules, we just follow them, blessed be the fruit, may the Lord open, amen.
Snubs
No nomination for Julia Roberts
One of the biggest movie stars of the modern era starred in her first television series, which guaranteed her a nomination, right? Apparently not. In fact, Homecoming only got one nomination, for cinematography, and that's it. As you'll see below, it wasn't the only series with major Hollywood star power behind it that got overlooked by Emmy.
No nomination for Rhea Seehorn in Better Call Saul
Seehorn gives one of the best performances on that show, so it's appalling that she hasn't been nominated yet, especially when the male actors on Saul continue to get recognition.
No nomination for Kieran Culkin on Succession
As a matter of fact, none of the actors on this very actor-driven drama were among the series's five nominations. I'll attribute this to Game of Thrones syndrome.
Better Things: snubbed entirely
So this is interesting to me. A Netflix drama (House of Cards) that was pretty wretched in its final season picked up some nominations, despite the awful behavior of its star. But an FX dramedy that was consistently excellent this season and also had to pick up the pieces following the public acknowledgment of the awful behavior of one of its producers and writers (Louis C.K.) gets nothing, after being nominated before? And it's also one of the few female-driven and directed series on television? Okay. Just making sure I understand.
Short shrift for the Veep cast
Julia Louis-Dreyfus was nominated, obviously. So was Tony Hale and Anna Chlumsky. But it would have been nice to see more of the supporting players, especially previous nominee Matt Walsh or Tim Simons, get some recognition for the final season.
Aw, you ignored D'Arcy Carden, a.k.a. Janet?
The Good Place episode "Janet" was nominated for writing. But Carden, whose portrayal of all the other Good Place characters was what made that episode such a talker, was not nominated for Outstanding Supporting Actress. Again, are we sure we're not in the bad place?
GLOW snubbed in Outstanding Comedy
As thrilled as I am with the nominees in that category, it's a bummer that GLOW didn't get more love this year. Its second season was better than its first, yet it earned fewer nominations — five compared to ten last year.
Ian McShane did not get a Supporting Actor in a Limited Series or Movie nomination.
Sorry, Deadwood fans who were hoping McShane might finally win an Emmy for his portrayal of Al Swearengen in Deadwood: The Movie. He got crowded out in his category by a lot of (very good) performances in When They See Us.
Bupkes for Maniac
This high-profile, expertly executed Netflix limited series with a hell of a cast — Emma Stone, Jonah Hill, Sally Field, among others — wasn't nominated for a single Emmy.
Almost bupkes for Catch-22
The Hulu limited series, which, admittedly, hasn't generated a ton of buzz, earned just two nods, for Sound Editing and Special Visual Effects in a Supporting Role. So that means it got nothing for actors Christopher Abbott, George Clooney, or Kyle Chandler.
Nothing for Patriot Act With Hasan Minhaj
Minhaj's Netflix series seemed like it had a chance in the talk-show category, as one of the breakouts of the genre from the past year. But Emmy voters stuck with programs they've previously nominated instead.
No Outstanding Variety Talk Series love for Late Night With Seth Meyers
Because the talk-show category stuck with the status quo, Seth Meyers's program once again got overlooked, having to make do with its third consecutive Outstanding Writing nomination instead. It's weird that show can be nominated for great writing so many times and not get nominated as the overall best show. You might even say that this apparent contradiction requires … a closer look.