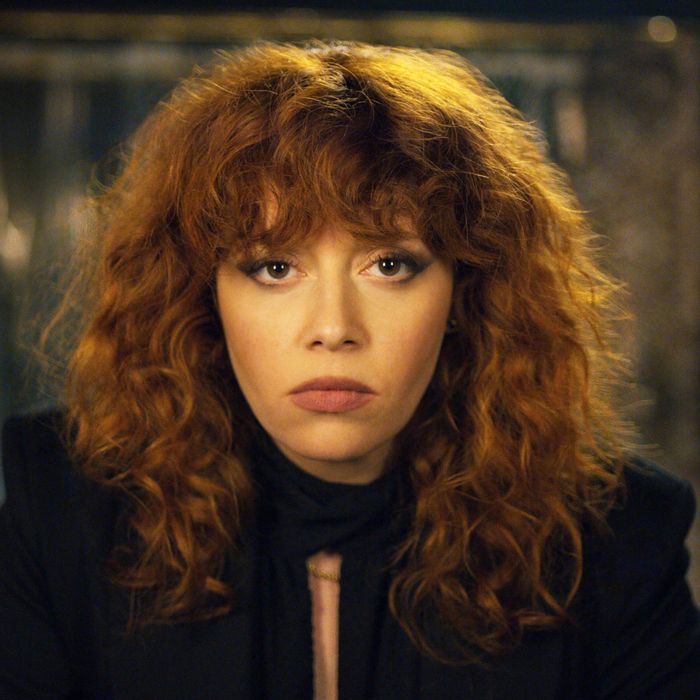 It was a great year for auteur filmmaker-actors like Natasha Lyonne of Netflix's
Russian Doll.
Photo: Courtesy of Netflix
The staggering abundance of good TV has never been more apparent than in this year's crop of Emmy nominations. The lineup boasts a few examples of what might be termed the Usual Suspects — though not surprising or necessarily undeserved ones — and many instances of surprising or overdue recognition. And a lot of the omissions seem less like deliberate slights than collateral damage from having approximately 90 bazillion interesting shows in production simultaneously and only a handful of slots in a given Emmys category. Peak TV is peakier than ever, and even more so than in recent years, worthy parties were bound to get left out.
Taken together, this is a picture of creative vitality, with streaming, cable, and broadcast networks vigorously competing against each other (the top-three nominee-getters were HBO, Netflix, and NBC) and many different kinds of programming snagging nods within their categories (the Best Live Variety slate includes not just the expected Oscar, Tony, Grammy, and Golden Globe telecasts but a production of Rent and performances of scripts from Norman Lear's All in the Family and The Jeffersons). And there were gains by Netflix rivals Hulu and Amazon, with the latter more than doubling its number of nominations from last year. Even with Netflix accruing 117 nominations this year — its most ever — it couldn't maintain its 2018 title as the most-nominated network, and with gigantic streaming rivals like Disney+ getting ready to ramp up, it seems that Netflix should start paying attention to who's gaining on it.
Game of Thrones' absolute domination of the Drama Series categories with a record 32 nominations — breaking NYPD Blue's record from 25 years earlier — might've been single-handedly responsible for crowding out a lot of possible acting contenders from other shows. Take, for instance, the Supporting Actress category, where Thrones took four out of six spots and FX's moving and groundbreaking Pose claimed zero. In fact, there are more white Game of Thrones actors nominated this year than there are actors of color nominated across all of the comedy and drama acting categories, though things get a little more diverse when you get to the Limited Series categories, thanks primarily to Ava DuVernay's Central Park Five docudrama When They See Us.
The Limited Series categories are also home to one of the year's biggest (and bleakest) success stories: HBO's engrossing docudrama Chernobyl, which, despite being a radiation-charred definition of Feel-Bad TV, got 19 nominations and is represented in nearly every significant category, sometimes with multiple nods. (Fosse/Verdon and When They See Us did nearly as well with 17 and 16 nominations, respectively). It was also a great year for auteur filmmaker-actors, with Bill Hader of HBO's Barry, Phoebe Waller-Bridge of Amazon's Fleabag, and Natasha Lyonne of Netflix's Russian Doll getting nominated as both performers and screenwriters on series that they co-created and co-produced.
The Outstanding Drama Series category might offer the best mix of new, established, popular, and niche. It genuflects toward broad, populist choices (This Is Us and Ozark, which aren't blazing new trails artistically and aren't especially trying to), but it also throws appreciation to a couple of new, hard-edged wild cards that are more critically acclaimed than widely watched (Pose and Succession), and another that's been nominated as Best Drama more than once (Better Call Saul). And it gave departing juggernaut Game of Thrones one more ring-kiss on its way out, despite the show stumbling in the home stretch. The comedy category is nearly as impressive, with the freshman Russian Doll making a big impression in its first season (13 nominations, the most of any comedy after The Marvelous Mrs. Maisel), and Pop TV's Canadian import Schitt's Creek getting nods for stars Catherine O'Hara and Eugene Levy. Likewise Animated Series, where Netflix's BoJack Horseman and and Big Mouth got Best Show nominations for the first time, alongside the departing Adventure Time.
Speaking of BoJack: How do you nominate the show specifically for an episode where Will Arnett's title character stands by a coffin and talks for 28 minutes but not nominate Arnett? How does Gina Rodriguez pull off a similar feat in the final season of Jane the Virgin and not get noticed for it? How can you take every opportunity to honor Game of Thrones one last time but not nominate Crazy Ex-Girlfriend's Rachel Bloom for that show's farewell season? (The perennially overlooked show got only two nods, both for music.) How does HBO's long-awaited Deadwood movie get a nomination for movie but not for any of its actors, nor for its screenplay by creator David Milch, who disclosed to this publication that he was suffering from Alzheimer's and wasn't sure if he'd write for television again? How does a show as addictive and suddenly all over as Showtime's Billions or NBC's Superstore, or a grubby gem like HBO's The Deuce, get plenty of nothing? How do you account for these and at least a dozen other snubs, including Andrew Scott as Fleabag's hot priest; Rhea Seehorn, the most impressive of Better Call Saul's formidable ensemble; and Better Things's Pamela Adlon, who survived the train wreck of her association with Louis C.K. and went on to direct, co-write, and star in the series' best season?
The omissions sting, even if you rationalize them as fallout from too many good choices. But the fact that you could build two or possibly three alternate Emmy nominations lists with all the shows and artists who didn't get recognized speaks even more highly of a medium that just keeps finding new peaks to ascend.