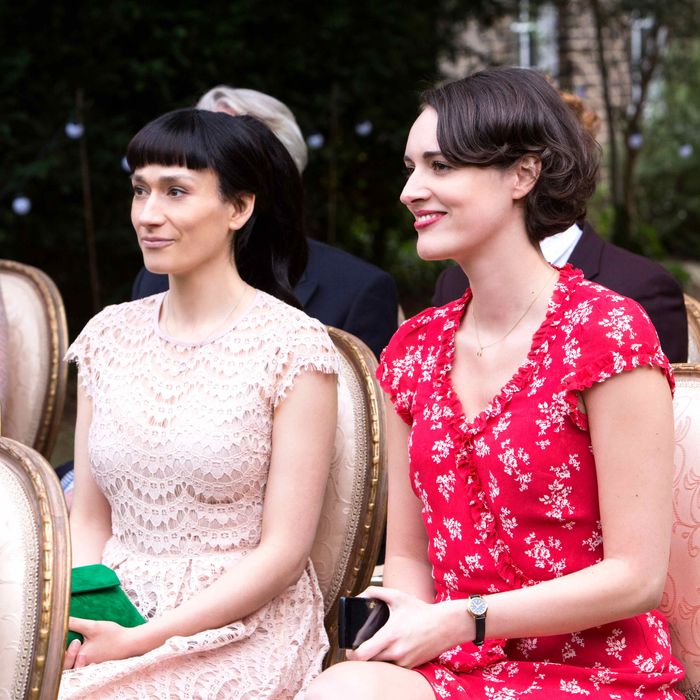 It's a vortex of Fleabag girl power in this year's Emmy nominations, with all five of the comedy's actresses (Phoebe Waller-Bridge, Sian Clifford, Olivia Colman, Fiona Shaw, and Kristin Scott-Thomas) receiving nods for their really, really ridiculously good work in the show's second season. We're particularly jazzed that Clifford — who previously spoke to Vulture about how her good friend Waller-Bridge gave her this breakthrough role — scored her first Emmys nomination for her first regular TV gig, so we gave her a quick call to hear how she's celebrating her supporting actress nod. Yes, she and Waller-Bridge have been crying and screaming. Obviously.
I need a recap of your day!
I'm in complete shock and awe. I just have so much gusto right now. I can't articulate how I'm feeling. It's the best feeling in the world — my first ever nomination! I kept my expectations low and my heart wide open, but I really, really wanted the show to be nominated. That was important to me, but I didn't anticipate hearing my name. I'm blown away and I need to go and hug every individual hero who made that happen for me.
Did you watch the livestream?
I didn't, I was just in my flat hanging out. I'm prepping for some other projects I'm working on, and I was trying to just focus on that today. I got a text from one of our producers just to say good luck and I was like, Yeah, I'm trying to forget about it. So I was trying not to think about it, but then, of course, I had go on Twitter, and I saw Phoebe had been nominated. I screamed, and I followed the link, and that's when I saw the nominations were being announced live. They hadn't got to the supporting actress category yet, so I was like, Hell no, I'm not watching that, so I turned around and did a little meditation in my living room. I grounded myself and then my agent phoned me and told me the news, and then I hit the floor and wept. Not an exaggeration.
I would do the same.
I really didn't think it was gonna happen. There's been some incredible press from people that were behind me, but I just didn't think it would come through. I sort of let go of it, you know? I was like, Well, let's leave this up to the universe. I think I'm crying right now.
Did you promise yourself you'd celebrate in style if you got a nom?
I didn't let myself get that far because it's one day at a time with these things — there are so many factors that go into it and why some people get nominated and others don't. I'm gonna go and party with Phoebe probably, and the rest of our team. We got 11 nominations! She was trying to phone me while I was on the phone with my agent, like the second the nomination was announced, and I spoke to her very briefly. I'm gonna phone her back once I get off the phone from you. And then, party time for me.
That sounds perfect. What was your first phone call with Phoebe like? Tears and laughter and celebratory squealing?
I was crying, she was screaming. [Laughs.] Find your champions, because Phoebe Waller-Bridge is mine. She has believed in me from the day we met 16 years ago and she's the reason I'm here and on the phone with you today. I owe her absolutely everything and I'm just — I'm shaking, I'm actually shaking right now. I'm just so grateful to her and our team and to the people that have backed me. The people that back you before they necessarily know who you are, you know? You never forget those people that helped you up, so yeah, the'll be much more screaming and crying.
I also thought it was amazing how all of Fleabag's women were nominated. You're an iconic quintet.
It's a very special moment because the show is very special for women. It's been a conversation starter on topics that are often kept very quiet, not talked about, and tabooed — like the episode about miscarriage. The fact this has somehow been slung so forcefully into mainstream conversation and is helping bring about social change is absolutely extraordinary. I'm so proud to be a part of that band of women. I mean, what a crew. I can't wait to celebrate with all of them. It's so well deserved.