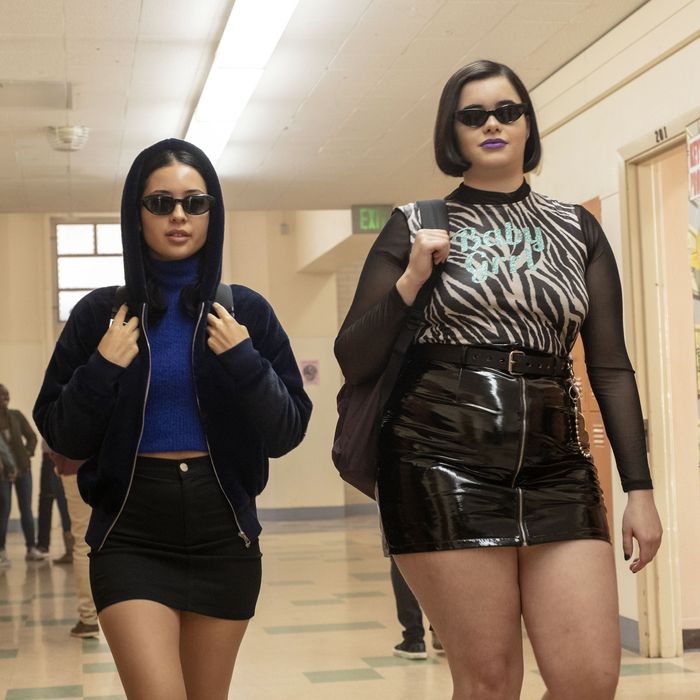 "He'd fucking kill for me and I'd fucking kill for him," Maddy says of Nate at the climax of this week's Euphoria. She doesn't actually mean it, of course, but she feels like she could — and for a teenager, is there any difference? "Bonnie and Clyde '03" focuses on the stories the Euphoria teens tell themselves about their romantic lives, often in the face of deeply contradictory evidence. Appropriately, the episode is named for the first collaboration between Jay and Bey — a romance that made itself in the image of the original ride-or-die duo but that has faltered in very real and human ways.
While I call extreme bullshit on Maddy taking her cues from Sharon Stone in Casino (a movie that even most of the adults I know have never seen), the overall point of her cold open still stands. For a girl with no ambitions of her own, our culture still presents the alluring alternative of simply being something a man can "own and possess," as Rue puts it. It even allows girls to pretend it's their choice, as if the 14-year-old Maddy could ever truly be "the one in control" of losing her virginity to a 40-year-old man. But Nate's abuse of Maddy at the carnival, and the lingering bruises on her neck, pose a genuine threat to that fantasy of control. And Maddy would sooner relinquish her own safety than the story she's been telling herself.
Though the fallout of Nate's abuse of Maddy is played for maximum melodrama, Maddy's maelstrom of emotions always feels authentic. It's already hard enough for a teen to obey authority of any kind, much less when it's telling you that the thing you thought was love was actually abuse. The contradiction is heightened in a memorable scene of a resistant Maddy being handcuffed to a table, stripped, and photographed for evidence by a trio of police officers. If adults intervening out of love for Maddy just leads to more abuse, how is she supposed to know the difference between the two?
The same contradiction also haunts Cal, who falters with his latest motel hookup as he wonders if staying closeted has just made things worse for his sons. It's interesting that the show hasn't gone for the obvious choice with his character — instead of having Cal be the hardened psychopath raising a messy, troubled son, it's flipped the roles. Nate is essentially irredeemable at this point, lying to his dad about harming Maddy and trying to discredit her with the cops under the veil of "concern" about her drug use.
Meanwhile, Jules's concern for Rue's drug use is hardening into something that looks a lot like responsibility — and Jules isn't happy about it. Rue is thriving now that their romance is real, coming clean about her lies at NA and even rekindling her flagging friendship with Lexi (who's still a nonentity as a character — so much for that Apatow nepotism). But all the encouragement for being a "good example" just feels like pressure to Jules, who's used to a parade of one-night stands, not the accountability of a relationship. Even with her dad, she's evasive about the potential of her and Rue being a "thing," to say nothing of the level of commitment that Rue's comparatively brief sexual history seems to require of her. Jules is still very much in the "should we date at all" phase, while Rue's sprinted ahead to requesting matching tattoos.
The inevitable decline of Rue and Jules's romance is very clear to Rue's sponsor Ali, who implores Rue to remember that "nothing in high school lasts forever." But Rue is too caught up in the fantasy that she'll simply follow Jules wherever she goes, chasing feelings that are stronger than fentanyl. Like Maddy, Rue is unwilling to look at the hard truths in front of her, because the image of herself that she wants to see is so much more appealing.
The saddest variation on this theme comes from Kat, who's so resolved to be the body-positive man-killer of her fantasies that she still can't see the vulnerability of the dudes right in front of her. "No matter how cool or sexy you think a guy is, they're all just pathetic," she blithely insists to her cam client, extorting him for a new harness she can wear to impress her crush from the mall fitting room. But when the mall guy genuinely wants to get to know Kat, she's all business, insisting they move right on to oral sex. The only genuine smile she brings to the entire interaction is when he praises her blowjob skills.
Collectively, the episode paints a picture of a group of people so desperate to live up to their ideas of their imagined selves that they're willing to endanger their real ones, whether through casual sex or flinging themselves back into the arms of abusers. As Jules notes, sex "is not even the point … just everything that leads up to it."
To the rest of us — like the beleaguered high-school principal trying to sort out Maddy and Nate's tortured romance — this approach might beggar belief. But it's a feeling that is very specifically teenage, even if, like Cal, some of us might have it later in life than others. We fantasize about being Jay-Z and Beyoncé, just as Jay-Z and Beyoncé fantasize about being Bonnie and Clyde. But if we can't forge on when those fantasies fall short, that's when the trouble often starts.