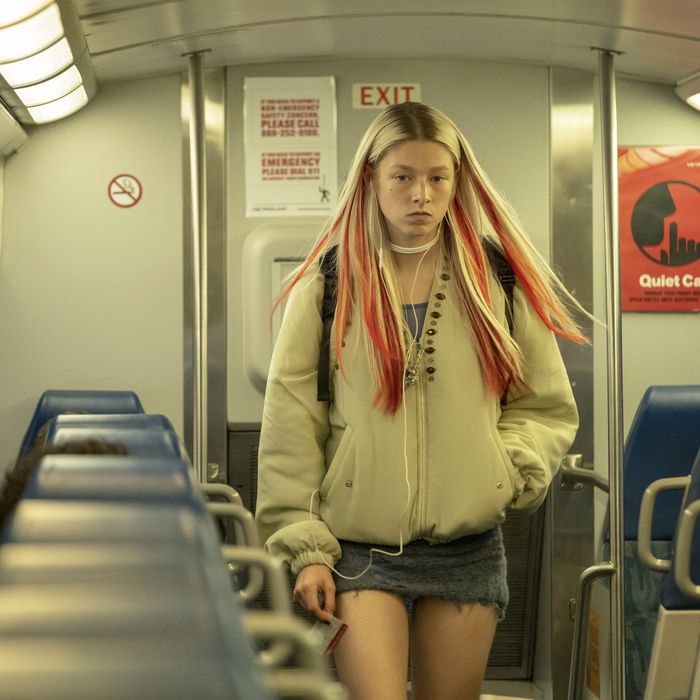 Euphoria
The Trials and Tribulations of Trying to Pee While Depressed
Euphoria increasingly feels like it's bifurcating into two shows. There's the story of the misfits — Rue, Jules, and Fezco — which, despite its flaws, has aspects that feel urgent and original. And then there's the story of everyone else, which has grown plodding and predictable. Unfortunately, the thread tying the two stories together is Nate, a cartoon villain who's completely lost what little dimensionality he had in the show's initial episodes. Every time a Rue or Jules story line manages to gain some narrative velocity, Nate inevitably shows up to drag it back down to earth.
"The Trials and Tribulations of Trying to Pee While Depressed," the penultimate episode of the season, ambitiously attempts to depict both sides of Rue's bipolar disorder, with varying results. A couple of sequences are outright brilliant, particularly a comedic one with Rue as a hardened, Serpico-style '70s cop trying to crack the case of why Jules has been so withdrawn. Anyone who's intimately familiar with manic episodes will tell you that they have an odd clarity, as if all the threads of the world were suddenly comprehensible and connected. Linking that aspect of mania to a vintage "cop on the edge" narrative is the rare occasion where Euphoria's love for genre pastiche adds up to something more.
Zendaya continues to be Euphoria's beating heart, delivering parody as ably as she does wrenching scenes of a despondent Rue crying into her comforter. Rue's slide from mania into depression builds up to another bravura visual sequence, as her flat-affect stare slides through the days in a rotating, interlocked time loop. But as usual, Euphoria's need to pile on the shock value ends up robbing her scenes of their power. We've all heard of being too depressed to even pee, but do we really need to watch Rue give herself a UTI in real time, complete with multiple cutaways to the action in her kidneys?
That too-much-ness is all over the episode, which seems characteristically dead-set on bludgeoning the subtlety out of critical moments. Cassie reading her positive pregnancy test with a blue, Virgin Mary–style halo around her head is a total groaner, as is Kat's first cam session with her mysterious benefactor, who's supposed to be frightening but speaks through a gravelly vocal filter that makes him sound like Jon Glaser in Delocated. The sequence where Fezco's grandma's pill bottles talk to Rue, à la Wet Hot American Summer, was so unbelievably amateurish and stupid that I had to look around the room to be sure it was actually happening.
But even if they're completely batshit, as least those sequences aren't grindingly dull — unlike all the scenes with Cassie, this week's Cold Open Teen. From Sharp Objects to The Handmaid's Tale, Sydney Sweeney has made a cottage industry of playing sweet girls headed for inevitable doom. From the second her trembling upper lip appeared onscreen, I figured Cassie was headed for a bad end — but I wasn't prepared for how boring it would be. Every Cassie scene in this episode, from her asking Lexi if she "looks different" to McKay telling her that she'll be a great mom someday, feels like it was written by a neural network programmed on 40 years of "girl in trouble" story lines in teen dramas.
I'm also puzzled by the show's continued sidelining of Lexi, despite the fact that Maude Apatow is a certified HBO nepos and has done a great job with what little material she's been given (including playing Rue's "partner" in the cop sequence). Cassie's troubled-family backstory is Lexi's as well, but Euphoria seems frightened to introduce a teen whose difficult circumstances haven't driven her into a sexy downward spiral. The character deserves better than being third fiddle, especially when this much of Cassie's screen time is a snooze.
I am heartened that the show seems to be trying harder with Jules, whose big-city visit finally allows her to open up a bit about being trans. It's not a long sequence, but her musings on whether she's trying to "conquer femininity" through her hookups with men are more revealing about the character than the previous six episodes combined. Having Jules subsequently get it on with a Rue look-alike is a dull contrivance, but it's hard to deny that the filmmaking in her scenes is exquisite, from a club scene purling with the intimate hush of Jules's conversation to an Other Side of the Wind–esque sex-scene strobe effect.
Sadly, like all good things on this show, the sex scene is ruined by Nate, who intrudes on Jules's fantasies as surely as he does any effort at nuance on Euphoria's part. A serious confrontation between Nate and Fezco serves as a painful reminder that neither Nate as a character nor Jacob Elordi as an actor is up to standard — especially given the amount of pathos Angus Cloud, with his liquid eyes and slow drawl, has managed to convey in Fezco's limited appearances.
A show with Euphoria's empathy for troubled teens should have us wondering how Nate, so recently a wide-eyed kid, has turned into a person willing to weaponize the cops against half his social circle. At the very least, it could interrogate how Nate's privilege — whiteness, handsomeness, wealth — empowers him to do such a thing. Instead, Nate is a cookie-cutter bad guy, leaving you hoping that Fezco's gangster pals will find him to collect on all those flushed drugs. Euphoria is a far more interesting show when the villainy is vague, omnipresent, and societal. It's too bad that it keeps giving half its run time over to the less interesting version of itself.