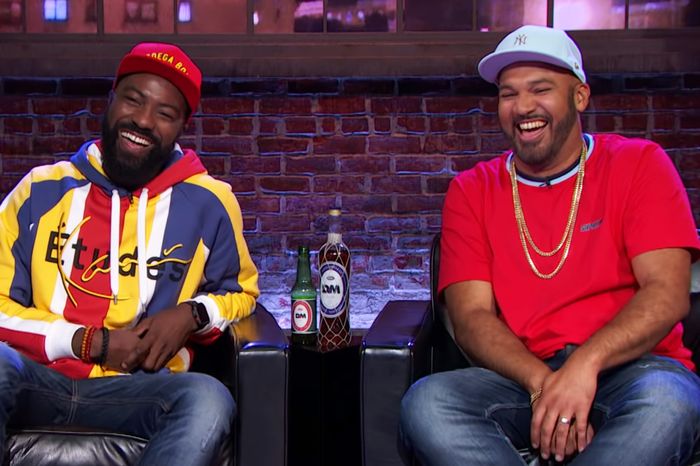 Showtime's
Desus & Mero.
Photo: Showtime/YouTube
Late-night hosts weren't sure which footage was more upsetting this week: Robert Mueller's testimony to Congress or the Cats trailer. Both were elaborate spectacles that left people wondering: "Who is this helping?" The digital-fur technology, however, was best used on Rudy Giuliani's newly brown hair. On Jimmy Kimmel Live!, the Once Upon a Time in Hollywood cast dominated, with Leo inviting the studio audience along to a preview screening. One guy in the audience was doing Wayne's World–style "We're not worthy!" arms, and his shadow fell against DiCaprio's extremely profitable face. It was a personal highlight, that little glitch in the machine that lets us know we're alive. Below are the five more notable moments in late night this week, ranked in order of joy displayed.
5. Jimmy Kimmel Has to Laugh, or He'll Cry
Everyone had a take on the Mueller testimony. Seth Meyers expanded his "Closer Look" to 15 minutes, Stephen Colbert inserted himself into the narrative, and Trevor Noah did some fun impressions of Giuliani's impressions. But the best recap came from Jimmy Kimmel, who was downright gleeful over how pointless it was. His was the most concise, most appropriately angry and amused coverage.
4. Full Frontal's Border Patrol
Full Frontal went to the border to explore how chill it can be. For years, folks on both the Mexican and American side of the border have been barbecuing and generally kicking back in the Rio Grande. It's almost like the line is arbitrary, and most people who actually meet each other get along. The segment exposed the banality of evil in both directions: Border residents from Mexico would cross into the U.S. to go to school, but then immediately cross back. It was easy and no one got trafficked or sold for drugs or anything. And local Border Patrol officials are apparently Sam Bee fans. The human brain's ability to hold contradictions is truly wild.
3. Lance Bass Comes Out to Britney Spears
When I worked in a daycare, my go-to trick to get babies to stop crying was to lightly blow in their face. They get so confused that it stops their crying, and they forget they were ever upset. Lance Bass apparently used the same technique on Britney Spears, on the night of her ill-fated 55-hour marriage. Bass said that he was trying to calm down Spears in Las Vegas, after she'd realized what she'd done, by coming out to her. She was so surprised (and honored by his trust) that she forgot about Jason Alexander completely. Bass shared the story on Watch What Happens Live, the place these kinds of anecdotes should be told. Also, get Lance Bass another TV-hosting gig! His to-camera face is working overtime.
2. James Corden Lines 'Em Up
James Corden brought a beloved bit across the pond this week, making Sutton Foster play a variation of Never Mind the Buzzcocks' lineup game. Foster had shared one scene with comedian and Late Late Show fixture Nate Fernald, and Corden asked her to pick him out of a lineup. Simon Amstell's run on NMTB was one of the best things to ever happen on shiny-floor TV, and Amy Winehouse's last guest spot on the show is one of the most important half-hours of time on this planet. (Yes, I'm including storming the beach at Normandy and the creation of the polio vaccine, so don't even ask.) During the lineup portion, she kisses one of the old men posing as a skiffle pioneer, it's so good. Corden's version of lineup can't compete with perfection itself, but the juxtaposition of a desperate-to-be-nice Foster with two British cads who know the panel show score (Corden and Eddie Izzard) is beautiful. Someone is nice, someone insults everyone's appearance, and someone undermines the very objective of the game. This is the formula for good chat-show content.
1. Desus & Mero & Jason Derulo
There's one other way to get gorgeous late-night content, and that's genuine and unbridled glee. Desus and Mero had no idea that Jason Derulo was in Cats — let alone that he's playing Rum Tum Tugger, the cat who fucks. Beyond the human boobs and nonexistent plot, this is the most bizarre aspect of the Cats story. A man who is known for introducing himself on the track is in a musical where introducing oneself is the only plot. And in true New York fashion, Desus revealed that he saw Cats on Broadway, met an actor from it, only for that guy to OD on cocaine like a week later. It sent me to the Heaviside Layer, folks.