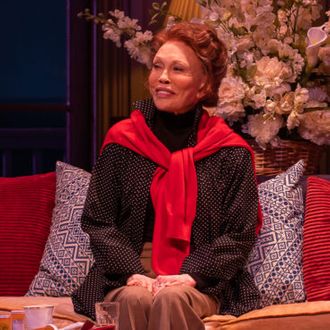 Faye Dunaway as Katharine Hepburn in the play's Boston tryout.
Photo: Nile Scott Studios
If you wanted to see Faye Dunaway try out a Katharine Hepburn accent, you have missed your chance. The Oscar-winning actress, who was supposed to lead the play Tea at Five to Broadway, has been dropped from the production shortly after it finished its run in Boston. "The producers of Tea at Five announced today that they have terminated their relationship with Faye Dunaway," the play's spokesperson said in a statement. "Plans are in development to have its West End debut early next year with a new actress to play the role of Katharine Hepburn." According to the Post, Dunaway reportedly created a "hostile" and "dangerous" environment backstage at the one-woman show, was frequently late to rehearsals, and forced the production to cancel at July 10 performance after she "slapped and threw things at crew members" who were trying to get her into her wig.
Kate Mulgrew originally performed the lead role in Matthew Lombardo's play in 2002, though Lombardo significantly revised it for this production. Dunaway last appeared on Broadway in The Curse of an Aching Heart in 1982, though she also performed onstage as Maria Callas in the national tour of Master Class in 1997. In 1994, she was also embroiled in drama surrounding the Los Angeles tryout of the musical Sunset Boulevard, where she was set to replace Glenn Close (who went on to New York to win a Tony), before the L.A. production was abruptly canceled. Who says the twists on Smash were unrealistic?