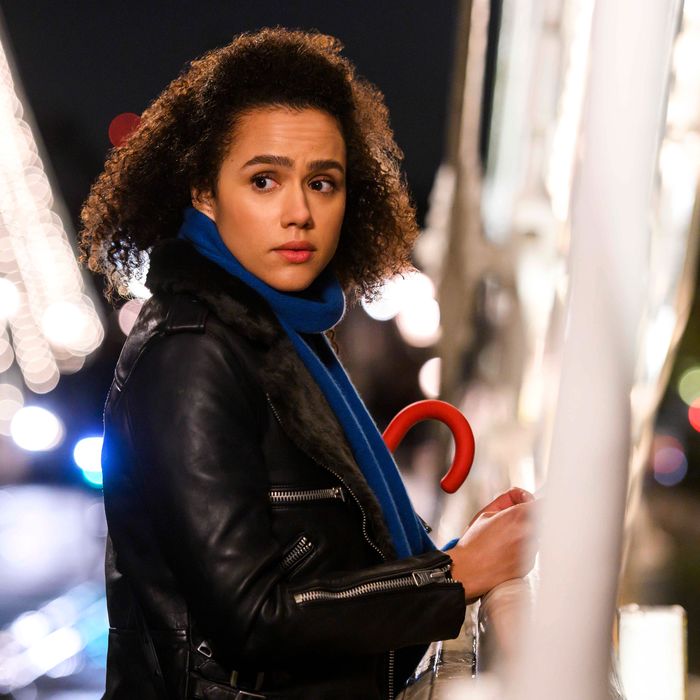 Nathalie Emmanuel in Hulu's
Four Weddings and a Funeral
.
Photo: Jay Maidment/Hulu
Four Weddings and a Funeral, the TV show, isn't quite a remake of the movie Four Weddings and a Funeral, though it does contain plenty of similar elements. It is set mostly in London. It revolves around a group of friends and their various romantic entanglements. Its narrative structure does indeed incorporate a quartet of weddings as well as a single funeral. (I watched the first seven of the Hulu series's ten episodes, which cover the funeral and two weddings.) It also features a character secretly pining for a best friend, at least one marital event cut short, and an opening scene in which the primary protagonist utters the F-word repeatedly upon realizing she's running late, just as Hugh Grant and Charlotte Coleman do in the film. It even wedges in an appearance from one of the original Four Wedding stars, Andie MacDowell.
Unfortunately, it's missing a crucial ingredient that was key to the movie's success and, for that matter, the success of any romantic comedy worth its schmaltz: a sense of charm. This is particularly frustrating considering who's behind this TV adaptation, the first four episodes of which start streaming Wednesday.
The creators are Mindy Kaling and Matt Warburton, who was a writer and executive producer on Kaling's The Mindy Project, a rom-com homage that certainly possessed its share of charm. Other executive producers on Four Weddings include Tracey Wigfield, who also serves as showrunner and wrote and produced on The Mindy Project and created the underappreciated Great News, and Richard Curtis, the screenwriter of Four Weddings and a Funeral as well as Notting Hill, Love Actually, and, more recently, Yesterday. This is the equivalent of a TV romantic-comedy dream team, and yet somehow, especially in the initial three episodes, what they've managed to build together comes across mostly as hackneyed, predictable, and more interested in tipping its hat to rom-coms of the past (particularly Curtis's) than building a unique love story of its own.
The first person we meet in this reimagined Four Weddings universe is Maya (Nathalie Emmanuel, last seen losing her head as Missandei on Game of Thrones), the communications director for Ted (Tommy Dewey), a congressman running for a Senate seat with whom Maya is having an affair. Ted keeps swearing he's going to leave his wife for Maya. (Non-spoiler alert: He's probably not going to leave his wife.) In the first episode, Maya jets off from D.C. to London, where her closest friends from college live and where one of them, Ainsley (Rebecca Rittenhouse, recently seen as Michelle Phillips in Once Upon a Time in Hollywood), is throwing herself a 30th birthday party. En route to London, Maya meets (cutely) a Pakistani-British investment banker and wannabe actor named Kash (Nikesh Patel) with whom she shares a spark; she later discovers that Kash actually knows Ainsley, and much better than she thought he did.
But that's only the first strand in the web of relationships and breakups depicted in this sprawling ensemble piece. Craig (Brandon Mychal Smith of You're the Worst) is happily partnered up with Zara (Sophia La Porta), until he receives a Facebook message from a former fling informing him that he fathered her child. Duffy (Search Party's John Reynolds) serves as the bumbling but well-meaning type whose heart beats only for Maya, a fact that he initially plans to confess when he shows up to Ainsley's rom-com-character-themed birthday party dressed as Lloyd Dobler, complete with boom box in hand. And then there's Gemma (Zoe Boyle), Ainsley's neighbor and close friend who is stereotypically British and uptight until a sudden loss in episodes three and four gives the writers a reason to soften her up a bit.
The problems that stymie this series are the same issues that gum up every less-than-inspired romantic comedy: unrealistic plot twists that happen too suddenly, a lack of rich character development, and dialogue that a real human would never say to another real human in a hundred years. Example: When Maya goes to what she thinks is going to be a closure-achieving lunch with Ted, Ted's wife shows up and casts doubt on the alleged professional nature of the meeting by looking at Maya and saying, "Nice padded bra, by the way." Aside from perhaps a sales clerk at Victoria's Secret, who would actually say this to someone?
One can argue that in a movie that's two hours or less, certain liberties and shortcuts have to be taken in order to get to the inevitably happy ending as quickly as possible. But a television series doesn't have that problem. If Four Weddings and a Funeral — which very easily could have been five episodes centered on each of those events — is going to stretch itself into ten roughly 45-minute segments, it should take advantage of all that time to flesh out things that most motion-picture rom-coms don't have the luxury to explore. A longer run time should allow more space for things to breathe and more room for nuance.
Instead, Four Weddings keeps leaning hard into clichés as if those tropes should be celebrated and not met with rolling eyeballs. There are pronouncements of true love made in the pouring rain, a winking but illogical visual gag involving Nicholas Sparks, and so many hat tips to Love Actually that, at times, this seems more like a TV show based on that Richard Curtis film than the one on which it's actually (quite loosely) based. The show's attempts at capturing the political realm in which Maya works also are so generic that they seem to have been scripted using a Mad Libs template. Even though Four Weddings and a Funeral is not at all a political show, it spends enough time in that arena that it should make some effort to sound semi-real. Instead, everything involving Maya's professional world seems to have been beamed in from some quaint era so far removed from reality, even a time machine wouldn't take you there.
That said, Four Weddings and a Funeral isn't a total loss. Its cast, which is refreshingly diverse compared to the entirely white group from back in '94, comprises likable actors doing their best to sell the material. It's nice, for instance, to see Emmanuel playing a lead role instead of second fiddle to a mother of dragons. While Ainsley comes across as a vapid standee of a person at first, Rittenhouse keeps whittling away at her until she achieves some of the most consistently sharp comic timing in the show. Smith is also charismatic as Craig, even though his commitment to Zara — who seems more vapid, not less, as the series progresses — is a bit baffling. Too often, though, Four Weddings and a Funeral asks the actors to do too much of the lifting. Rather than showing us what it looks like when two people fall in love or realize they're actually not, the series insists on numerous occasions that love is there or isn't and expects us to simply go along with it.
Beginning in episode four, when the funeral makes its appearance, some of the characters start to take on a bit more dimension. This is the point for me where watching became more enjoyable and less of a chore, but even then, misguided choices marred the experience. At one point, Maya, Ainsley and one of Ainsley's employees, Tony (Nathan Stewart-Jarrett), go to a gay bar that is actually called G-A-Y. On the wall, just behind the characters, there is a sign on the wall that says G-A-Y.
As it turns out, the G-A-Y Bar in London is a real place, something I should have realized and noted in my initial version of this review. My apologies for that. That doesn't change my broader criticism, which is that considering how central a gay couple is in the original film, and how reverently it treats their love for one another, Four Weddings the series does a disappointing job, at least in these initial episodes, of handling relationships that fall outside the bounds of heteronormativity. Considering how careful it is to create principal characters of various races and ethnicities, it's weird that, with the exception of some supporting characters, all of them are straight.
What it's missing more than anything, though, is snappiness. Younger is another television rom-com that could be accused of succumbing to tons of the genre's clichés as well as ideas that overstretch the bounds of disbelief suspension. But it's so clever and fun that you're able to forgive a lot of things you might not be willing to forgive in a series with less fizz.
That's the problem with Four Weddings: It doesn't have enough snap or fizz there. It's the TV show equivalent of two fingers rubbing together and almost making a sound, or of a soda with a couple of bubbles, desperately seeking more carbonation.
Note: This review has been updated to acknowledge and correct a factual inaccuracy. Vulture regrets the error.